The 21st Century Integrated Digital Experience Act (IDEA) aims to increase efficiencies by encouraging agencies to digitize manual processes; accelerate the use of electronic signatures; and create data-driven, secure, personalized and mobile-friendly federal websites.
To better understand how agencies are adapting the act, GovLoop and ServiceNow surveyed more than 130 federal government employees involved with customer experience efforts in their agencies.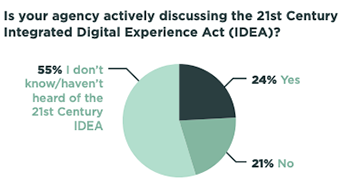 We asked whether they are implementing aspects of 21st Century IDEA. When asked if they are actively discussing the law at their agencies, more than half — 55% — said they aren't sure or haven't heard of the law (See figure to the left). For those who are actively discussing the law, we asked how many are actually implementing 21st Century IDEA. Only 29% of them responded with certainty that they are currently adopting aspects of the law (See figure below to the right). Another 58% said they are not sure.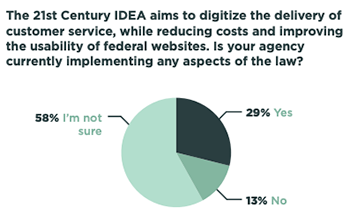 The act's 180-day deadline, which was in June 2019, has come and gone for agencies to submit plans to Congress and the Office of Management and Budget (OMB) for accelerating adoption of electronic signatures. We launched the survey in June as well, to get a sense of progress toward adopting the law.
Only 32% said they were confident that they would meet the law's initial deadline (See figure below to the left). The table below outlines those deadlines, along with objectives.
Nineteen percent said they are somewhat confident that their agencies met the first deadline back in June. The same number of respondents said they were not confident that they met the deadline.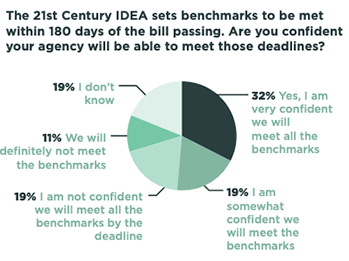 There are a few things worth noting that add context to these data points, specifically around why the deadlines might not have been met. First, the law is less than a year old. The president signed 21st Century IDEA into law Dec. 20, 2018. Second, OMB is charged with providing implementation guidance for the law, and as of September 2019, it had not been released. "Although [the] law was enacted, OMB has yet to issue execution policy," one survey respondent said. "That policy is key and will provide the guidance needed to move forward and fully implement IDEA."
Other factors to consider are the very sentiments that respondents shared. "[Respondents] have competing priorities," said Christopher Anello, Federal Enterprise Architect at ServiceNow. "They have limited budgets, and they have to keep the lights on and keep the government running. For some agencies, their funding is stretched pretty thin as far as what new initiatives they can take on."
And until there's a direct mandate from OMB outlining how agencies should implement the law, there will likely be little movement. The survey data alone doesn't show how many agencies started on their digital transformation journeys before 21st Century IDEA became law. But GovLoop has seen early adopters across government who invested in CX before they were required to. "They realized where the market is going, where citizens are changing and they wanted to align with that shift," Anello said of early adopters.
This article is an excerpt from GovLoop's recent research brief, "Creating 21st Century Digital Experiences in Federal Government." Download the full brief to explore more results from our about the drivers, priorities and progress being made in government customer experience here.