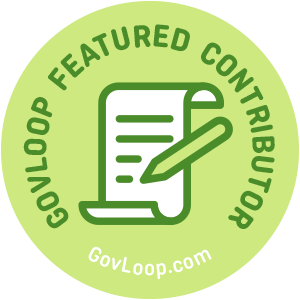 Acquiring the right tech skills is one of the most effective ways to stand out and level up professionally.
Learning these skills is easier than ever. All you need is a Wi-Fi connection and dedicated time to learning and diversifying your skillset. Having these skills can make you that much more valuable to your agency, while also setting you up to use these skills in a side business.
The best part? You don't have to be an IT wiz or software developer to embrace new tech skills.
If you're not super techie, opt for online training and learn the basics of one of these high-demand tech skills:
1. Chatbot Development
Chatbots add a face to websites by using AI to simulate human conversation. Agencies nationwide, including federal agencies, are finding them valuable for constituent and information services. Chatbots improve access to resources by directing citizens and freeing time for government employees. They can also help organizations collect valuable information on what stakeholders want from them. Check out Lynda.com for useful videos and courses on chatbot development.
2. Coding
Even if you are not aiming to become a full-time programmer, having fundamental knowledge of coding is a major asset. Whether you're launching an app, working on AI, optimizing a site for search, creating content, etc., basic coding skills can go a long way. You can get started through Codeacademy, which is great for both beginners and coders looking to learn more and improve.
3. Advanced Excel Skills
Spreadsheets are a staple of any organization. Learning how to use formulas and other features to organize and process data in Excel can help save time and improve efficiency – beyond the finance department. You can learn advanced Excel skills through Data Monkey.
4. Social Media Marketing
We know the power of social media for citizen engagement and crisis communication; but in general, government agencies should always be marketing themselves. Marketing on social media, in particular, is an ever-changing field, so staying on top of it is important. Whether you want to learn the basics or more advanced skills, there's no shortage of online courses for social media marketing. Stay connected with trends and best practices with resources like Social Media Today, CivicPlus and Hootsuite blogs.
The professional landscape is changing as new tech is created and implemented every day. Picking up a new tech skill could greatly benefit your career moving forward – even for the "non-techie."
Kelda Senior is a GovLoop Featured Contributor. She is a business development and accredited public relations professional from Florida. For the past 10 years, Kelda has served as a communications and community outreach specialist in local, state and federal government, with an emphasis on the transportation sector since 2012. Kelda is the owner of Senior Communications LLC, a boutique public relations firm focused on helping emerging brands cultivate their message and move their audiences to action. Kelda holds a B.A. in journalism and a master of public administration – both from the University of Central Florida in Orlando. You can read her posts here.