Since there's the "Build a Bear" concept for kids, I figured why not create my own fictitious "Build a Boss?" I have had a fairly large number of supervisors during my federal government career (I'm counting at least 14 in 11 years). And while no one is perfect (not even Olivia Pope on "Scandal"… even though I would love to be one of her gladiators), most managers had some great skills that I respect, admire, and hope to emulate.  These are the seven characteristics I would use to "Build a Boss."
#1: Teach Me
During my first rotation in the intern program at the General Services Administration, I had a team leader and a manager who were swamped with work. Instead of ignoring me (which can be an easy trap to fall into as a supervisor), they put me to work, including overtime on the weekends (which I was grateful for, because I enjoy staying busy and I needed the extra money). Plus they took time out of their day to teach me. It has been over a decade now, and I still remember learning general ledger transactions in my manager's office.
#2: Encourage Questions
As I gained more experience, I was fortunate enough to work for a manager who was very inquisitive and had an amazing work ethic. My co-workers and I would bounce ideas off her, and it was fun to work in an environment where we came up with solutions to unique problems. This manager created a culture where we worked as a team and yielded tremendous results. I gained most of my Microsoft Excel knowledge from my team members and they did a fantastic job training me and answering my numerous questions. Now I'm proud to call these ladies my close friends even though we haven't worked together in 7 years (because who doesn't like getting together and talking about "vlookups" and pivot tables?).
#3: Be a Human
I was out for a run during my lunch break when I encountered two abandoned, skittish Basset Hounds. When I got back to work, I was upset that I had left them. I went into my supervisor's office and told him what happened (I'm sure at that point, he probably just wanted the crying girl out of his office) and he told me to go get them. This photo was taken shortly after I brought them home. My husband and I adopted these two cuties and named them Hank and Lucy. And if you know me, it was only a matter of time before I found a way to work my dogs into a blog post!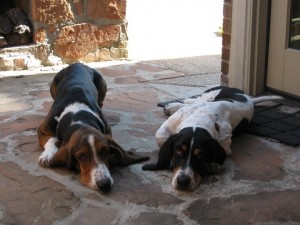 #4: Get in the Trenches
I was not a very good delegator when I was a supervisor, and maybe that can be attributed to my respect for managers who get in the trenches with their staff and lead by example with their work ethic. If my manager wants to learn and grow, that pushes me and also makes me more confident in our final work product. I want my work scrutinized, and the more dedication my supervisor has, the more it pushes me to excel.
#5: Trust Me
Towards the end of my internship, my team leader and manager both went on vacation for a few weeks. We were in the midst of a huge project (nearly $200 million of purchase order de-obligations), and they trusted me enough to handle the project while they were out. I got to do some pretty neat stuff like test the application and work with the Systems/IT division to resolve issues. On the flip side, I had some other stereotypical intern assignments back in my day… like counting the number of faxes that came in (true story). It was refreshing to have more responsibility and to be challenged.
#6: Play Nice
The manager who hired me and led our intern program is one of the nicest people around. And I mean genuinely nice… which can be hard to come by! It was very beneficial to have a mentor who really listened and wanted what was best for me.
#7: Appreciate Humor
Since this post is a slight twist of the "Build a Bear" concept, I would be negligent in omitting my favorite sassy bear, Ted. He's probably not the best lesson in career development, but "bear" with me (sorry, I couldn't resist). If given the choice, I prefer a supervisor who can tell a joke. Let's face it, work can be a grind sometimes. And I would much rather be spending 8+ hours a day with someone who can make me laugh and put a smile on my face (when the timing is right, of course).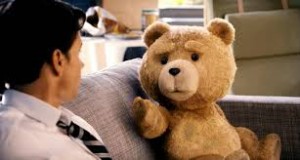 I must close with accolades for my other favorite TV boss (tied with Olivia Pope), Michael Scott. Because I want my "Build a Boss" to start the day with bacon cooked on the George Foreman grill… right next to the bed. Head to the comments section below and name a trait of your "World's Best Boss!"
Nicole Willingham is part of the GovLoop Featured Blogger program, where we feature blog posts by government voices from all across the country (and world!). To see more Featured Blogger posts, click here.