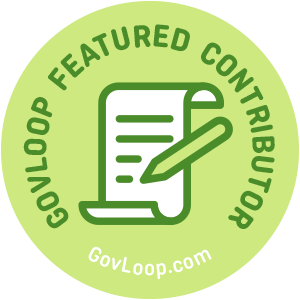 People with a common goal are more likely to reach that goal and perhaps surpass it when they work together as a team. Everything seems to be a team sport now. You can't open a new article on LinkedIn without seeing how everything, like eating brunch, is now a team sport. While the merits of treating eating as a team sport are worth a healthy discussion, I agree that most everything is now a team sport. New generations of workers tend to be at their best when collaboratively engaged. Collaboration often brings new perspectives and challenges the status quo in a healthy productive way.
Within the Department of the Treasury's Bureau of the Fiscal Service there is an Office of Financial Innovation and Transformation. This office's goal is to transform the federal financial management landscape. In fact, it's all of our goal. The Fiscal Service knows that innovating in this sector is a team sport. We simply can't do it on our own. So, we put teams together to get us to the goal. We engage, collaborate, and work with various offices within our bureau and within Treasury, other federal agencies, and industry experts to help us implement government-wide improvements.
A Good Brunch Needs a Choice Menu
If the hypothetical team sport of brunch had a sequence, you'd start with a good menu, or playbook. The U.S. Department of Veterans Affairs (VA) needed help improving their financial management efforts. They were trying to reduce fraud, waste, and abuse to be good stewards of taxpayer dollars. So we began working together on pilots to find innovative ways to tackle this problem. In working side-by-side with the VA, we learned practical lessons that could be a great road map for other agencies looking to improve. So, we worked together to build a playbook. Menu set. Check.
Brunch isn't any good without plate sharing and interesting talk among everyone at the table. When working to make federal financial management better, it's also about sharing, connecting and building the community. In the fall of 2017, we launched a pilot to explore how robotic process automation (RPA) could improve what we do. Our initial findings presented an opportunity to team with the Association of Government Accountants (AGA). With their large membership and built-in team, we joined together on a half-day symposium to discuss robotics with the greater financial management community. AGA helped us start the conversation and bring the right leaders together from the private and public sector. The results helped everyone gain a greater understanding of how to leverage the technology and identify new ways to share our knowledge. Association partnerships can yield fantastic results.
Conversation and Teamwork Builds New Perspectives
Good conversation often leads to new perspectives on old ways of doing business. Like whether or not I can add hollandaise sauce to every plate at brunch, right? That stuff is seriously good. In continuing our conversations, we found that one of our flagship publications, the Treasury Financial Manual, had been put together the same way for years and is ripe for change. This manual is the official publication of policies, procedures, and instructions concerning financial management in the federal government. We're working with the writers and practitioners to better understand how people actually use the manual, so we can make it designed for the user. By collaborating, and having conversations, we expose new perspectives on our way to transform the manual so that the financial information it conveys is not only important, but meaningful and useful.
All menus and conversation over brunch aside, teamwork changes perspective and makes transformation happen. So who would you consider teaming up with to gain a new perspective? Maybe over brunch? As we continue working on innovative solutions to challenges facing federal financial management, we're going to be having conversations that could benefit from new ideas. If you have new ideas, or would like to sit down for some brunch and talk about it, reach out to [email protected]. Brunch is a team sport, and so is federal financial management. We're hungry. Are you?
Just like the topic of this article, it was written as a team sport! Contributors were Adam Goldberg and Stacy Neal.
You can follow Shayne L. Martin on Twitter and LinkedIn. He is part of the GovLoop Featured Contributor program, where we feature articles by government voices from all across the country (and world!). To see more Featured Contributor posts, click here.