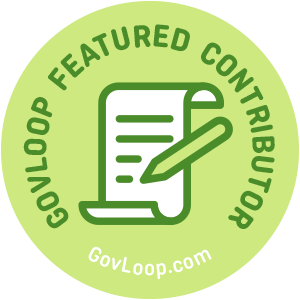 As our nation continues to focus on our veterans this month, I think about the many conversations I've had with clients and colleagues who used to be or are currently serving our country. I also think about how I transitioned from the military into the private sector. It was a scary period in my life, as changing any career would be, but especially since the military is more than a job; it is like a family and a way of life.
Transitioning from the military today does not need to be scary, as jobs are plentiful and skills acquired in the military are more useful outside of the military than ever. Working for a large technology company, I also see the real value our veterans can bring to the private sector based on the technology they use while on military duty.
Since the 90's the military has been at the forefront of information technology, which is a very portable skill to bring into commercial companies. All of this leveraging of information technology in the military as well as in the private sector has led to new cyber vulnerabilities and thus a real drive to secure the critical infrastructure and data. What is needed to achieve this cybersecurity mission now more than ever is a proper path to effective cybersecurity training.
Whether it's service men and women at work, at home, or veterans reentering the workforce, cybersecurity training is a major focus currently, and for good reason. Cybersecurity provides the critical foundation for organizations required to protect themselves, enable trust, move faster, and perform their mission. This is especially true at the Defence Department (DoD), one of the largest employers in the world and one committed to addressing global security threats.
To address the growing digital battlefield the DoD is faced with, the Defense Information Systems Agency (DISA) has a cyber workforce management program which includes a list of cyber certifications that soldiers can go through in order to further their cyber expertise and military career. From analyst and incident responder to information assurance technician, soldiers can explore cyber positions that not only help protect our nation but also prepare them for a cyber career outside the military. Some of the certifications are offered through third-party vendors like Cisco, giving soldiers training on current cyber systems used by both military and private sector organizations.
By 2022, there will be 1.8 million unfilled cybersecurity jobs worldwide. With that, there continues to be a significant skill gap, which poses a threat to our national security, our businesses and our local community. And if you know a veteran, you know that veterans bring the kind of talent businesses and organizations seek to address this need. Veterans are uniquely prepared to take on this challenge, bringing to the workforce highly valued skills in leadership, a mission-driven approach and the ability to work under pressure.
One fantastic program that's beginning to make waves in a few states is CyberVetsUSA. It's an industry-led initiative which provides free cyber-related training, certification and career resources to veterans seeking employment in the cybersecurity industry. In collaboration with tech industry partners, state-level government agencies, educational institutions and nonprofit organizations, CyberVetsUSA aims to address the growing need for cyber talent for today's digital workforce.
The program is currently being offered in Virginia and Maryland where the goal is to address the workforce needs of these specific states. Additional states are expected to be added through 2020. CyberVetsUSA is open to eligible veterans, transitioning service members, military spouses and members of the Reserves and National Guard who are interested in pursuing a cybersecurity career. Those interested can find out more about the eligibility process here.
Another fantastic organization is Hire our Heroes (HOH). This organization teams up with the Department of Homeland Security to offer free cybersecurity training and certification prep courses. The Federal Virtual Training Environment (FedVTE) is the online, on-demand training center that HOH uses with courses ranging from beginner to advanced levels. Veterans interested in getting into the cybersecurity field can take introductory cybersecurity courses, while elite cybersecurity professionals can take their skills to the next level with advanced course curriculum.
I'd recommend going to the National Initiative for Cybersecurity Careers and Studies (NICCS) website for more details about how to sign up for FedVTE online courses.
Whether a current service member or a veteran reentering the civilian workforce, look at cybersecurity training options. It's an ever-growing field that continues to show demand and with an average salary of $116,000 (nearly three times the national income average), it's not a bad career to pursue!
Dan Kent is part of the GovLoop Featured Contributor program, where we feature articles by government voices from all across the country (and world!). To see more Featured Contributor posts, click here.