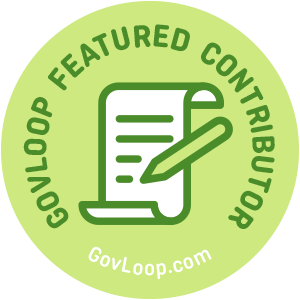 In Government, reputation management is often brushed aside by administrations. It's not considered a critical component to daily operations. Unless the head of the agency is an elected position, you will be hard-pressed to find even simple feedback systems in many government entities. This is a mistake, and one government should start investing in to fix.
Why is reputation management a problem in government?
Simply, poor reputation creates inefficiencies and puts a massive strain on daily resources, causing frustrated citizens and low-retention rates of government employees. Interaction inaccessibility is one of the leading barriers to government practicing reputation management. Limiting outlets for customers to communicate their issues is driving government agencies' reputation down daily.
There are two types of reputation management: proactive and reactive. Traditionally, due to limitations in resources and technology, government manages customer service (and their general reputation) in a reactive role, meaning they are dealing with an angry customer on the phone or in-person after the issue has escalated unchecked. This approach is utterly flawed, draining time and straining resources. The traditional government call center with 30+ minute wait times is not an efficient or effective outlet for solving this problem. It's simply a matter of inadequate personnel and limited resources.
On the other hand, proactive reputation management creates opportunities to help customers and manage the outcome before it begins escalating. If an agency has employees in the field that interact with customers, they can (and often do) practice proactive reputation management. Whenever an employee makes a customer feel as though they have gone out of their way to help them, that employee is proactively managing the agency's reputation. While a good (albeit traditional) mechanism for boosting reputation, this approach depends on numerous factors and, often, employees in the field deal with the same challenges of call centers (limited personnel and resources). Furthermore, these conversations are often inconsistent from interaction to interaction.
From my time as the Public Information Officer for the Montana Motor Vehicle Division (MVD), I have identified the most critical step government agencies can take to start managing their reputations today: conversational automation.
You may be wondering: "What the heck is conversational automation?"
A fair question: conversational automation is the fancy term for chatbots. Automating conversations with customers just makes sense for government. It is the employee that goes out of their way to help a customer every single time. In fact, a single chatbot provides consistent customer interactions to tens of thousands of inquiries simultaneously and is available 24/7/365. For me, this is the single most important step that government agencies can take today to start proactively managing their reputation.
However, not all automated conversation technologies are created equal. Many of the current iterations are actually a glorified search bar, and though they have a use-case, it is narrow and inconsequential to boosting reputation. At MVD, we implemented Tars as our conversation automation platform. A mobile-responsive and interactive interface, Tars technology is essential in daily digital interactions for citizens across Montana, but, for the sake of this article, I will only focus on the feedback system that Tars provides and my implementation of it.
Tars has a simple 5-star rating system that can be employed on numerous levels. At MVD, I used the rating system to capture customer feedback at the end of their conversation with the bot. Tars allows us to branch the user to different responses depending on the rating from the customer. If a user rates three stars or less, the chatbot acknowledges that they were not satisfied with some aspect of our service and it offers a chance for the customer to leave detailed feedback and their email so we can respond. At the completion of their feedback, I am emailed their full interaction with the chatbot as well as their rating and feedback. If they leave an email address, I can start the process of reputation management immediately.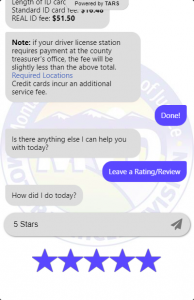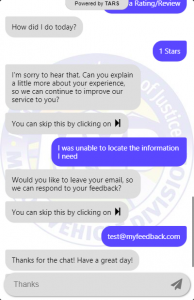 This is the customer interaction in a Tars automated conversation system.
Since our system was launched last August, I have personally read through thousands of user ratings and comments, responding to customers issues personally when applicable. Our organization as a whole has fielded tens of thousands of customer questions and feedback. This has single-handedly reversed our digital reputation.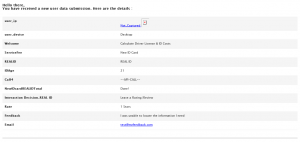 An example of the interaction above sent to my email upon completion.
Using Tars, I also launched a Facebook Messenger bot to provide customers with a suite of options when they first message our page. This simple implementation took our response rate from "over 28 days at 60 percent" to less than a minute with a 100 percent response rate (yeah, we have the coveted responsive badge now). This is a perfect example of chatbots filling a role where resources were limited. And the best part? I can still message with customers after the bot has made initial contact to help solve more complicated issues.
As I have discussed in my previous GovLoop article, MVD's chatbot system changed the culture and the atmosphere with our in-person customer interactions. Though hard to quantify in-person interactions, it can easily be correlated to the wild success of the conversation automation system. The increase of four and five-star ratings is indicative of a successful reputation management system.
Some initial benefits: employee retention increases because initial face-to-face interactions with customers start on a positive footing. Employees spend less time in a reactive reputation management role, leading to a positive customer interaction for the employee as well. Citizens spend less time dealing with government services, which boosts satisfaction and naturally reduces wait times for in-person services for other customers.
Finally, I would like to end this article with a couple prompts for readers:
What does reputation management in government mean to you? In what other ways would you implement a pro-reputation management policy in your administration?
As always, I offer an open invitation to all readers to follow me on LinkedIn to continue the conversation when I post the article. Feel free to leave your feedback, ask questions or drive the conversation to deeper realizations. Either way, I'll see you in the comments!
(You can interact with MVD's newest conversational automation system at mtrealid.gov)
Levi Worts is part of the GovLoop Featured Contributor program, where we feature articles by government voices from all across the country (and world!). To see more Featured Contributor posts, click here.