Last week I wrote about the foundational blocks to consider when implementing a social media presence. Part of an effective social media presence is evaluation, so that you can determine whether or not your strategy is working and how to tweak it to accomplish your goals.
First, the question: Part one of any good evaluation is first identifying your program/agency goals. Ask yourself the following question: what do you want your social media presence to accomplish? Are you looking to establish your brand? Do you want increased engagement from your audience? Are you reaching your audience?
Second, what are the metrics? There is a ton of analytical information out there and every social media platform offers its own analytical data. Use it, but use it wisely. My recommendation is to make a list of all the metrics you are currently collecting. Then match each metric to what it tells you. Additionally, add a list of all the metrics you'd like to collect. See the table below for an example of some metrics on some platforms: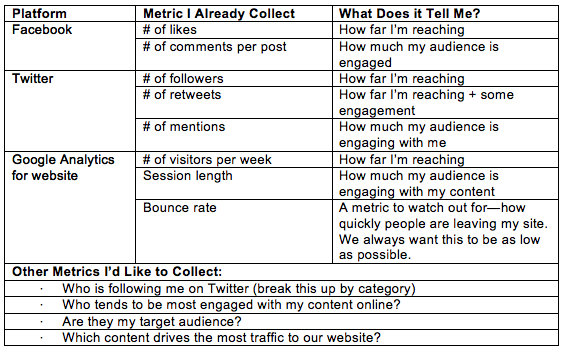 Third, know the definition: Each platform defines its metrics in its own way. It is very useful to do your research to know what each metric is telling you. For example, Twitter will tell you how many impressions your tweets get. What does that mean exactly? Which part of the equation does this metric answer for your social media strategy? For Facebook, the equivalent is a "reach" for a Facebook post. You want to make sure you're comparing apples to apples when evaluating your social media presence comprehensively.
Fourth, connect the dots: Use the information you've gathered to identify the metrics you need to follow to evaluate whether or not your social media strategy is working. This will also inform what you need to do with your content so that you can impact those metrics. Additionally, base the number of metrics you want to impact on capacity within your agency: impacting 20 metrics takes a lot more resources than five metrics. Determine what is important to you and which metrics most closely help you achieve your program goals. Focus on those first. A qualitative measurement is also very important. Gaining a huge number of mentions because of a social media blunder isn't what you're aiming for, so context is key when it comes to data!
What do you look for when evaluating social media? Please share below!
Mehroz Baig is part of the GovLoop Featured Blogger program, where we feature blog posts by government voices from all across the country (and world!). To see more Featured Blogger posts, click here.