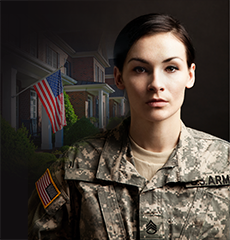 From Combat to Cubicle – Is There a Glass Ceiling for Women Veterans?
A couple of weeks ago I was honored to partake in an important yet vital Women Veterans Listening Session – Barriers, Challenges and Successes in Federal Hiring sponsored by OPM. I must say that OPM Director Ms. Katherine Archuleta was very gracious and down to earth as was her session companion Catherine Emerson, CHCO from DHS. These two ladies were charged and energetic with their mission to hire more women veterans in the federal government. If all hiring managers were as gracious and welcoming as these two ladies then my bet is that we would have more women veterans serving our country after the uniform. After all, it makes sense to have a balanced workforce but more than that, the federal government has already invested a significant sum in our education and professional development.
After I left the military, I meandered through the corporate world, unemployment, self-employment, motherhood and finally got through my education completing my Bachelor and then Masters Degrees. If I were still in the military I would have had the opportunity to apply to Officer's Candidates School (OCS). As I made the transition to federal government work I applied and graduated from the Presidential Management Fellows Program (PMF). Sounds like a great opportunity but I wonder, at what point am I able to cross this great divide from bargaining unit employee aka enlisted in military speak to management aka officer ranks? I have crossed the range of careers from paralegal in the Army where the civilian world did not recognize my legal experience to becoming a business analyst in the corporate world, I owned a construction company but lacked the bonding for federal contracts and then finally landed my first federal job as a contract specialist with ICE and GSA, and then moving over to HUD as a Portfolio Management Specialist.
My personal goal is to make a transition and become more than where I am in my professional career. In doing so I believe I have taken steps to bridge any educational gaps, I've taken on service opportunities to step outside my normal work position.  Before attending the listening session, I pondered the notion of how to make the transition to management? Though when I was at the listening session I began to wonder, is there a glass ceiling for women veterans within the Federal Government? How many make the leap from employee to management and if so, what did you do to get there?
I think it is not only important to focus on the numbers of women entering the federal government after their military service but to also grow the women who successfully make the transition to continue their service to their country albeit no longer in uniform. You see, we, or at least I, still view my service in the Federal Government as still serving our nation just not in uniform. Now I do not by any means imply that I nor any of my fellow women veterans are "owed" anything. God knows we have sacrificed a bunch already in our lives but we would never say we are owed anything but our healthcare from our physical sacrifices.
Getting our feet in the door in the federal government is one thing and very important mind you. It excites me that there are some activities happening to open the doors for more fellow women veterans to enter the Federal workforce however it should not stop there. Let us approach this in a way to keep the doors open to move up the career ladder. Most of us are well seasoned professionals, capable of enduring many types of work environments and situations. In light of this upcoming Veterans Day, I urge hiring managers out there to seek out women veterans as potential candidates in your hiring decisions. You may very well be pleasantly surprised at just how capable we will serve and with the energy needed as your agency goes through a changing environment.
By the way, I really hope I get to continue in working with the OPM listening group for women veterans. A coworker and I have made the transition to federal employment post boots but we are still hoping to move up in the ranks of the federal workforce. Just saying…..
Photo credit from http://www.dav.org/women-veterans-study/