A challenge has been issued to Americans, and it's one you're going to want to accept.
The challenge has been made by Jason Goldman, who is getting started as new Chief Digital Officer at the White House on April 6. Jason comes from the tech sector trenches at companies including Twitter and Google, and is one of many prominent tech folks who have recently moved over to government.
In a post on Medium, Jason asked for everyone's help create more meaningful online engagement between government and American citizens.
Jason's challenge, should you choose to accept it:
I would love for you to answer this question: How can we — our government and you and your communities — better connect online to make America better? This isn't about agreeing or disagreeing about a particular policy. This is thinking through how we want our government to engage with us and how willing we are to participate in that conversation.

Post it wherever you'd like — Twitter, Tumblr, Medium, Facebook. Use the hashtag #socialcivics. I'm excited to hear what you're thinking and expect I'll learn a lot. I'm taking this job because I believe there's more to figure out in terms of how government and people connect online.
GovLoop and its community are here to answer that challenge—and it already has quite a few ideas on how government can use technology to engage people in new ways. Here's GovLoop's top suggestions:
Innovate at the Point of Citizen Engagement
Citizens and government interact all the time. Sometimes it's compulsory, like when income taxes are due. Other times it's optional though in people's best interests, like when citizens seek the support of social services. And other times it's citizen-led, like when people self-organize to improve their communities.
At each of these points along the spectrum of citizen engagement, government has an opportunity to improve access to services and information. By leveraging technology in a strategic way, government can enable and empower these efforts.
GovLoop's guide, "Innovating at the Point of Citizen Engagement" explores seven examples of how government has facilitated a better, more productive connection with citizens. They're each models worth replicating.
Change Culture, Not Just Technology
True enough, launching new and improved government digital services doesn't come easy. The acquisition and deployment of technology is complex. But, the biggest barrier to digital innovation is something that's much tougher to conquer:
Culture.
Risk aversion, misperceptions about process, hierarchical management structures, and divergent priorities are the primary cultural barriers that prevent many projects from being executed in the agile, collaborative environment they require.
This infographic explores the ways that government can overcome cultural barriers to complex technology from getting support, leveraging data, clear communication, the right team, and phased development.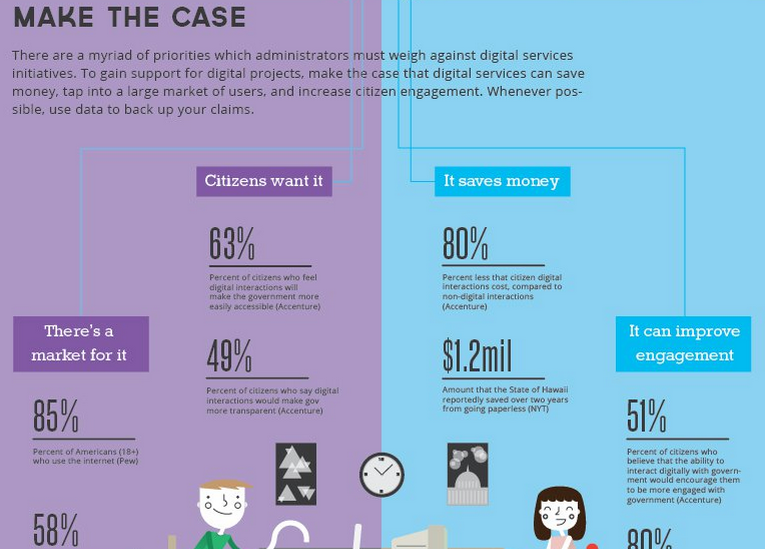 A Bounty of Ideas for Citizen Engagement
GovLoop has been exploring the idea of technology-enhanced citizen engagement for years—just check out our resources, they're thorough and exciting. It recognizes the need to evolve from the perception of technology as a disruption to technology being an essential, embedded part of all citizen engagement efforts by government.
Technology tools now make it possible for government to reach all citizens, including those that historically have not had a voice in their country's future. GovLoop and its community are ready to meet the challenge of figuring out how to use technology to meet the needs of citizens where they are, online and off, and in all aspects of their lives where government can be of service.
What are your ideas for helping government engage directly with people online and through technology? Share them in the comments below and join the social media conversation using the hashtag #socialcivics.
Lauren Girardin is a marketing and communications consultant, writer, and trainer. Find her on Twitter at @girardinl.