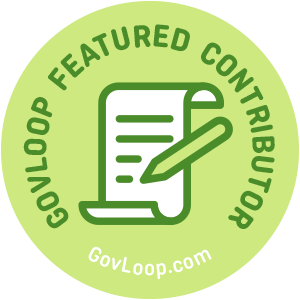 Every government agency has a complex and important set of missions and services to deliver.
Health and Human Services agencies work to enhance and protect the health and well-being of the public (Click here to see "Tennessee Faces of Opioids" for an innovative HHS communications approach to a serious problem.).
Education departments promote student achievement and equal access to learning, while focusing on preparing young people for global competitiveness.
Our Interior, Environment and Energy agencies work separately and together to protect America's natural resources, explore opportunities for renewable energy and honor the diverse cultures and heritage of people in communities across the country.
From agriculture to transportation, law enforcement and our military to housing and labor, everywhere you look, federal, state and local government is serving the public in a variety of ways.
What occasionally gets forgotten is through all these layers of government and service, the glue that holds the different missions of service together, as well as the people delivering the vital services to us, is effective communication.
What is effective communication?
In our daily lives, we hunger for effective communication, because it is information that provides clarity and purpose.
No one wants to be confused, lost or feel frustrated by information.
When we receive answers to questions, precise direction or insights that spur action, we can accomplish tasks, learn and better ourselves. Achievement and learning generate positive energy, which fuels better thinking and enhances our productivity. These are all pieces of a high-performance culture.
For government agencies, effective communication delivers a powerful impact both to the workplace and the public.
Studies done over the last 10+ years have shown that organizations with effective communications practices reported lower employee turnover. Higher levels of communication also improve employee engagement, which increases work satisfaction and morale, and improves productivity and retention.
Of course, effective communication also improves service delivery and customer satisfaction. This is true because communication is more than just spoken or written words – it includes listening, collaborating, training and using tools that break barriers, reduce confusion and create accountability.
Perhaps most important in a society that places greater value on authenticity than ever before, when you communicate effectively you not only increase awareness and understanding, you build relationships based on trust.
How can your agency improve communication?
Below are several ways your agency can improve communication internally and with the public.
Please be sure to build upon this list in the comment section below and share ways you (or your organization) helped improve communication.
Assess your strengths and weaknesses as a communicator.
To improve communication within your agency, a great first step is to recognize that effective communication starts with each of us. We each need to assess our own strengths and weaknesses as communicators.
Ask yourself:
What words do you use when you write?
Are you writing in a passive voice?
Are your emails long and difficult to follow?
Do you use complex or negative words?
When you schedule meetings – do you include an agenda and goal or outcome for the meeting?
Are you giving your intended audience the information they need or only what you think they need?
All the above are important questions to ask that will help identify areas of improvement in your written communication.
Once you have examined your written communication, you should look at how you communicate verbally. Verbal communication will include – not just what you say – but how you say it.
For example:
Do you provide clear direction on tasks or summarize events clearly?
Do you speak too quickly?
Do you talk over others, or not engage in a positive discussion with give and take?
Body language and posture also are important when you speak with another person or within a group. Crossing your arms can indicate defensiveness and discomfort. Overuse of hand gestures or lack of consistent eye contact can indicate either nervousness or project a lack of confidence in what you are saying (possibly even dishonesty).
Getting an assessment of your strengths and weaknesses as a communicator can be difficult. However, you should look at ways you can get feedback from coworkers and managers into your communication style. Sometimes, just asking what people notice about how you communicate will bring some suggestions to the surface and give you ways to improve.
Note: It also might be a good idea for your agency or team to hold a communication workshop during the year where some form of basic communication style assessment can be done for everyone. Building a better foundation for communication will help build a better team.
Make it easy to get information online.
Making it easy to get information is a critical component to your communication strategy.
Good tools for making it easy to get information online include simple email sign-up forms, live chat boxes, digital forms that include electronic signatures and artificial intelligence (AI) driven features.
However, if you really want to provide the public and your employees with easy access to information, your agency needs to think about design – both for your website and your email.
Design starts with an analytical framework – knowing through data and experience what information people need at their fingertips. It moves forward with an understanding of your audience and making sure all people (including those with disabilities) can get the information they need.
You also cannot forget about your internal needs. As you manage web, email and other digital tools, you need to make sure you can access information as well. Images, files and other assets should be in one place instead of scattered across your network.
As the process of design goes from the technical and functional needs to the informational and aesthetic, always remember the primary goal is more effective communication.
Note: For a great example of web and communications modernization that used data-driven design, compare and contrast Amtrak 2015 with Amtrak today.
Know your target audience and personalize your communication.
Knowledge of your target audience is important in outbound communication with the public as well as in internal communication.
Most people grew up in a time where standardization was king. Despite the technological advancements that are rapidly changing how we act from talking and shopping to buying and learning, the concepts of mass production, mass education, and of mass messaging (sometimes called "batch and blast") are still with us.
However, in order to improve how we communicate, we must recognize that audiences expect messages that are designed for them. Therefore, we must get to know our audiences better and personalize our communication.
Note: Personalized communication is not just addressing someone by their first name in an email. A true personalized experience is sending a message to "John Smith" reminding him that his "beautiful dog, Audrey, needs her license renewed by" a certain date. Or a message to Melanie that her "three trips to National Parks in 2019" have earned her a special reward that she can redeem online.
Personalized communication is not the same as being invasive or creepy. The messages are based on behavior, but the tone should be limited to meeting functional, immediate needs of the public.
Communicate with people where they are most influenced by your agency's message.
Depending on the audience, your information may be better received in some channels more than others.
Look at your audience demographics and their viewing behaviors. While some channels, such as email and your website, will be important across most audiences, you may learn that direct mail is more effective at reaching seniors or social media is better for reaching millennials.
Government agencies also are starting to realize the potential of Digital Out of Home (DOOH) media – such as running programs and advertising on gas station pump television networks.
Lastly, make sure you encourage referrals and word of mouth promotion. Studies show that people today are much more likely to use a service based on online reviews or peer recommendations than advertising. Hence, finding an agency evangelist who can carry your message to under-served communities and audiences could be the most influential step you take to expand service delivery.
Adopt technology that puts you in total control of your agency's communications.
One mistake government makes with communications technology is to only solve to an immediate need and not look at the total picture, or to start looking at price first – solution second.
It is easy to understand that government agencies want to solve problems quickly or avoid more expensive solutions.
However, you always need to think about what solutions are going to meet all your needs – short term and long term – and give you the ability to communicate in the most effective ways possible with the public across all channels.
Your total cost of ownership will be higher, and your internal effectiveness/credibility will suffer if you end up with an incomplete option that you must change in near future.
Some things to consider:
What kind of analytics capabilities do you need to have? If you are unsure, have you discussed what analytics capabilities are available and how your agency can benefit? This applies to your website, but also to measuring your email effectiveness.
Can you manage campaigns and track engagements across multiple channels from one dashboard to know how your audience is engaging with your messages (or if they are not engaging at all)?
Can you manage assets in one place to have a single record of truth and avoid misplaced documents, graphics and photos?
Do you have automation capabilities to provide immediate responses to web inquiries? Automation also can create personalized reminders for upcoming license renewals, tax payments or activities and events.
Are you using AI-driven / machine learning tools on your site to improve self-service and free your team from time-consuming, manual tasks?
Additional ways to improve your agency's communication.
Now, here are some quick tips for improving communication at your agency:
Encourage senior leadership to hold "active listening" sessions with their teams. This is exactly what it sounds like – a time for senior leaders to listen. Two benefits of this: 1) When employees get the chance to talk more, they feel better about themselves and their leaders. 2) Listening creates a learning environment for senior management, which can improve downward communication.
Ensure your agency listens to the people your serve. Create forms and surveys, monitor social media channels and hold public as well as internal meetings to collect feedback on how your agency is performing. Once you have the information, discuss how your agency can act on it.
Be an authentic storyteller. Talk about your government organization and its activities in an honest and genuine way. Be sure to profile people you serve and encourage them to share their stories (if appropriate and possible).
Develop a rapid response plan that emphasizes honesty, consistency and courtesy. You may not have all the facts in a time of crisis or when a hot-button issue arises. However, have a plan on how you can communicate with people to let them know what you can tell them and why, and when they can expect more information. Keep your word, no matter what. And always be nice. Angry, frustrated, confused or scared constituents will not feel better if they feel ignored or slighted.
Align communications strategies to agency goals and define what success looks like. You may have an agency goal to increase awareness of opioid abuse in your state or encourage the use of online forms to increase self-service. How will you know if you are successful? Identify who your audience is, how you need to communicate with them and what data you will collect to measure the campaign's performance. Decide what a successful campaign will look like once it is over.
Send messages that get read. That may sound obvious, but too often organizations (not just government, btw) will send out a mass email that does not get read by most of the intended audience. Collect data from the campaign and look at ways to segment the audience to deliver different messages, at different times.
Use search engine optimization tools to identify content and communication opportunities. For content and communications projects a detailed dashboard in SEMrush can tell you what people are searching for and where. This will help your agency to start building a content roadmap to fill in gaps based on what people you serve are prioritizing.
Though the list above is detailed, it is not complete.
There are many examples of government and private sector industry using effective communication techniques to enhance internal operations and worker morale, as well as improve service delivery.
Take a moment in the space below and share some of your feedback.
Some questions for you to consider:
How can government improve communication internally and/or with the public?
What are some examples you have seen or been a part of?
Michael Hackmer is a GovLoop Featured Contributor. He is the Senior Content Strategist for Adobe Government. He also is a Founder of Social Web Tactics, a strategic marketing agency. He has been a speaker, consultant and marketing strategist for over 15 years. He also has worked in federal and state government relations, and managed industry affairs and association membership. He has developed digital and strategic marketing campaigns for companies including: Adobe, Deltek, HP, K12, Red Hat, Strayer University and more. He has helped non-profits and corporations with marketing automation solutions. He is originally from Boston, MA. Michael lives in Ashburn, Virginia with his wife and daughter. He loves to run, swim and travel throughout South America.