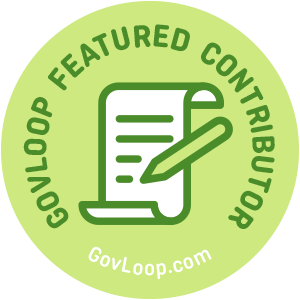 Written in collaboration with Rob Lloyd, Chief Information Officer, City of San Jose and Michael Sherwood, Director of Technology and Innovation, City of Las Vegas
Data is now the foundation of increasing innovation in smart cities initiatives around the world. Cities everywhere are leveraging data to gain better insights into city operations and to improve citizens' lives. However, the explosion of simply too much data has propelled cities to embrace intelligent automation solutions powered by predictive analytics and Artificial Intelligence (AI), to extract maximum value.
Intelligent automation leverages machine learning to transform structured and unstructured—(otherwise known as "messy") data into actionable insights. Embedded AI smartly recognizes people, content, and context. It is an enormous opportunity for communities. Many cities and counties are streamlining processes by building greater efficiency, visibility, and control into their operations with less manual intervention, reducing the potential for error, resulting in reduced costs and improved customer experience. They seamlessly blend knowledge workers and cognitive automation to create agile workforces that achieve unprecedented levels of performance and satisfaction. City of San Jose and City of Las Vegas are two cities embracing these technologies.
City of San Jose, California
San Jose, the birthplace of Silicon Valley, has a lofty goal to become North America's most innovative city by 2020. One of San Jose Mayor Sam Liccardo's priorities, since he was elected, has been transforming the diverse community of over one million residents into a "smart city." Since 2016, San Jose has emerged as leader in partnering with leading companies, shifting to agile and customer experience design methods, and incorporating responsive and data-driven technologies into municipal services.
A lead initiative in San Jose's transformation focused on simplifying service requests through digital service design. The "Awesome Customer Experience" project focused on customer experience, aiming to deliver omni-channel service access with a mobile app and portal, tight integration with work systems powering city departments, and a data lake to allow continuous service improvements—all in six months.
The My San Jose effort tapped almost 200 contributors spanning staffs, vendor partners, and community members and testers. The platform provided the City with its first true 311 system and targeted the City's six leading service types. The results were striking: Redundant calls were reduced by about 20%. Over 45,000 residents now use My San Jose to interface with their local government. And elected representatives can see their residents' demands through maps and dashboards that are real-time.
Just as important, the city's data lake positions San Jose for machine learning and predictive service management. The data has enabled staff to re-engineer and prioritize resources for illegal dumping and abandoned vehicle services, to be more preventative. Armed with growing contextual data, San Jose is building more predictive services. Automated solutions and multi-lingual voice/text-interactive services can be built for the first time in ways that produces high customer satisfaction. Data and AI provide unlimited potential in a world where we need to connect neighbors to community more than ever.
City of Las Vegas, Nevada
Las Vegas is an innovation hub. In entertainment, business, and technology, it is always looking to provide new experiences to build the community, and has invested in intelligent automation in many aspects of the operations across the city. The AI automation of their operations has made a huge difference in the way the city is managing virtually all of its systems, saving a significant amount of resources and enabling faster and better business decisions. The city started with automating the monitoring of internal IT operations such as finance, but has now expanded to watch over everything from vehicle traffic information and public safety systems to network infrastructure and trash collection. It's also using AI in delivering customer service by enabling access to city services with Alexa and other digital assistants. Furthermore, Las Vegas is a pioneer in mobility and has applied AI to its connected and autonomous vehicle initiatives in its downtown area. Lyft is running trials with 40 autonomous cars, and latest-model Audi cars can also receive data feeds from the city.
Advances in artificial intelligence, robotics, and automation, are fueling a new era of intelligent automation, which will continue to be an important driver of organizational performance in the years to come. It is important for cities to understand and adopt intelligent automation to advance their smart cities strategy, or risk falling behind.
Franco Amalfi is a GovLoop Featured Contributor. He leads the go to market strategy for smarter government for Oracle Public Sector North America. Franco advises government officials on how to leverage modern cloud-based solutions and emerging technologies to help government organizations deliver personalized government services. In addition to working with customers, Franco authors, publishes white papers and articles on leveraging technology to drive business value for governments. He is also a frequent speaker at government conferences. He is a graduate of McGill University in Montreal, Canada and has completed an Advanced Certificate for Executives in Management, Innovation, and Technology at MIT Sloan School of Management in Cambridge, USA. You can read his posts here.