If I could wish one thing for government communicators, it would be that all of us adopt the following as our prime directive:
"Think Like a Reader."
Write those four words in ALLCAPS on a note card, and pin it to your bulletin board. Tape that maxim above the screen of your laptop. Tattoo it on your forearm. Emblazon it in your heart.
Because this is the area where government communication most often fails. Miserably.
The plain, hard truth is this: Most of us think like government employees rather than like the people we serve. And as a result, we suck at storytelling.
As Joe Maddon told the Cubs so often during last year's World Series-winning run, it's important that we "try not to suck."
So, without further ado, here are three rules of the road that will help us suck a little less and think like readers a little more:
Rule No. 1: 'Think Like a Reader' When You Choose Content
Way too often, we tell citizens what we want them to know — rather than provide the information they want from us.
How many times do we issue a news release or post a blog about an award we won or a grant we landed or a partnership we've entered into? Sure, sometimes that's good and useful information — but much more often, for the average Jane or Joe Reader, it's excruciatingly, mind-numbingly boring.
If we truly want to engage our audiences, we really ought to start with this question: "What do citizens want to know from local government right now?"
Over the past 30 years as a journalist and govie, I've learned from experience — and I'm betting you know in your gut — that there are three basic elements to a successful story: timeliness, location and impact.
How do you get other government employees to produce stories that are timely, locally focused and "impactful" (i.e. interesting and important to your audience)? You repeat "Think Like a Reader" as a mantra. Over and over. Endlessly. To anyone who will listen.
This is super simple, but I often share the following image with department heads and public officials to explain the content I'm looking for in Kane County Connects: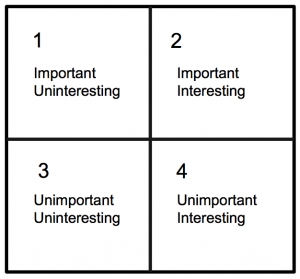 As often as possible, I ask fellow govies to help me publish more content from Quadrant 2 (important and interesting) and less from Quadrant 3 (unimportant and uninteresting). Do that, I say, and we'll double, triple or quadruple our page views and audience engagement.
Rule No. 2: 'Think Like a Reader' When You Write a Story
It seems to me that us government types spend a lot of time and energy putting interesting information into its least-interesting form.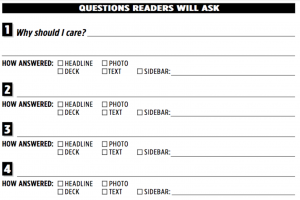 When was the last time you wrote a press release that started like this? "Governor Bruce Rauner today joined the U.S. Chamber of Commerce and the Illinois Chamber of Commerce to discuss …."
Govies need to "Think Like a Reader" not only in the content we select but in the way we tell the story.
We can do that by finding the "nutgraph" of the post and making sure that it's conveyed in the headline, the photo or video we post with the article, and the lead paragraph or paragraphs.
The "Think Like a Reader" catchphrase actually stems from "The Maestro Concept," a time-management and story-planning process created way back in the late '90s by a journalism professor named Buck Ryan.
The Meastro Concept "how to" material actually includes a form you can fill out to help you create more engaging stories. That form (part of which is embedded above) requires you to answer one simple question:
"Why Should I Care?"
If you think like a reader and ask that question, you'll find the keywords you need for SEO and focus you need for a successful news release or blog post.
Rule No. 3: 'Think Like a Reader' When You Choose a Story Form
One of the great things about the Digital Age is that we can tell stories on multiple platforms, using multiple media — video, social media, blog posts and e-newsletters, just to name a few.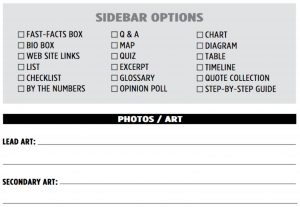 Part of "thinking like a reader" is choosing the platform and/or story form that will most effectively tell your story.
Some stories — emotional moments, stories with movement and sound (think building demolition) — are better told as videos. Others — pithy, quick-hit, personality-filled missives — beg for social media. Explanatory stories might be better told in a blog post, with graphics and images.
For blog posts and traditional print media, I encourage government communicators to experiment with a variety of storytelling forms.
You can see a few examples of alternative story formats on Tim Harrowers "Package Planning" form: fast-fact boxes, fact sheets, "by the numbers," Q&A, timelines, quote collections, step-by-step guides. Simply by mixing things up and using a variety of formats to tell stories, you can keep your readers interested and engaged.
Bonus Tip: Here are four successful storytelling approaches that govies rarely consider:
(1) Trending Topics — Read your local or area newspaper, listen to the news, check on Facebook's "trending topics" page. Local government often has information people want to know regarding the trending topic du jour.
For example, one of today's headlines concerns a mosque attack in Quebec City. In the wake of this story, Kane County, IL, residents might want to know:
How many mosques are located in Kane County?
Have there been any local reports of attacks in the past five years?
What is local government doing to make sure it doesn't happen here?
By anticipating those questions and gathering that information for our readers, we can provide a valuable and even vital public service.
(2) Roundups — Each year, I do a roundup story about trick-or-treat hours in 30 Kane County communities. It's simply a better way to tell the traditional, generic "Halloween safety" story, and it's clearly information readers want. I know because that story usually ranks in the top 10 most-read stories of the year.
(3) Localizers — If the Ebola virus is a trending topic, for example, we need to tell people why they should or shouldn't be worried about it happening here. I'm probably in the minority, but I'm a big fan of the "not" story. Last year, when people were going nuts about the Zika Virus at the Olympics and fretting that the virus would make its way into the U.S., I partnered with the Health Department on story about why folks in our neck of the woods had fewer reasons to worry.
(4) Breaking News — Citizens have a right (and a rightful expectation) to real-time reports from local government. And text messaging, e-blasts and social media make it possible to deliver. When there's a street closed due to a crash or a school lockdown due to a crime in the area, we should be telling drivers what parts of town to avoid and parents when they can pick up their kids. We shouldn't wait two weeks after the fact to issue a news release.
Doing real-time reports takes buy-in from the departments that handle emergency services, but many units of government are already doing so successfully and on multiple platforms.
Final Thought
Obviously, I've taken way too long to tell this story. (Shame on me.)
But my fondest hope is that you'll take "Think Like a Reader" to heart and put it into practice. It is the most important thing I'm going to say in this series of blogs for GovLoop.
Read More
Read The 'Journalism.Gov' Series
Today: How to 'Think Like a Reader'
Next Week: About a Billion Things You Can Learn From Tim Harrower
Rick Nagel is part of the GovLoop Featured Blogger program, where we feature blog posts by government voices from all across the country (and world!). To see more Featured Blogger posts, click here.