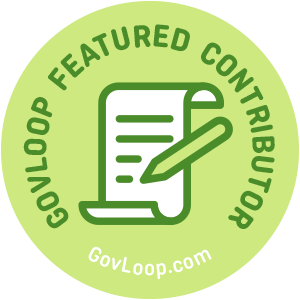 From the shows we watch on Netflix to what we buy on Amazon, companies have been leveraging AI to harness our data to give us, the users, truly unique and hyper-personalized experiences. We can now use our time to enjoy the result rather than having to spend additional time to obtain that experience. Long gone are the days when we had to wait in line to rent out a movie (RIP Blockbuster) or buy physical CDs. Today with the click of a button we can watch and listen to almost anything instantaneously.
As these experiences continue to deliver exceptional customer service and continue to anticipate our needs at every turn, we as consumers are beginning to expect the same quality of delivery from all government services.
Seamless Interaction in Commercial Services
In fact, banks are leveraging digital assistants to help customers receive the right information on the spot. My bank's digital assistant helped me figure out how to pair up an external personal account to my bank account within seconds, saving me time that I would have spent maneuvering the site, calling a representative, or having to go to a local branch to talk to an agent. This type of self-service tool not only helped me have a seamless and positive experience as I sought specific information but also created efficiency for the bank as they reduced foot traffic at their branches and wait times on their call lines.
The Opportunity in Government Services
As government moves forward with AI, agencies can bring these types of commercial best practices to citizens to improve the customer experience. The federal government touches the lives of almost every constituent and thus has an immense amount of data that can be used to inform AI systems. Now that the Open Data Act has been signed into law, that process may become easier as agencies will be strongly encouraged to appoint a chief data officer who will manage data assets and oversee broad data governance. Having the right data available for individual transactions will help the government shape future products and solutions to create personalized and efficient services for citizens.
Anyone who has been to a government field office to address an issue realizes that government workers and citizens alike would greatly benefit from advances like a self-service kiosk – similar to those used in commercial services – which can pair citizens with the appropriate representative or service. By pairing federal workers with information – powered by AI – the federal government can improve services, personalize experiences, and free up time for employees so they can take on more mission-critical and complex tasks.
How AI Can Help
Utilizing AI technologies to expedite case processing to help ease bottlenecks and by providing more self-service options, such as chatbots and online portals, the government can give constituents quality assistance quicker and give them time back to their day by reducing wait times in call centers and field offices.
Meeting the Mission
Leveraging these AI technologies is not just about expediting services but also about potentially expanding attention and care for each individual who interacts with these services. AI has the potential to revolutionize traditional government services and we, as constituents ourselves, have an interest in ensuring that all AI technologies create caring, ethical solutions in a transparent matter that enhances trust and confidence.
Dominic Delmolino is a GovLoop Featured Contributor. He is the Chief Technology Officer at Accenture Federal Services and leads the development of Accenture federal's technology strategy. He has been instrumental in establishing Accenture's federal activities in the open source space and has played a key role in the business by fostering and facilitating federal communities of practice for cloud, DevOps, artificial intelligence and blockchain. You can read his posts here.
Co-authored by Accenture Federal Services, Management Consulting senior analyst Alejandra Cuin