Octavia Butler, famed trailblazer and futurist storyteller, is known for saying, "All that you touch you change. All that you change changes you. The only lasting truth is change." I echo this sentiment. Change is the only constant and there's no question that big change, especially at work, is hard.
What if you could help make times of challenging change easier for your team?
I've had the privilege to guide countless teams as a transformation coach for over a decade. There are two key methods that I've seen put into practice throughout my career enabling success. Most recently, I was at the IT Modernization Centers of Excellence (CoE) with the General Services Administration (GSA) during the peak of 2020's global health crisis, leading efforts to accelerate work culture change in the Food and Drug Administration (FDA). Here's what you need to know about how both approaches work:
Method 1: Adopt a Journey Mindset
First, it's important to think about the process of transformation as a journey. A former executive coach of mine, an influential people leader at Google, recently wrote this reflection about facing the fear of change and embracing it as a journey. When you look at change as a journey, she explains, it opens new ways of thinking and helps you adapt and become more resilient. Journeys also offer an invitation to build new relationships, new ways of learning, reimagine community and adventure through uncharted and potentially scary lands.
Method 2: Coach Your People Using a Conversation Arc
Next, you can use your journey mindset as a framework to coach your colleagues to new levels of success using a powerful technique called a conversation arc. Whether we're designing experiences that foster new ways of working or contending with an abrupt crisis, coaching can help us thrive along our change journeys.
Right before the COVID-19 pandemic shook our universe with what feels like perpetual change, I signed up for a year-long certification program to upgrade my methods with ontological thinking. My biggest takeaway from this program is that the best coaching occurs in simple ways: through conversation arcs. These enable us to design new ways to see, listen and solve complex problems with one arc — one conversation — at a time.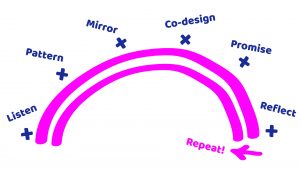 What is a coaching conversation arc and how can you use one to coach your colleagues?
The arc is a coaching experience, or a micro-journey that begins with presence. When you enter into a conversation with someone who needs support somehow, you must create and hold space. You do this by bringing your full attention to the discussion. Being fully present is both an art and science, with much research about mindfulness, and I've also previously written about the topic of listening personas.
#1: Start by asking questions
You must begin by active listening. You don't have to remain silent, but coaches typically do more listening than speaking. To get your coaching session started, however, it can be helpful to ask questions like:
What's the most important to you right now?
What is a burning priority for you?
Where would you like to start today?
#2: Look for patterns
During the start of a coaching-like conversation, it's important to be extra aware of and sensitive to what the person you're working with is telling you. If a conversation arc is an hour, spend up to 15 to 20 minutes absorbing what you hear with neutral bias. If you're hearing someone say 100 different things, what patterns can you identify? What additional questions, grounded in your expertise, are coming up for you?
#3: Mirror what you've heard and dive deeper to identify key drivers of change
At a certain point, it's helpful to reflect back what you're hearing. This is also an excellent time to ask for a bit more focus on the problem they might be seeking to solve. By reflecting you'll ensure the person knows you're listening. For example, if the person has said 100 different things all related to Golden Delicious apples for 20 minutes, I might summarize like this:
"I hear your passion about Golden Delicious apples as your central priority, from growers to sourcing to making pie. What is it about these apples you would like to change? What does success look like to you?"
Once we identify the core of the pain driving the need for change, ask several clarifying questions. The goal is to understand more about where we can coach towards a potential solution. To play off the apple metaphor a bit, let's imagine that the person you're connecting with acknowledges that the big problem is that the organization is not distributing enough pies. I may ask additional questions, drawing from my expertise:
What do you know about the customer? What feedback do you have about the pies?
What factors play a role in distributing the pies to people who will eat them?
How often are you asking questions of the people involved in making the pies?
#4: Co-design solutions with the people you lead
As a coach, once you have a better sense of the core pain of the problem at hand, you can begin to co-design potential solutions with your colleague or team. These co-creative comments should incorporate any new awareness you've arrived at or acknowledgments that have been made throughout your conversation. Ask questions that sound like this:
I heard you say that you have never asked the customer how they feel about the pies. How might you take the first step to address their concerns?
You mentioned that you have three teammates who are interested in looking at branding and marketing. What steps might you take here to move this forward?
Since your senior leadership may not want to hear negative feedback from customers, how might you help translate this as a small action moving forward?
#5: Make a promise to be accountable to action
My favorite part of coaching is lifting up the brilliance that exists within the person I'm speaking with. As the arc comes to a close, offer to play a role in helping craft a promise. A promise is about holding the person accountable to their potential next steps. Also, offer ongoing support by asking, "What else can I do to support you as you achieve this?" While it's tempting to try to solve their problem — especially if you see the solution more clearly than they do — focus on supporting and enabling them to solve the problem. This will help to ensure sustained success.
#6: Reflect and keep the arc going
The coaching arc is replicable over time. A conversation arc can last one hour, month, year or beyond! If you have recurring conversations with the same people, like the staff that report to you, you can revisit outcomes and reflect as you coach and keep the dialog going  about what is and isn't working over time. Remember: The arc should serve as a  process for developing possibilities together.
Change begins with a conversation
The arc can also involve a whole organization. Take the trust building at the Veterans Affairs Department (VA), where a journey of feedback and connective conversations has improved the way people trust the agency by 24% in five years.
As we move towards Democracy 2.0 and more equitable listening, how will you show up as a coach for the people you serve? One conversation arc at a time, we can connect and serve one another better. We become what we practice!
Interested in becoming a Featured Contributor? Email topics you're interested in covering for GovLoop to [email protected] And to read more from our summer/fall 2021 Cohort, here is a full list of every Featured Contributor during this cohort and a link to their stories.
Nina Bianchi focuses on transformative culture experiences. She served as Chief of People and Culture at the Food and Drug Administration (FDA) and with the General Services Administration's (GSA) IT Modernization Centers of Excellence (COE). As a White House Presidential Innovation Fellow (PIF) with the Biden Cancer Moonshot at the National Cancer Institute (NCI), she led collaborative work experiences to drive personalized patient experiences. Before serving in government, Nina led a social innovation consulting firm with a network of high-impact public-private partnerships. Her teams designed transformation solutions for city governments across the globe, philanthropy, nonprofits, Fortune 500 companies and institutions like the Massachusetts Institute of Technology (MIT).