AON SETTLEMENT. Story here. "Aon Corp., the largest insurance broker, agreed to pay $16.3 million to resolve criminal and civil probes of possible bribes paid overseas to get business." The DOJ release is here.
FRIENDLY FACEBOOK CAMPAIGNS. Politico. "Is this the cycle in which presidential campaigns finally figure out how to effectively use Facebook as a campaign tool?"
GINGRICH DOMAIN NEWS. E.politics. "Oof, here's yet another reminder of why campaigns should be damn careful to nail down relevant web addresses: American Bridge is having a little fun with NewtGingrich.com."
BARBOUR BACK. Story here. "When Mississippi Gov. Haley Barbour leaves office Jan. 10, he'll return to the Washington, D.C., lobbying firm he founded in 1991."
CAMPAIGN FINANCE API. The Times. "We're happy to announce that the API now supports requests for information about independent expenditures, transactions in which an independent committee spends money to urge the election or defeat of a House, Senate or presidential candidate."
BUCHANAN ISSUES. The Post. "Federal Election Commission investigators came 'close to supporting a finding' that Rep. Vern Buchanan (R-Fla.) violated laws forbidding reimbursement of campaign contributions in 2006 and 2008, but the agency pulled back amid concerns over the credibility of a key witness, according to documents." More here. "In an unusual display of bipartisan unanimity, the FEC's three Democratic members on Feb. 1 joined two Republicans in voting to close the investigation; the third Republican member recused himself from the case and did not vote."
NYC LAWS UPHELD. Story here. "A U.S. appeals court on Wednesday tossed out a challenge to New York City anti-corruption campaign finance laws, finding the so-called 'pay to play' rules do not violate free speech rights."
SUPER PAC SPAT. Here. "Romney's latest jab at Gingrich comes amid a series of heated exchanges between the two camps and highlights the murkiness of the laws that govern campaigns' relationships with the super PACs they established to support their candidacies."
HOLIDAYS WITH LOBBYISTS. Roll Call. "While most of political Washington is eager to get out of town for the holidays, a group of die-hard Republican lobbyists will use their recess for something decidedly not relaxing: volunteering in the early caucus and primary states for their favorite presidential campaigns."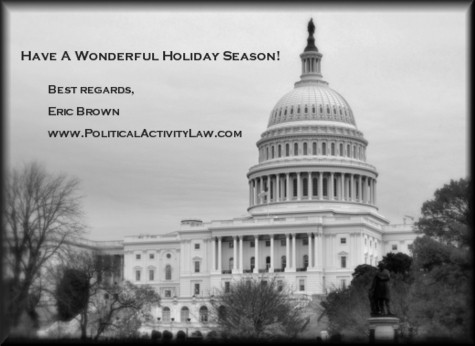 HAVE A GREAT HOLIDAY SEASON! I sincerely hope you and yours have a wonderful holiday season! Thanks for reading and your continued support. I look forward to sharing next year's exciting political law news with you! Regular posts will resume on Jan. 3, 2012, but there may be a set of links or two between then and now. Once again, please have an enjoyable and safe break.