We talked last time about the special qualities of text messages versus other means of communication:
How texts occupy a different place in our mind from social media,
How texts avoid the clutter of email inbox, and
How texts can help governments engage with community members across a variety of backgrounds and abilities.
But today I wanted to dive deeper into the use of a text-message system that my government employed to support our community during the COVID-19 pandemic.
If you remember, in early 2021 coronavirus vaccines were just starting to get approval to protect people from severe infections. Early 2021, however, was not a time when trust in government was high. In fact, trust in government was as low as it has ever been in the U.S..
As we approached the one-year anniversary of the shutdowns, my county's Department of Public Health recognized the need to break through the speculation, misinformation and general confusion regarding vaccines.
But, there wasn't simply one place to go to schedule your shot. If you wanted an appointment with one of the six major health care providers in town, you might have to
Call a number and leave a voicemail;
Visit a web page and provide your details on a web form;
Visit a web page, print the form, email it, and then call to schedule the vaccine;
Follow a link to download an app, create an account, and then schedule an appointment; or
Schedule an appointment with your primary health care provider.
For those who wanted to schedule their vaccination with a retail pharmacy, the options were similar:
Download an app and schedule the appointment; or
Visit a page on a website and complete a form.
For community members who wanted to schedule their vaccine, this was a confusing set of options. We needed a simple and inclusive way to make a connection between:
Community members (who had a preference of which provider they wanted to poke their arm),
And the appropriate method of signing up for each provider (phone call, app, website or form).
Mechanics of our text-based system
We wanted to keep the solution as simple, accessible and inclusive as possible. This was a perfect use case for using text messages! Here's how it worked:
Language selection: Our texting platform allowed us to bifurcate by the start word, so to start the conversation, users would send "vaccine" (for English) or "vacuna" (for Spanish) to start the interaction in their preferred language.
Initial response: We reminded users that the vaccines were free and gave them the county health website talking about the program. This confirmed that users were in the right place, and reassured them that this interaction was supported by County Health. They sent back "OK" to continue.
Primary care provider selection: Users were given options of participating primary care providers. They could select a letter for any of these providers. The system responded with the provider's preferred method to schedule the shot… Or they could select "No thanks, go to retail pharmacies."
Retail pharmacies selection: Users were provided with the names of local grocery stores and pharmacies. They selected from any of these, and the system replied with the retail pharmacy's preferred means of scheduling an appointment… Or they could select "None of these."
None of these: If the user selected "None of these" the system replied with our local 2-1-1 information so that a human services navigator could walk them through the process of getting connected with a provider for their situation.
Getting out the word
We added the phrase:
Text "vaccine" (English) to 667873
or
Envia "vacuna" (Espanol) al 667873
to all flyers and leave-behind cards. And what do you know – it worked!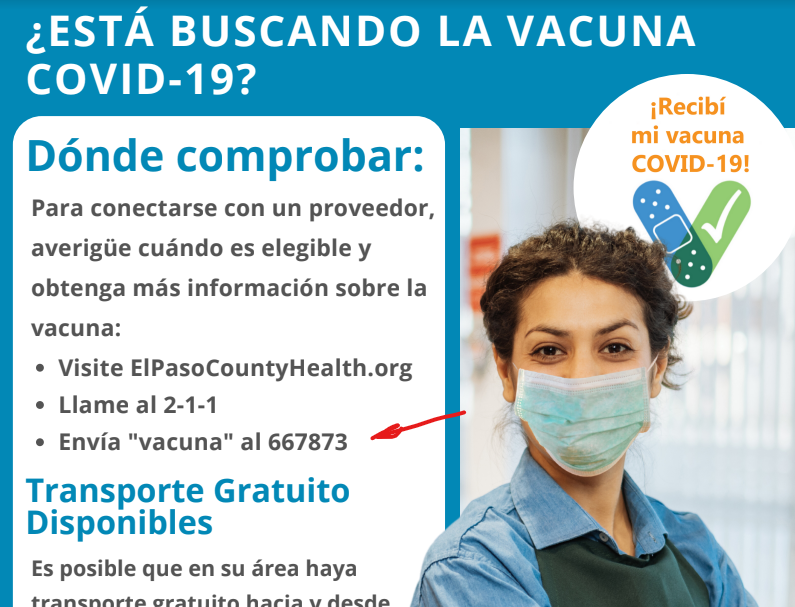 For those who needed a simple, text-based method of getting information, the system connected them to vaccine providers in English and Spanish through the vaccine roll-out, and is still working today!
Results
We changed the auto-responses a few times, which reset the participation numbers, but we were able to connect at least 2,500 community members to their preferred vaccine providers using this system.
Text still finds a way
As discussed in the previous piece, text messaging continues to provide a simple, accessible and inclusive way to reach your community. This was proved again in COVID-19 vaccine communications when we needed to reach a broad portion of our community with critical information.
When the messaging simply had to work, we turned to the simplest technology available: the humble (and very effective) text message.
Jay Anderson is responsible for digital engagement and public processes at the city of Colorado Springs. Jay holds an MPA from the School of Public Affairs at the University of Colorado – Colorado Springs, where he also serves as the Chair of the Dean's Community Advisory Board. Jay focuses on the point of engagement between the community and its institutions, creating programs that give a voice to people who want to have an impact on their government.
Interested in becoming a Featured Contributor? Email topics you're interested in covering for GovLoop to [email protected].