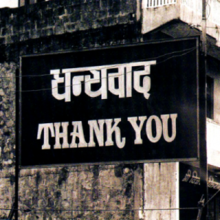 Early Navigation
When I discovered GovLoop 5 years ago, I had no idea that it would become one of my favorite communities on the web.  As a government outsider, I stumbled onto GovLoop as a graduate student navigating the changing Presidential Management Fellowship application process in the fall of 2010.
It was one of the only websites that I could find legitimate information about the process from people like me.
It's what I have come to like most about GovLoop; it's people like me.  People looking for resources, people sharing knowledge and resources, people training and learning, people conversing on topics that interest them and effect their work.  It's people who care about making government and government employees, and all those who interact with government , their best and thats what I am all about.  So I started off getting the daily awesome and checking back when there was content that struck my fancy.
Parallel Growth
GovLoop and I have had parallel growth (exponential if I do say so myself) these last five years.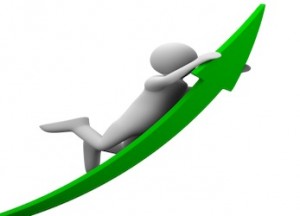 Guides
The PMF blog post became one of the sites first published guides.  The guides that have followed (I may have downloaded them all) have been great!  I have used the customer service guide when giving training and am super excited about the virtual training playbook, as I'm currently helping implement a similar project in my office.
Mentor Program
I am a bit of a GovLoop junkie. I interviewed for a Govloop Fellowship in the spring of 2011, but the PMF thing got in the way.  I forgave them and kept myself engaged.  I've done the mentor program, serving as a mentee in the second cohort and still have a couple days to get my application in to be a mentor for this next cohort.  The mentor program is probably the program I share most with other government employees.  I really enjoyed my experience with the program because in matching with a mentor, I got to select people who I thought could help me work on the areas where I was looking for guidance.  Additionally it allowed me to access someone outside of my agency and in my case outside of government.  I had a wonderful mentor who made my mentee experience AMAZING.  Kathleen Schaffer, founder of Leadership Connection, really challenged me to get know myself, to discover my strengths and talents and to define what it was I was looking for in a career.  Our relationship extended beyond the formal coordination of the program and we continued to work together for nearly 2.5 years.   In fact it was Kathleen who encouraged me to apply to be a featured blogger on GovLoop, which brings us to my next hat, Featured GovLoop Blogger.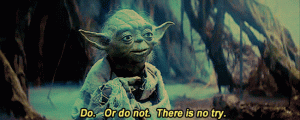 Featured Blogger
I had dabbled with blogging on GovLoop, but never consistently and I must admit, I've been non-existent ever since finishing the 12 weeks of weekly blog post as a featured blogger.  It's not been for lack of ideas, because I've been meaning to write this post for the longest along with my How one new FTE can fix government (curious right?  I know I've got to sit down and write this one).   I did enjoy the deadline and motivation to write.  Although it can sometimes be a struggle as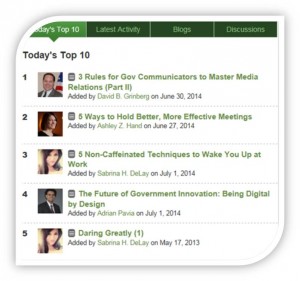 you chase new ideas, the chase for how many blog posts would go #1 (even if just for a moment) was great.  I had often wished that my content had generated more conversation, but I learned that if I wanted to generate conversation I was going to have to participate.  Writing a blog is not enough.  You are going to have to read other's, comment on theirs, promote and share out the content.  It can be a lot of work to spread your content.  The most rewarding part of being a featured blogger is motivating other's I know to take the plunge themselves.  Two coworkers have also been featured bloggers in each of the subsequent cohorts, Nicole Willingham and Eva Fulton.  I'm glad that they had the courage to jump on board and share their ideas and thoughts with the GovLoop community.
NextGen
So embarrassingly, I must admit that I have never been to NextGen.  I have pitched a few ideas in their speaker contest to get myself there when travel funds from the field to DC for training have been non-existent, but no luck.
I will get there, some way, some how.
However, last year I took advantage of the digital content and I requested a NextGen digital party kit!  Let me tell you it was a big hit.  People loved the stickers, the fun swag and enjoyed the content which we accessed over a number of hourly meetings.  I am grateful that GovLoop leveraged technology to share the content.
Training
Most recently it's been digital content that has been driving my presence of GovLoop.  The FREE training these guys are putting out, and regularly, is INCREDIBLE.  If you aren't getting the notices about the trainings sign-up and get one more email because this email is going to help you!  I put them on my calendar as 1-hour lunch and learns and bring myself a picnic, some headphones, a pen and notepad and enjoy a break that expands my knowledge.  I'm looking forward to the training on March 19th about GIS and fraud investigation.  I'll admit that I put more on my calendar than I attend, but now with the archives I'm able to go back and access the content.  GovLoop has really stepped up their game and Agencies across all levels of government need to leverage this content and these resources.
Spreading the Word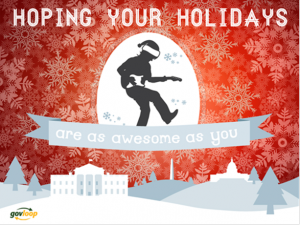 I try hard to share GovLoop with others.  Of course there is word of mouth, of course there is sharing content, my own and other's via social media and of course there is sharing training announcements, but the response that has generated the most conversation for me has been the Holiday Card I send every year out to colleagues and clients.   I printscreened this image a couple of years a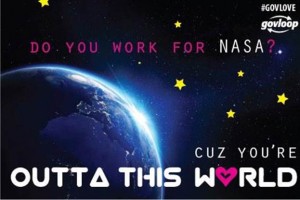 go from GovLoop and have been using it ever since.  I hyperlink it back to govloop.com so that readers of my card can access the site.  I've had many a wonderful conversations with people about GovLoop and how they can get involved and access the information.  I was excited to see the Valentine's cards this year.  I may have sent out several of those too.
How has GovLoop helped you?  What have been some of you favorite experiences?  Share via #thankugovloop
P.S. Did I mention I totally spent hours on the resume site looking at the sample resumes and reading what other's had to say….it's lead to some pretty complimentary comments on my now rockin' resume.
and double P.S.:
@govloop Steve was extremely helpful in my career call with him. He provided real actionable examples of things I could do. #thankugovloop.

— Sabrina (@sabrina_delay) March 10, 2015