As another year comes to an end, it's time to celebrate the most inspiring stories that came out of government agencies in the United States.
2019 was a doozy of a year. So rather than dwell on downers or let politics foul the mood, let's focus on the positives. We could all use a reminder about the inspiring events that happened this year thanks to government agencies large and small.
Here's your look back at the most inspirational government successes of the year.
Achieved justice on bail reform
After a three-year legal battle, Harris County, Texas, has succeeded in getting all the approvals it needs to reform its bail system. Each year, many thousands of people arrested for allegedly committing minor crimes have been kept in jail long before their cases went to trial simply because they couldn't afford to post bail. Meanwhile, those who had money could pay right away and live their lives freely until their trial dates.
People kept in jail have lost their jobs and homes, and the innocent would sometimes plead guilty just to get out of jail more quickly. Meanwhile, counties spend millions of dollars a year to keep people in jail when they hadn't been convicted of a crime. As the third-most populous U.S. county, Harris County is expected to be a model for the rest of the country with its historic bail reform.
Boldly went where no spacewalk has gone before
In March, things weren't looking good for the first all-woman spacewalk. That's when NASA canceled what would have been the first spacewalk conducted solely by women because there weren't enough spacesuits in the right sizes on the International Space Station.
A few months later, NASA made it work. On October 18, two astronauts, Christina Koch and Jessica Meir, defied gravity and made history while repairing parts on the outside of the International Space Station. Koch and Meir had both been selected for NASA's 2013 Astronaut Candidate Class, the first and so far only class to include 50% women. Koch and Meir were the 14th and 15th women to ever spacewalk from any country's space program, compared to more than 200 men.
This milestone moment was a long time coming. In 2019, the world celebrated the 50th anniversary of the first man to walk on the moon.
As the world watched, two of our @NASA_Astronauts made history! ?‍??‍? During the first #AllWomanSpacewalk, @Astro_Christina & @Astro_Jessica worked in the vacuum of space for more than 7 hours to conduct @Space_Station maintenance. Watch: https://t.co/81C919Qayf pic.twitter.com/T2UH6vN1Gp

— NASA (@NASA) October 21, 2019
Kept Hoosier students fed
Kids who rely on school meals often struggle to get enough nutritious food when they're not at school. That's why the Elkhart County, Indiana, school district partnered with Cultivate Culinary, a local "food rescue" nonprofit organization. Together, they're providing take-home meals that students can eat over the weekends.
The program launched with a pilot in early 2019 for students at one of the area's elementary schools. Kids get a backpack filled with ready-to-eat meals created from unserved food donated by event venues, grocery stores, restaurants and the school's own cafeteria. The pilot created such "a remarkable transformation" that Elkhart school district quickly decided to expand the program to several other area schools in September. Cultivate Culinary has also started working with other Indiana county school districts.
Deployed data sharing to fight the opioid epidemic
It will take all the tools government can muster to help people overcome opioid addiction. In Virginia, a lack of data made it difficult for agencies to plan responses and save lives. With the support of federal grants, the Virginia departments of Criminal Justice Services and Behavioral Health and Developmental Services collaborated to create the Framework for Addiction Analysis and Community Transformation, or FAACT, a platform to collect, integrate and share data and analytics on opioid use.
The FAACT pilot was launched in the state's Northern Shenandoah Valley area in December 2018. The pilot was so successful that the program was expanded in August 2019 to Roanoke Valley, "which saw opioid-related deaths quadruple between 2016 and 2017." There is a lot of optimism that government agencies and organizations will be able to use FAACT's data-driven insights to identify ways to address the opioid crisis.
Honored military doggos and puppers
Stamp collecting never looked so cuddly. In August, the U.S. Postal Service issued a series of postage stamps commemorating the brave dogs that serve and protect in the nation's armed forces.
The designs feature four breeds that often serve as military working dogs: German shepherd, Labrador retriever, Belgian Malinois and Dutch shepherd. Star-studded red, white and blue backgrounds further pull on those philatelic patriotic heartstrings.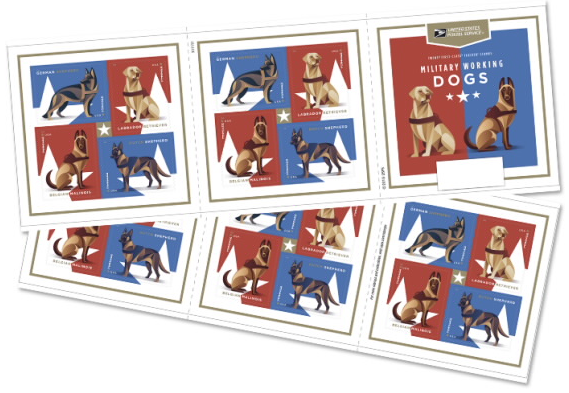 Join the Celebration!
What was the most inspirational success at your agency in 2019? Tell us in a comment.
Photo Credit: NASA // Flickr
Lauren Girardin is a marketing and communications consultant, storyteller, and freelance writer based in San Francisco. She helps organizations engage their communities and tell their stories. Her website is laurengirardin.com and you can connect with her on Twitter at @girardinl.