SUPER PACS AND CANDIDATE/OFFICEHOLDER SOLICITATIONS. The Times opines.
REP. ISSA SEEKS RECORDS. Politico. "The California Republican sent a letter Wednesday to DNC Executive Director Patrick Gaspard demanding all DNC records, including invitation lists and RSVPs, relating to a policy discussion President Barack Obama held with business leaders in the White House's Blue Room on March 7. The session was organized by the DNC and all the guests were donors to Obama's 2008 campaign."
OFA AND DISCLOSURE. The Obama campaign's video briefing on its latest fundraising numbers delved into joint fundraising committees and disclosure. The Times. This screen cap (around 3m55s) shows how the video framed the disclosure issue.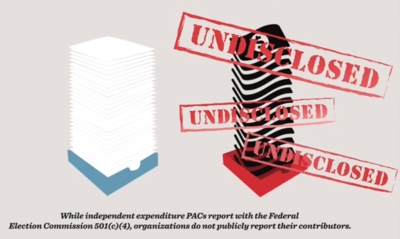 LOBBYING GOES HOLLYWOOD. The Post. "Lobbying groups have long relied on traditional advertising to get their messages out to the broader public. Now one of Washington's most powerful organizations has discovered a new medium: film."
DIGITAL TOOLS AND THE WI RECALLS. Clickz reports. "Democrats won the first round of Wisconsin's recall elections yesterday, in part with the help of digital tools. But while Democratic backers appeared to be more sophisticated in their use of the web for grassroots fundraising and organizing, they – along with their opponents on the right – largely ignored online advertising and other paid digital efforts."
WHAT'S NEXT FOR LA LAW? The LA Times. "Los Angeles officials could be forced to scale back a law intended to level the playing field in elections in which wealthy candidates spend large sums of their own money."
ARGUMENT SET FOR MT CASE. See you in September. "The Montana Supreme Court has set oral arguments for September in the state's challenge to a district court decision that tossed out the outright ban on corporate political spending."
HAVE A GOOD DAY.