This blog post is an excerpt from GovLoop's recent guide, The Future of Human Resources in Government. Download the full guide here.
In November 2014, former Office of Personnel Management Director Katherine Archuleta announced a new governmentwide initiative to improve workforce recruitment, engagement, diversity and inclusion. Known as the REDI initiative, it's "a data-driven, forward-looking human capital management strategy that reflects our work on behalf of the People and Culture pillar of the President's Management Agenda," Archuleta said.
The initial details were sparse, but OPM released the REDI roadmap in March 2015, laying out the administration's key priorities for improving recruitment and other workforce issues. But some wondered whether those efforts would stick following Archuleta's July 2015 resignation from the agency.
"Acting Director Beth Cobert is moving forward with the Recruitment, Engagement, Diversity and Inclusion (REDI) initiative," according to OPM. "The cornerstone of REDI is the use of data-driven expertise and collaborative thinking to continue to build, develop and retain a purpose-driven federal workforce. Underscoring this initiative is a commitment to provide hiring managers and human resources specialists with the tools and resources needed to ensure we recruit and hire from all segments of society."
In terms of recruitment, the administration is measuring success by:
The percentage of hiring managers who actively recruit and do outreach for job vacancies.
Hiring managers' satisfaction with the quality of job applications.
The percentage of managers involved in workforce planning.
It's no secret that government faces stiff competition from private-sector firms and other agencies that are vying for the same talented professionals. But government has other challenges. For starters, the lengthy and nuanced hiring process is a turnoff for some professionals, and the negative rhetoric about government work and threats of shutdowns certainly don't help, either.
Hiring managers can't control all of those variables, but they can use one thing they already have to improve recruiting: data.
"The USAJobs Program Office will make available to hiring officials dashboards that can be used for recruitment purposes," said Michelle Earley, Program Director of USAJobs. "As these tools are deployed, we plan to provide briefings for agencies on how to utilize the data and technology available to be more strategic in their recruiting efforts."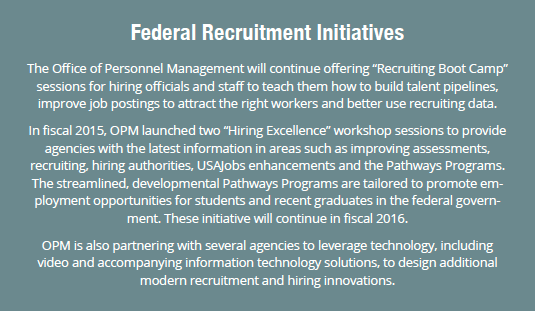 The dashboards will include data collected through USAJobs.gov, surveys and web analytics at a minimum, Earley said. She explained that data is visualized through interactive dashboards to answer questions such as:
Job Opportunity Announcement Traffic 
Where did the applicants come from? Did my recruitment strategy work when I posted my job announcement on Facebook, LinkedIn, etc.?
Survey Data 
Why are applicants abandoning the application process? Are certain demographics falling out of the process? What parts of the process are people who complete the process most satisfied with?
Data Insights 
Use data to determine whom and where to recruit. What does the federal landscape (agencies and occupations) look like in a geographic region? What educational institutions and academic programs are in the area?
Diversity of the applicant pool is another recruiting issue OPM is focused on improving. Through USA Staffing, OPM's hiring software solution for government, agencies have access to a reporting capability that allows them to understand how the demographics of the applicant pool shift at each of the major stages in the federal hiring process: application, qualification, referral and selection.
"Agencies across government are using applicant flow data to help focus recruitment initiatives and understand where barriers exist and what steps to take to address them," Earley said.