This blog post is an excerpt from GovLoop's recent guide, The Future of Human Resources in Government. Download the full guide here.
When an agency hires a new employee, the to-do list is long: review HR paperwork, administer critical trainings and give access to necessary files and computer systems. But then there are the not-so-obvious things that are often overlooked but critical to making employees feel welcome and more inclined to stay the course.
"A huge part of it is about building community," said Michael Lawyer, a Program Analyst who has worked at the U.S. Department of Housing and Urban Development for six years. "You have to understand where new employees are coming from, and it's very difficult for tenured federal employees, who have an established career, an established life, an established family and an established set of work relationships to remember what it's like to be a 25-year-old walking in straight out of grad school with none of that."
Lawyer's part in building that community came in 2011 with the launch of HUD's Under 5 initiative. "People were tired of having lunch alone," he said. "So if we only did one thing well, it was just getting those folks to have lunch together so they weren't so alone anymore. And out of that starts to come all of this amazing stuff, and they discover that they just might be the bright young things who are going to save America — because they are."
Overall, millennials in government like their jobs, and they're slightly more engaged at work than baby boomers (people born between 1946-1964) and Generation X (people born between 1965-1980), according to the 2015 Federal Employee Viewpoint Survey (FEVS). Agencies are getting better at selling their missions and the importance of government work to young professionals, but they are falling short in key areas that matter most to millennials: career advancement opportunities and recognition of innovative and creative work.
Federal data makes clear that the first five years of an employee's government tenure are critical. In fiscal 2014, 51,376 permanent employees left government. Of those, 27,830 left before reaching the five-year mark. A total of 7,171 employees left before their first full year. OPM defines them as quits, or "voluntary resignation by an employee, abandoning one's position, joining the military or failing to return from military furlough. Quits also include separations by the agency if an employee declines a new position or relocation."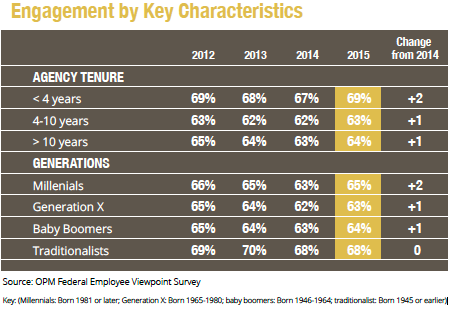 The data also shows that millennials are leaving government at faster rates than Gen Xers and baby boomers. And although the outlook seems bleak, agencies should use this data to fuel change and new ideas that keep all employees, especially newly hired millennials, engaged and inclined to stay on board.
Agency officials must remember that onboarding is more than a single-day event. For some agencies, the process lasts an entire year because managers want to ensure that new employees have a consistently positive experience. Bringing employees into the fold and making them feel part of the mission is important.
Informal projects and meetings are also an important tool for connecting with new employees. Rebecca Prybell, an Attorney in her first year at HUD, is part of Under 5's new leadership and helps coordinate monthly calls with field offices nationwide. These calls connect employees and support efforts such as improving maternity rooms and reducing HUD's environmental footprint. "Working on volunteer projects with Under 5ers across the country has allowed us to build our networks that we will need to do the work of the agency in the years ahead," Prybell said. Under 5 members work hard to engage with new employees nationwide, not just in D.C.; being a new federal employee has its challenges no matter the location.
There's also "Take 5 with Under 5," in which employees have a chance to learn virtually from one another on various topics, such as improving a skill, specific programs or the role of individual offices.
"Two-thirds of our staff is in the field," said Laura Kunkel, a HUD Program Analyst who has worked at the department for five years. "They don't have the opportunities that we do to knock on somebody's door and say, 'Hey, I have this great idea,' and convince people to listen. It's much harder. So [we're] finding those ways to get their ideas here [to headquarters]. And part of that is keeping them connected so they know who to call."