At today's GovLoop training, The Citizen and the Government – How they Connect, we heard from Martha Dorris, Deputy Associate Administrator, Office of Citizen Services and Innovative Technologies (OCSIT) at the General Services Administration (GSA).
She started off by telling us that if we didn't get anything else from her speech (don't worry, we did!), we should take away these four points about citizen engagement (CX):
1. It's an important time. As the fallout from healthcare.gov proved, it is crucial that government's digital services effectively engage citizens. Citizens are customers of government, just as they are customers on Amazon or Netflix. They increasingly expect a level of service from the public sector equivalent to their experiences in the private sector. Government must innovate to meet these heightened expectations.
2. CX is everyone's job. Dorris' job is clearly aligned to citizen services. However, she called on everyone in the room—and everyone in government—to make it their personal mission to heighten customer service. Even if you don't directly interact with customers, your role likely supports others in the organization who do. Moreover, the fallout from bad customer experiences will affect everyone in your agency, no matter the role or responsibilities. Therefore, even as you complete tasks that are seemingly unrelated to customer service, you should do it with the citizen experience in mind. CX may not be in your job description, but it is part of your job.
3. CX is important to the administration. Admittedly, improving government customer services is just one of many high profile initiatives in the public sector. What separates it is the support the administration is giving to citizen engagement initiatives. One indicator of this prioritization is the inclusion Customer Service as a Cross-Agency Priority (CAP) goal. Another speaker, Rick Parrish from Forrestor, also said, "Agencies are asking for budgetary support for citizen engagement initiatives and they are getting it." This support, both monetary and legislative, is crucial to gaining momentum.
4. GSA has resources to help. Along with this moral support, GSA offers real tactics and tips for agencies to grow their CX initiatives. If you have no idea where to start or how to ramp up your customer service, check out digitalgov.gov. The website, run by GSA, offers training, resources, and ideas to help government services engage with citizens.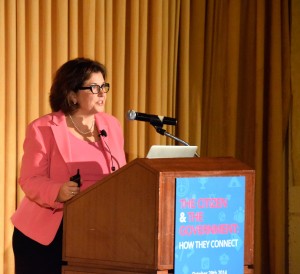 Dorris shared one idea with us today. She admitted that citizen engagement can often feel intangible, making it a hard sell to get your agency to prioritize it. However, if you can measure how you're doing with engagement now, and set measurable goals for the future, you are more likely to get people interested in the initiative.
Dorris said to begin with data.
This is the tactic that GSA has used to tackle the customer experience within digital government. They developed a government citizen engagement index (GCXi) which asks four questions on any government website to measure customer satisfaction. The four questions vary slightly in verbiage, depending on the website and transaction. However, they target four uniform dimensions:
Overall customer experience – Are you satisfied with the transaction?
Ability to complete tasks – Were you able to get the information you wanted?
Proclivity to recommend – Would you tell a friend or colleague to use this service?
Willingness to return – Will you return to this website?
These four questions are rated and averaged, according to a specific equation, to provide a numeric value to the customer experience. This allows agencies to quantify their level of citizen engagement. And because the GCXi is uniform across government websites, it can be used to compare service in one transaction against satisfaction for other interactions.
To help others implement and leverage the GCXi, GSA provides a tutorial which can be accessed here.  This is just one of hundreds of resources provided by GSA to help agencies tackle their CX demands.
A more exhaustive list of resources can be found on this summary sheet. Dorris' presentation can be accessed here.
Read more recaps from the event:
For more citizen engagement ideas, make sure to download our free guide, 18 Strategies for Citizen Success.
Photo Credit: zen Sutherland/Flickr