Editor's note: The success of an organization is closely tied to the quality of its leadership. In many ways, teams take on their leaders' identity, which makes agile leadership all the more critical. It's about creating an environment where employees can and do adapt to change because they are empowered and equipped for it.
So who are these leaders in government? We spoke with nominees and winners of the 2020 Service to America Medals, or SAMMIES, to find out. The SAMMIES are an esteemed awards program sponsored by the Partnership for Public Service that recognizes remarkable work by career federal employees. These leaders shared what agile looks like at their agencies and the lasting impacts of their work. 
Corvelli McDaniel knows the value of strong relationships. As Assistant Commissioner of Revenue Collections Management at the Treasury Department, he turned that knowledge into action for a cause that's much bigger than one individual or organization. McDaniel's agile approach to leadership and collaborative problem-solving is not only strengthening financial institutions but also transforming communities.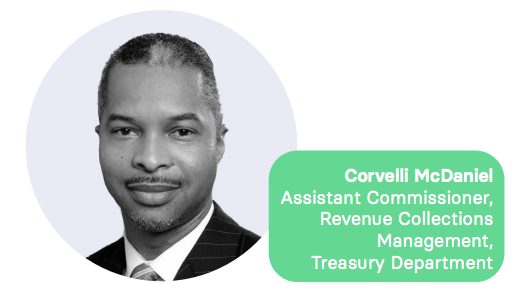 He created an innovative program for large commercial financial institutions to provide management and technical assistance to help small and minority-owned banks strengthen their balance sheets and better serve low-income communities. McDaniel, along with his colleague Lorraine Cole, Treasury's Chief Diversity and Inclusion Officer, were awarded the 2020 Samuel J. Heyman People's Choice Award Medal for their work.
Community impact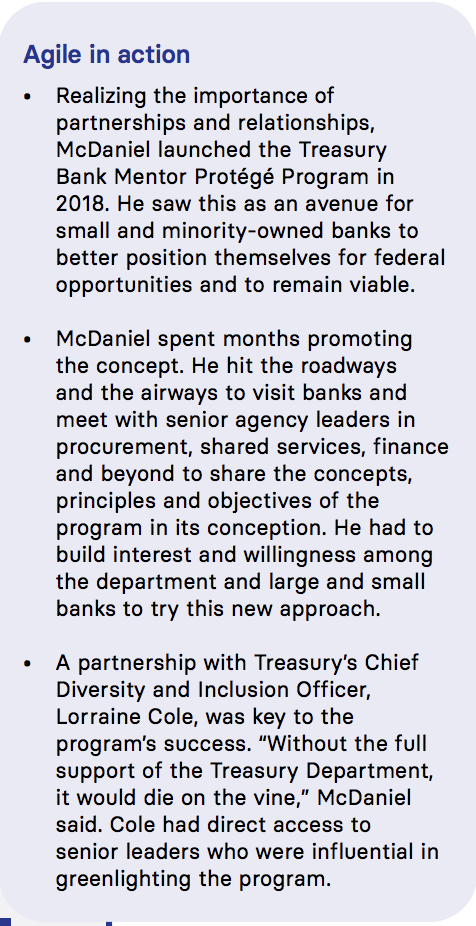 Currently, major "financial agent" banks earn fees to process tax returns and passport applications, collect debts, and disburse benefit payments, with Treasury paying about $850 million a year for these services. These contracts were not previously available to minority-owned banks, but McDaniel said the Mentor Protégé Program can help these small institutions become Treasury financial agents and shore up their own bottom lines. This entails understanding Treasury's expectations and the standards for the processing work and for handling information.
Potential pitfalls
McDaniel stressed the importance of having conviction about what changes will add value to your organization and then documenting them. Have advisers critique your ideas, and ask yourself: Are you willing to go to the mat for this? Will this effort make the customer experience much richer?
Advice on agile leadership
Leadership is not a single method or style, McDaniel said. Agile leadership requires government employees to use different approaches and models depending on a given circumstance. "Decisions about who leads and who follows are dictated by the task or the problem [and] situation, not necessarily by where one sits in the hierarchy," he said. "I think we just have to do more to be agile around leadership as we take on these very difficult challenges in government."
Read more about McDaniel's work here.
This article is an excerpt from GovLoop's recent guide, "Agile for Everyone: How to Improve Everyday Work Processes." Download the full guide here.