For the city of Sparks, Nevada, the first two weeks of remote work hurt a little.
One of the main sources of pain was cybersecurity. "We were building up security to be adequate for [a non-COVID-19] environment. Now, we have 500 users working remotely, and that was never planned," said Ty Reid, IT Security Specialist at the city of Sparks.
Reid and Joseph Flynn, Chief Technology Officer of Public Sector at Boomi, a Dell Technologies business, spoke at GovLoop's virtual summit Thursday about getting teleworkers the information they need to do their jobs.
At first, the city of Spark's virtual private network (VPN) capacity only supported 20 users maximum. While the IT team worked to deploy VPN, build documentation processes and implement remote capabilities within those first two weeks, the city's immediate workaround was to establish a half-remote, half-office schedule.
The silver lining to the bumpy telework transition was the accelerated adoption of cloud infrastructure.
"If it wasn't for the cloud, this would have been a lot more painful," Reid said.
The municipality found itself accelerating to the cloud much more quickly than it had planned before COVID-19, Reid added.
Flynn has seen the same across other state and local governments as well. "Certain strategies that have been laid out in the state and local levels have been accelerated around cloud. It's certainly one of those things that [from] a year [before] looks completely different from where we are currently," Flynn said.
But then complexity…
The more agencies move into a modern architecture like the cloud, however, the more difficult it is to create an interconnected world.
In a poll about siloed data in applications, 49% of virtual respondents said they were unsure if their agency stored data in siloed applications. The next biggest cohort, 32%, said their agency did store data in siloed applications.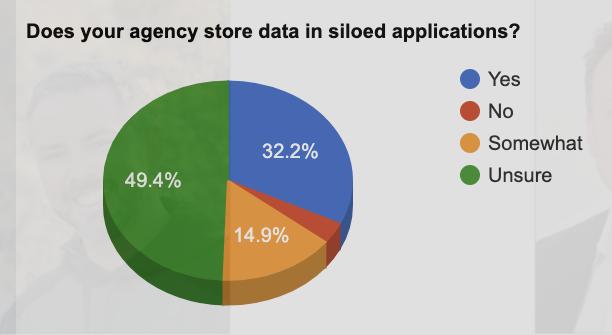 Applications that are in distributed services don't necessarily speak to each other, Flynn said. They're discrete pieces of technology with discrete sets of data. To draw insights for decision-making, it has become critical to aggregate disparate data sources together.
That's what an application programming interface (API) can help with. An API is able to show data that a variety of stakeholders need, without them having to comb the depths of every related application. More specifically, it can expose or publish certain data into a catalog so those with access can acquire it easily for decision-making insights.
"It allows for the democratization of data, and it allows for people that are outside of the core technology world to access it," Flynn said. "Look at what they did around COVID data… there was a number of disaggregated information coming from sources that they were able to pull together by creating this massive API and a catalog on top of it, so as a researcher or a health care worker, I was able to access those parts of the data I thought were important to me."
[Don't miss out on other virtual learning opportunities. Pre-register for GovLoop's remaining 2020 virtual summits today.]
This online training was brought to you by: