Inclusive decisions give organizational change new wings to reach new heights
By Mark Fedeli
"Behind every story of major advance is a turning point where someone has a useful idea that changes the field or starts a new one." – William Duggan
Today's leaders must feel like only superheroes are able to achieve sustained success.
As we forge ahead into the new year, our challenges are not letting up: omicron, inflation, extreme weather, supply chain delays, the Log4j cyber attack, polarization, problematic researchers, and other surprises lurk.
Why do we need more inclusive decisions?
First, because this array of challenges forces leaders to combine two levels of analysis at once: the details and the big picture. That means assessing an exploding volume and variety of data while responding to choruses of voices online and offline. This is daunting. Inclusive decisions help leaders stay proactive by harnessing data from multiple perspectives to respond to the voices.
Second, the Great Resignation, today's mass exodus of young and old professionals from their employers, now ripping through Federal agencies, demands a new vision of work. Agency leaders can respond by bringing all ages of the workforce—specifically, digital natives, generally born after 1980—into more decisions. This includes workforce planning decisions to attract more young talent and get the right people into key roles. Without concrete plans to bring digital and pre-digital professionals together, sustained mission success is impossible. Decision inclusion is well-suited to digital life. It brings representative stakeholders and their data together from key functional communities to develop strategic insights for solving shared challenges. The figure below depicts this model of solution development: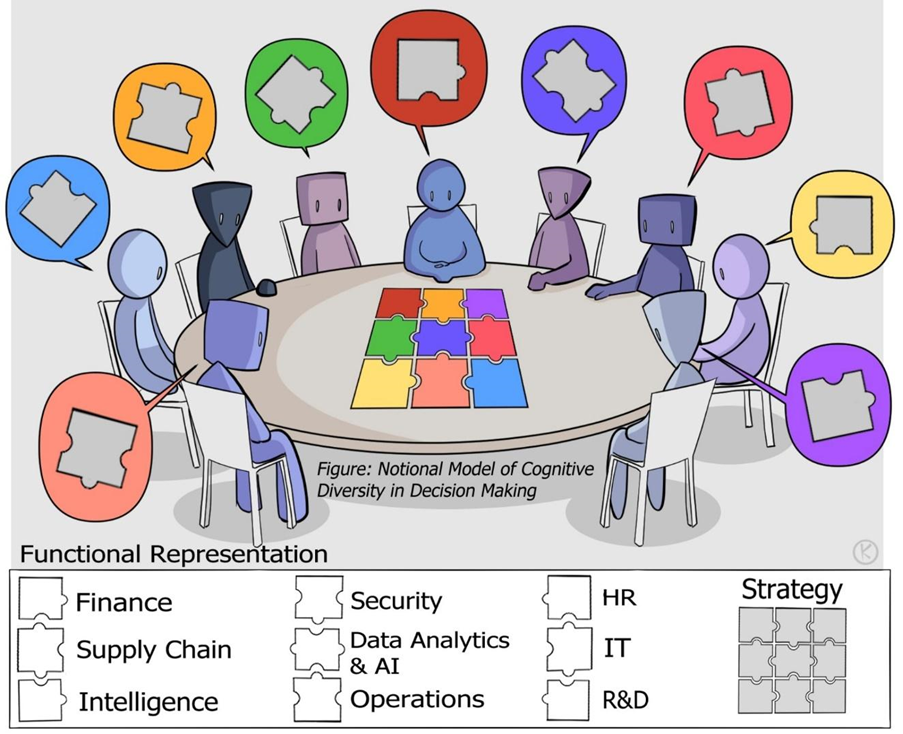 As you reflect on the image, consider these strategic recommendations:
Keep the problem central.
Without laser focus on solutions, challenges grow. The DNA of these solutions are hidden within the problems. Groups committed to problem-solving can find them by bringing their unique insights forward as a distinct piece of the solution. The magic of decision inclusion is found as strategic solutions emerge when stakeholders reject competition for subgroup dominance and stay vulnerable enough to see solutions in terms of a whole greater than oneself.
Enlist trusted (but verified) facilitators.
Most leaders do better delegating decision facilitation to outside experts with formal authority to guide events. This is pivotal. The ability to facilitate solutions—more than solving one problem—becomes a sustained power source for you. With this power comes responsibility (true for you and every superhero). Pick facilitators who are skilled and broadly trusted. Demand that they tap the group's full talents. Trust them to use hard data to lead hard conversations. Require they challenge everyone to be honest and bring their best, including you.
Look across perspectives for pivotal insights.
The quote above by researcher William Duggan emerged from his analysis of hard data. The premise proves true when examining the decisions that led to the creation of DARPA, the Apple Computer, successes in the Cuban Missile Crisis and the first Gulf War. Leaders who lean into diversity to generate solutions can have confidence that complex challenges will reward their disciplined decisions.
Leadership, in this context, is the art of crafting interlocking teams who become more than the sum of their parts.
This applies to workforce planning, where younger and older workers hailing from digital and pre-digital backgrounds create fertile soil for cognitive diversity. Our society faces so many challenges that Federal leaders must step up and push themselves and their teams into stronger decision inclusion, especially across generational lines.
This post is an example: I gave a basic sketch graphic to a talented young graphic artist, Josiah Earles, who pushed it to become truly captivating and compelling.
Together, we can embrace decision inclusion as a mandate for sustained success in our digital age.
The Great Resignation gives us every reason to start now. In Part 2, we'll determine how to begin.
---
Interested in becoming a Featured Contributor? Email topics you're interested in covering for GovLoop to [email protected] . And to read more from our summer/fall 2021 Cohort, here is a full list of every Featured Contributor during this cohort and a link to their stories.
Mark Fedeli is a serial innovator and native of the Washington area with two decades of experience in software, national security and digital modernization. Currently, Mark serves as Federal Alliance Director for Qlik. He leads partner efforts to support Qlik's 90+ federal customers. Mark is also completing a book about digital, generational and cognitive change called Horizon Zero, published by Blooming Twig Books. You can connect with him on Twitter.
Photo by Xavier von Erlach via Unsplash