This blog post is an excerpt from GovLoop's recent self-paced, 10-minute course, "Smart Cities and Communities." Take the free course here.
A smart city leverages digital technology to connect, protect, and enhance the lives of its residents.
So what makes a city smart? The Internet of Things (or IoT), acts as the city's nervous system — with sensors, video cameras, social media, and other inputs — providing the city operator and community with constant data and feedback so they can make better decisions.
From smart lighting on city streets, to digital crime-fighting using facial recognition, to intelligent transportation and beyond, cities are clearly poised for modernization upgrades to become smart. These technology-driven solutions are redefining the business of running a city, and have equal influence on how cities generate revenue as well as how they own and manage assets.
Digital cities can generate 2.3 trillion dollars globally through 2024, according to Cisco.
Las Vegas is one of the world's most unusual cities, not only for its unique mix of businesses, visitors, and communities, but also for its visionary leadership. And today, Las Vegas is avidly adopting smart technologies that its mayor and her advisors are confident will boost the city's reputation for going big to a whole new level.
"Las Vegas is becoming known for its efforts to provide safe, reliable and efficient civic technology. We plan to deploy solutions that will enhance mobility, reduce congestion, improve resident safety, reduce our carbon footprint and stimulate economic growth and diversity. It only makes sense for Las Vegas to emerge as a Smart City." – Las Vegas Mayor Carolyn G. Goodman 
Las Vegas teamed up with Cisco, a worldwide leader in IT, networking, and cybersecurity solution, to enhance its urban environment for residents and businesses. Using technology to create a connected community—while improving safety, sustainability and insight into traffic patterns and transportation infrastructure—is Las Vegas's next step in becoming a smart city.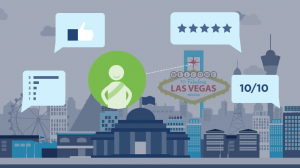 They've deployed the Cisco Kinetic for Cities Platform, which brings real-time IoT device and sensor data to city leaders. Cisco Kinetic aggregates input from multiple data sources (like sensors, mobile devices, and cameras) for actionable and immediate intelligence. This data empowers Las Vegas to effectively reduce traffic congestion, provide faster response time to emergencies and lower operations and maintenance costs.
Cisco® Kinetic for Cities is a cloud-based platform that provides automated, secure data sharing across community infrastructures, solutions, applications, and connected devices. It enables you to easily and cost effectively get the maximum value out of your IoT data to drive new initiatives around increasing safety, managing resources more effectively, delivering new services when and where they are needed, and more.
The city of Las Vegas and Cisco are demonstrating that the promise of IoT is real, moving from concept to successful deployment.
Every smart city begins with its network. Having the right platform is a powerful way to aggregate and organize data securely—coming from city infrastructure sensors, mobile devices, cameras and other data sources—in a consistent format. And it will make it easy for both agency- and public-facing applications to tap into that data, in a compliant and secure fashion, to give cities an edge in making better, more informed decisions in real-time.
This ultimately enables cities to meet their most important mission of providing better citizen services that enhance the lives of their residents.
To learn more about smart cities and communities including how your city or community can embark on its own smart journey take our free course here.