This blog post is an excerpt from Govloop's recent report "A Digital Revolution in Government Customer Experience." Download the full report here.
When we talk about customer service, we're talking about the specific touchpoint or interaction that you have with the citizens you serve. For example, if you provide helpful insights over the phone or via chat sessions, that's great customer service.
But as technology improves and your agency provides more channels for citizens to interact with government, your team's focus should shift from single interactions to the entire customer journey or experience, said Megan Eunpu, Government Account Executive at Genesys. That journey may include chat, email and Twitter interactions with a single person.
"It is a holistic experience, and that's what you want to leave people with," she said. "Especially if they're going to be returning to [use a] service, you want to keep them satisfied and exceed their expectations."
That's happening across government, thanks to investments in digital services, greater focus on agency customers at the C-suite level and efforts to create a CX culture where all employees understand and embrace their roles, responsibilities, expectations and behavioral norms in the customer experience ecosystem.
For citizens, their standard for gauging CX in government is how well it measures up to the commercial services they use every day. That's why we asked survey respondents how they think CX in government compares with the private sector on a scale of one to five, with five being very advanced.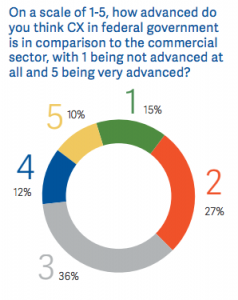 Nearly 60 percent rated government a three or higher. The remaining 40 percent gave government CX a score of two or below.
One reason for the lower ratings is there's a bias when it comes to citizen interactions with the private sector versus public sector, and that's a hurdle agencies must work to overcome, said Victor Janey, Program Manager at General Dynamics IT. Some people assume their interactions with government will be cumbersome and inefficient before making contact with an agency — whether by phone, in person or online.
The ultimate goal is to change those perceptions by making citizens feel their experiences were friendlier, easier and faster than they thought it would be."You want them to compare it to those great experiences they're getting from companies like Amazon," Janey said.
Citizens should identify with your agency as a trusted source that meets them on their terms. In other words, your agency allows them to interact with your team on the channel and at the time that best meets their needs.
"That boils down to empowering the citizens and giving them a sense of control," Janey said. "Often, dissatisfaction with government services stems from citizens feeling helpless in a bureaucratic maze. But if they're engaged and empowered, they're going to lionize that service to their friends and family."
It's counterproductive to think that government doesn't have to focus on CX because it is often the only provider of a particular service, such as issuing passports or drivers licenses. Trust is at stake, and if that erodes, it will take a toll on how citizens interact with your agency. It only takes a few negative interactions to shape public perception about CX at your agency.
"Plus, your team is the face of the government," Eunpu said. "So you have to come forward with your best solution, and you really have to know your constituents. There are a lot of things that underscore CX being a priority, but I think it comes from a sense of government striving to be on an equal footing with the private sector."
"At the root of what we want to do in government when serving citizens is build a sense of trust," Janey said.