For government agencies to meet the demands of citizens who are used to the customer experience offered by the private sector, they need the right tools. Fortunately, laws like the 21st Century IDEA Act are helping them to get there. This new law requires federal agencies to improve their digital offerings with features like online forms, electronic signatures and more intuitive websites.
In order to understand how the 21st Century IDEA Act, new technologies, processes and best practices work together to improve the citizen experience (CX), you're invited to participate in GovLoop and Carahsoft's free Government CX Virtual Summit: Putting the Citizen First on Wednesday, March 20 from 10 a.m.-4 p.m. ET/7 a.m.-1 p.m. PT.
Already have plans? The entire virtual summit is available on demand starting March 21. You'll be able to watch all of the session recordings, download resources and visit exhibitor booths in the virtual environment for 21 days after the live day.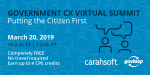 Why should you register for this virtual event? Throughout the course of the day, you'll have the ability to:
Earn up to four continuing professional education (CPE) credits by attending the live online sessions.
Attend four online sessions centered around CX in government and one keynote session, "How the 21st Century IDEA Act Will Transform Government Websites."
Grow your network by connecting virtually with your government peers and industry experts.
Get access to more than 100 downloadable CX resources available in the resource center.
Win awesome swag by being active in the virtual environment.
Who you'll hear from:
Jacob Parcell, General Services Administration, Acting Director, Innovation Portfolio
Jonathan Bennett, Technical Director for Digital Government Solutions, Adobe
Kelly Olson, Head of Industry Strategy and Marketing, Adobe
Jennifer Plozai, Head of External Affairs, National Science Foundation
David A. Etienne, Director of Marketing & Communications, Metro, Cincinnati, Ohio
Shawn Pillow, Director of Sales Enablement, Granicus
Bob Withers, Director of Public Sector, New Relic
What past attendees have to say about our virtual summits:
"I enjoyed the flexibility to multitask from my office, yet felt like I could interact and participate as if I were attending in person. Thanks for making this possible!"

"Thanks so much to all of you and the presenters! I really enjoyed the format, accessibility and enthusiasm throughout the day."

"I have enjoyed the virtual summit and have plans to use many of the resources available in the Library for myself and the team."
If you're ready to put the citizens first, register for free now: https://go.govloop.com/CX-virtual-summit.html