March madness is here, and if you need to escape from the basketball tournaments for a few minutes, there is no better way than with a good book. In this edition of GovLoop's State and Local Spotlight we're looking at books focused on insights from your favorite states and localities!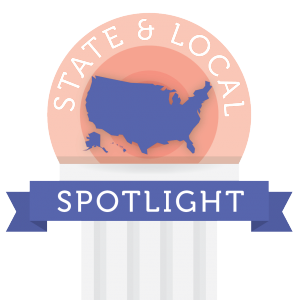 5 books to satisfy your thirst for S&L knowledge:
1) Government That Works The Results Revolution in the States by John M. Bernard
A new group of public servants, identified as "Results Revolutionaries," have taken it upon themselves to practice better management skills in their respective positions. This book provides success stories of various public servants- across every level of state government. In so doing, they provide examples on how to collect and analyze accurate data, set ambitious goals for improved performance, and measure progress toward those goals.
2) Citizenville: How to Take the Town Square Digital and Reinvent Government by Lieutenant Governor Gavin Newsom
Read about how you, a govie and a citizen, can take matters into your own hands to make the changes you want in your community. Former Lt. Governor Gavin Newsom provides examples on how citizens can transform their government to be representative of their own thoughts and desires.
3) Seven Trends that Will Transform Local Government Through Technology by Alan R. Shark
Public managers should dig their teeth in this book. While Shark acknowledges that a lot of innovation and experimentation also takes place on a local level, he says this book helps identify seven technological trends government should understand and accept.
4) Local Government Consolidation in the United States by Dagney Faulk and Michael Hicks
Although the focus of this study is in the Midwest, it has a lot to offer any leader in local government. Learn about how to better understand and manage local governments through a study on the structure of local governments surrounding the determinants of consolidation and the potential impact of consolidation on local government spending; factors that influence city-county consolidation and the subsequent relationship with local government.
5) The Executive Branch of State Government: People, Process and Politics by Margaret Ferguson
Want to read about what the different roles of governorship and state-level leaders consist of? This all-inclusive read dives into the leadership, structure, and management of executive branches state by state; helping you better understand the function of the governorship and various state agencies.