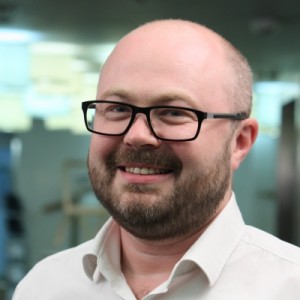 Innovation was the buzzword of 2014. It seems you couldn't go anywhere without hearing about the need for innovation. But where is innovation actually embedded in the work of government? And how can innovation really make an impact? How can innovation go from buzzword to process?
Philip Colligan, Deputy Chief Executive and Executive Director for the Innovation Lab at Nesta is one of the authors of a new report, I Teams, the Teams and Funds Making Innovation Happen in Government Around the World."
The report tells the stories of 20 teams, units and funds established by governments and charged with making innovation happen. The report looks at how the teams work across the spectrum of innovation – from focusing on incremental improvements to aiming for radical transformations.
Colligan told Chris Dorobek on the DorobekINSIDER program that innovation is not just a buzzword in the states, but around the world.
Some of the greatest innovations ever have come out of government, but maintaining and encouraging that innovative spirit can be a big challenge for agencies. Colligan explains why, "First, there are the fiscal pressures. The global economic crisis led to massive pressures on government budgets around the world. They need to innovate to survive. Secondly, and more dramatically, there has been a huge growth in demand from an aging society. Citizens expect more from government now. All of those forces come together to mean that any government worth its salt is investing seriously in innovation."
One of the reasons that government innovation can be so challenging is that governments are set up to ensure predictability. "What is often construed as bureaucratic is actually the government doing things for a good reason. We want governments to be safe and to deliver predictable services. Innovation doesn't come naturally," said Colligan.
To help governments create sustainable innovative Bloomberg Philanthropies and Nesta teamed up to write the I Teams reports. The idea was to look at the most exciting examples of government innovation around the world.
"We found all over that governments were setting aside resources, capabilities and teams to look at innovation. Most of these groups brought in some new skills, some new techniques and capabilities and teamed them up with government employees," said Colligan. "They were doing working with one foot in and one foot outside the system to drive innovation. It's a really interesting parallel with how some of private business has been focusing on innovation."
Before you can talk about embedding innovation into your agency's culture, Colligan and his co-authors uncovered that for innovative to flourish, risk needs to be authorized from the top. "It is fundamental leadership. Former Mayor Bloomberg gave a huge license to his people to innovate and supported them when things went wrong. He really worked hard to create an innovative culture from the grassroots of the city services right the way up to city hall. The authorizing environment's hugely important, but it's also about unleashing the creativity not just the people within your public service organization, but also in nonprofits and people in the private sector."
I-Team's 3 Big Takeaways: 
All governments need institutions to catalyze innovation.  The best mayors and ministers recognize this and put in place i-teams, dedicated teams, units and funds, to structure and embed innovation methods and practice in government.
Based on our analysis, i-teams fall into one of four categories: creating solutions to solve specific challenges, engaging citizens, non-profits and businesses to find new ideas, transforming the processes, skills and culture of government, or achieving wider policy and systems change.  They are overcoming a range of issues, from reducing murder rates, making it easier to register a business, improving school performance, to booting economic growth.
Drawing on desk research, site visits, over 80 interviews, and a survey to analyze twenty i-teams from across six continents, the report reveals that innovation requires dedicated capacity, specific skills, methods, partnerships, and consistent political support. The study shows the ways in which these elements have been combined successfully to achieve impressive results.
One this that the report found that didn't work was the role of chief innovation officer. "We haven't found any models of Chief Innovation Officers that have really worked. Innovation is actually not about heroic individuals. The I Teams found that governments were most successful focused on a structured innovation processes and investing in the right capabilities, and then working with city services to support them," said Colligan.
One of the reasons that innovation officers haven't been as successful, is that with the officer innovation gets put into a box for one team or one department. "Innovation can't just be a fun activity or a sideline project; it's got to be linked to the main priorities of the administration," said Colligan.
To find all the insights, download the I Team report.