The citizen experience is the government equivalent of the private sector's customer experience (CX). It is a person's perceptions of the quality and value of all their interactions with a government agency. CX happens not just at the level of a service or program, but with each agency and across government itself. Improving CX is about meeting public needs with minimal frustration and maximum efficiency.
GovLoop's survey reflects the importance of creating a better CX. The good news is that 89% percent of respondents said improving CX is on their agency's priority list (Figure 5).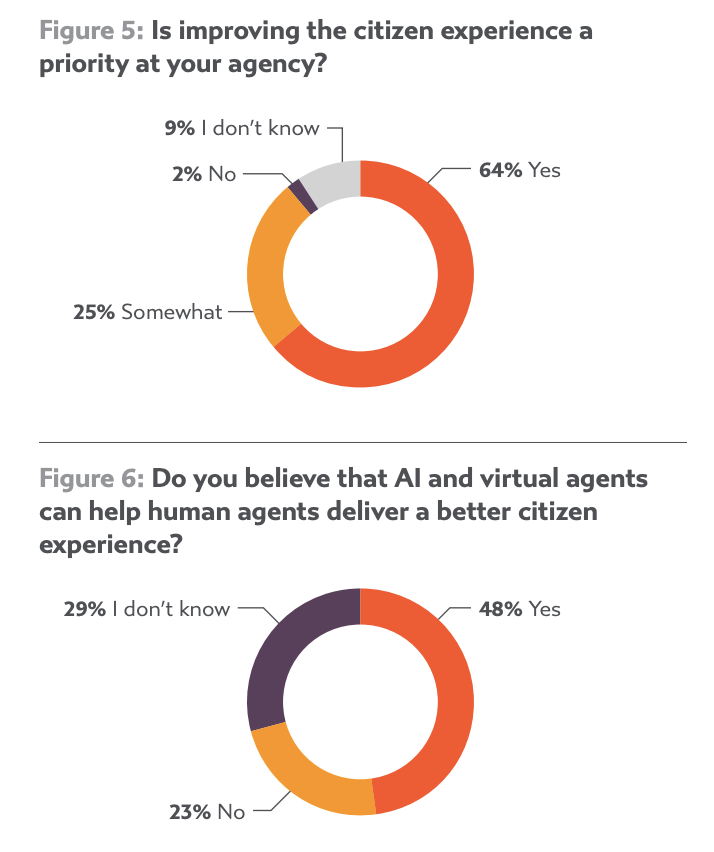 Although most agree that improving CX is needed, we wanted to understand whether they see a role for automation technology in that endeavor. According to the survey results, 48% of respondents believe the technology can help human agents deliver better CX (Figure 6).
At state agencies, the confidence in these tools is considerably higher, with 67% saying they see automation's potential, compared to 44% at the local level and 40% at the federal level.
The survey insight about state agencies being especially favorable toward automation aligns with what others have observed. The National Association of State Chief Information Officers' (NASCIO) 2019 State CIO Survey found that 65% of CIOs view artificial intelligence (AI)/robotic process automation (RPA) as the most impactful emerging technology in the next three to five years. It was the top choice by a wide margin.
Tim Friebel, Innovation Sales Lead for Service Automation at Genesys, had advice for those trying to advocate for automation at their agency. "Most decisions are driven by resources and where to allocate them," he said. "You have to find areas where automation can free up time and money while improving citizen experience. That business case is the first lever to pull."
At the federal level, a mandate for automation exists. The 2018 President's Management Agenda set a cross-agency goal to "shift time, effort, and funding currently spent performing repetitive administrative tasks … toward accomplishing mission outcomes," and specifically pointed to automation technologies as one way to achieve that goal. The White House also issued an executive order in 2019 to "promote and protect national AI technology and innovation," including in government services.
State and local governments often don't have a single overarching standard or mandate to adopt automation and AI solutions. However, momentum for them is growing. Some have launched initiatives to evaluate and make recommendations about agencies' use of these technologies and their regulation. These include:
There is also a Massachusetts bill that would establish a state commission to review the government's use of automation.
It's clear many agencies see the potential for automation to positively affect CX and those that don't may soon be compelled by policy to pilot these technologies.
This article is an excerpt from GovLoop's recent report, "Team Up With Automation for a Better Citizen Experience." Download the full report here.
Illustration credit: GovLoop