Some of the biggest forces driving transformational change across government are evolving expectations — both internally and externally.
Beyond the walls of government, constituents expect certain self-service options, whether they're dealing with a federal agency or a private company. With a simple click or swipe, they can order groceries, schedule a ride-sharing service or book travel reservations. The experience is seamless, intuitive and exactly what citizens should expect when interacting with their government.
Meanwhile, agencies are also facing the demands from within. Employees want the ease of digital workflows — not mounds of printed documents — and modern tools that save time and empower them to provide meaningful, consistent experiences for government customers.
"The industry has shifted over the past few years toward digital transformation," said Christopher Anello, Federal Enterprise Architect at ServiceNow.
But the progress in government has varied by department — and even within offices at those departments. We surveyed more than 130 federal members of the GovLoop community about customer experience (CX) prioritization at their agencies, and their responses shed light on the disparities.
How Are Agencies Prioritizing CX?
The spotlight on customer experience is expanding, thanks to laws such as the 21st Century Integrated Digital Experience Act (IDEA), which aims to enhance and standardize government's digital offerings, and the President's Management Agenda, which focuses on agencies providing a modern, streamlined customer experience across government.
In light of this governmentwide focus on CX, we asked respondents how their agencies are prioritizing customer experience. Sixty-three percent said that CX is a priority, and of that 38% said it is a top priority (See Figure 1). Overall, 23% said that CX is somewhat of a priority at their agency.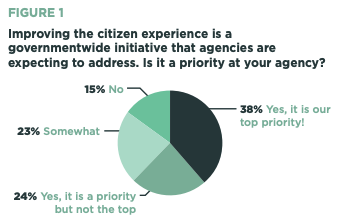 The remaining 15% expressed that improving customer experience is not a priority. But why? There's no shortage of powerful testimonies and tangible results that make the case for investing in customer experience; more specifically, improved digital experiences.
For example, during a town hall in early 2019, VA Secretary Robert Wilkie highlighted the agency's welcome kits for new customers. The packages include clear and concise information for veterans on topics including mental health, education, finding jobs and even buying a home. The kits' format is critical now that half of veterans are under 65 years old for the first time since 1975, Wilkie said at the event.
Wilkie also praised the VA's White House hotline for veterans, which runs over email and phone 24 hours a day, seven days a week since launching in 2018. "When you talk, we listen," he said, noting that the hotline has fielded over 175,000 messages since its debut. "The VA wants to be an integrated part of your activities and your issues, especially mental health."
Wilkie embodies what respondents said they lack to truly drive CX: leadership. To the 15% who said CX is not a priority at their agencies, we asked "why?" The main reason is that CX is not a priority for leadership, according to 33% of those surveyed (See Figure 2).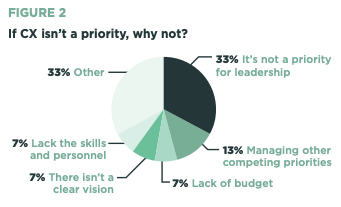 Hayri Tarhan, ServiceNow's Director of Solution Consulting for Federal Civilian Agencies, explained that leaders tend to focus on the mission from the perspective of what they need and want. "My recommendation is to take a step back and look at digital transformation as a critical enabler of mission success," he said.
Viewing CX as a mission enabler — rather than a side project or requirement — can improve experiences for employees and customers. It can transform the way employees engage with one another and ultimately with customers.
Competing priorities is another barrier to fully embracing CX, as was noted by 13% of people surveyed. Other responses included lack of budget, skills and a clear vision. Most agencies don't have a dedicated budget for CX, and there isn't a governmentwide strategy or benchmark to improve customer experience. But as part of the President's Management Agenda and associated Cross-Agency Priority goals, federal agencies are zeroing in on providing a modern, streamlined and responsive customer experience across government.
This article is an excerpt from GovLoop's recent research brief, "Creating 21st Century Digital Experiences in Federal Government." Download the full report here.