Instagram has become the fastest growing social media platform for the general public. But for the public sector, it's a tool your agency can use to engage with citizens, share information and communicate. Instagram also gives you the chance to get your message out in a visual and creative way.
If you're looking for some Instagram inspiration or unsure of where to start, we put together this list of 10 federal government Instagram accounts we think are excellent. We've also provided tips you can use to boost your own agency's social game.
This list is in no particular order.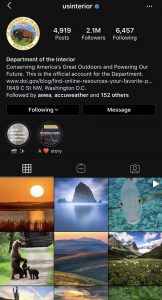 DOI is responsible for conserving America's great outdoors, and its Instagram greatly reflects that through user-generated content. DOI seems to rely on beautiful photography and imagery from the community to spread news and keep its followers engaged.
TIP: Leverage user-generated content whenever you can! User-generated content is any form of content that has been posted by users on online platforms. For example, if somebody posts a picture of your agency's building, you can repurpose it and use it (with credit of course) on your own page for promotion. Using user-generated content shows you're paying attention to what your community is saying about your agency and urges other followers to contribute.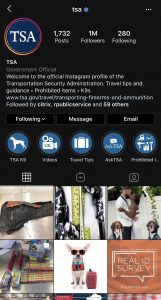 We had to put TSA on this list, not just because it often shares pictures of their sniffer dogs, but because of its creative use of hashtags. One of the more popular hashtags TSA uses is called #TSATravelTips, where it uses its platform to share tips on what you should and should not travel with and how to be TSA-ready.
TIP: Make your own hashtags for your agency! This is a fun way to share information with your audience and keep it concise. For example, if your followers are looking for specifically behind-the-scenes content, they could search your behind-the-scenes hashtag for all related posts.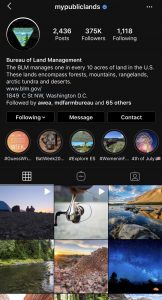 The Bureau of Land Management is another federal agency that leverages both user-generated photos and hashtags to share information about the lands it manages. But its use of story highlights makes them stand out from the rest.
TIP: You know those circle buttons you see on Instagram profiles? Right under the bio? Those are story highlights. Instead of having your story disappear in 24 hours, you can add it to a story highlight so users can view it at any time. You can also organize them neatly by category, so if a user is looking for something specific, they can tap the story highlight and see all related content.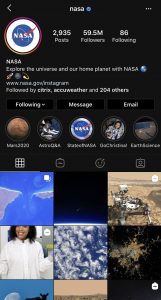 It's probably no surprise that NASA has a brilliant Instagram presence. Its imagery is obviously impeccable (what's more beautiful than outer space?) and their 59.9 million followers agree. But one thing that NASA does on Instagram that's worth noting, is using Instagram TV (IGTV) to share knowledge and take you behind the scenes on special projects.
TIP: Use IGTV to your advantage. Unfortunately, Instagram only lets you post around 1-minute videos to your page. But thanks to the IGTV feature, you now have the opportunity to post videos at any length. It's basically like having a YouTube channel built into your Instagram profile, so you can engage even further with your community.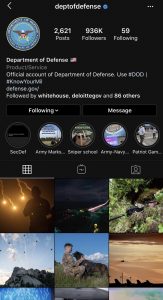 What makes DoD's Instagram presence so impactful is how it humanizes the organization by posting behind-the-scenes content. Audiences get a sneak peek of things like air fighter trainings, military dog trainings and heartwarming images of soldiers returning to their families.
TIP: Use your platform to share content the public wouldn't normally see just going to your website. Sometimes, it's easy for audiences to forget that there is a human behind the screen, rather than just an organization. Make your content relatable, heartwarming and authentic.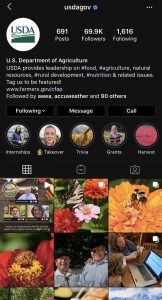 You've probably heard that Instagram is just "people posting pictures of their food," and USDA is proof of that. Alongside its images of nature, processes and employee highlights are beautiful photos of food with nutritional and processing information. A healthy reminder that Instagram is ideal for information sharing.
TIP: Captions are important! While Instagram is very visual, don't waste an opportunity to share some interesting facts about your agency or share knowledge through captions. There is a character limit of 2,200, so you have the space to go in-depth about topics and get your message across.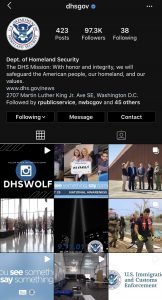 DHS takes behind-the-scenes information sharing to an impressive level with its #DHSInReview hashtag. Here, they share accomplishments you may not otherwise have known about. These posts alone combine almost everything it takes to keep your Instagram in user-friendly shape: hashtags, video content, behind-the-scenes looks and information sharing.
TIP: Don't forget to share your accomplishments with your community. It's nice to keep the public informed about the projects you're working on to serve them better. Follow in DHS' footsteps and keep the content easily searchable with a hashtag and easily digestible with video and imagery.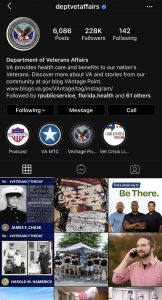 What makes the VA's Instagram stand out from the rest is its #VeteranOfTheDay campaign. Every day, it highlights a veteran by posting a photo of them and sharing their accomplishments in the caption. Campaigns like this are perfect for keeping content flowing, showing appreciation and (once again) humanizing the people behind all the hard work being done.
TIP:  Don't be shy when it comes to campaigns. You can do Instagram campaigns for things like: employees, Black History Month, Women's History Month, Pride, charities and pretty much anything under the sun.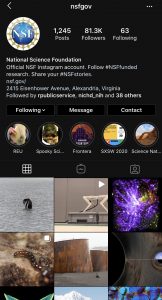 NSF captures audience's attention with its beautiful use of imagery, using hashtags in captions and taking advantage of national holidays. Its Instagram does the visual component perfectly while using every opportunity to connect with the public.
TIP: Not sure what to post? Check out the National Day Calendar. It's a fun way to get inspired, post something out of the norm and get noticed on the explore page when you use the hashtag.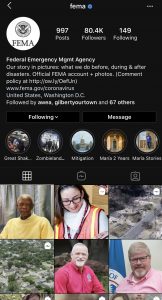 Lastly, we have FEMA. Its Instagram account perfectly humanizes the organization, which we know by now is very important. It highlights an employee almost every day by sharing their picture and job description in the caption. They also portray a ton of behind-the-scene processes to show the public the hard work they do to keep citizens safe.
TIP: Highlighting your employees is one of the best ways to create authenticity. It creates transparency with your audience and helps create a relationship or trust between agency and citizen. Try out this campaign at your agency.
That's a wrap! Be sure to follow all of these agencies on Instagram so you can keep up with their excellent work. If you have any questions, feel free to reach out to us on Instagram, Twitter or leave a comment down below. Keep an eye out for a new post in two weeks about the top 10 federal government YouTube accounts!
This post is part of our social summer series. Every two weeks we will highlight government social media accounts we love. Stay tuned for more!