Did you know that Facebook is the most popular social media site, with 2.7 billion monthly active users? It's an excellent platform for your organization to educate audiences, engage with users and share information in multiple mediums. You can even advertise on Facebook to increase your reach on the platform. So why wouldn't you want to hop on board?
If your agency is struggling to get started on Facebook or unsure of how the platform can help you, we put together this list of 10 federal agencies we think are crushing it on Facebook. We also threw in some tips for you to take into account when building your page.
We're starting with the Marine Corps because of its incredible page styling. It truly has it all: an effective cover image, profile picture, about section and all of its links (contact info and website) are clearly defined. At first glance, your agency could easily follow the Marine Corps' excellent page design.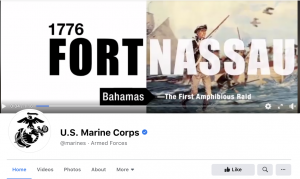 TIP: Make sure your Facebook page is appealing to the eye and accessible. You need a compelling profile picture, cover photo and about section to make your page stand out and stay user-friendly. It's also helpful to make sure your contact info and website links are visible so your audience can easily reach you if they have a question.
We love the State Department's Facebook page because it's visually appealing. It shares a lot of images featuring quotes from politicians that are easily digestible and perfectly sum up the content it is trying to promote. These images are also very shareable so its community can share with their audiences as well.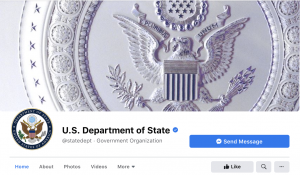 TIP: Like most social media pages, Facebook is visual. But because there are no character limits (as far as I'm aware), it can be easy to get carried away and get text-heavy. Sharing an image with a quote or piece of text that clearly sums up your message makes it more compelling for audiences, causing them to stop and read and/or share.
Aside from great imagery and effective storytelling, the National Guard takes advantage of something we already talked about in the Twitter and Instagram blog posts: The National Day Calendar. For example, it highlighted National Women's Equality Day, which marks the 100th anniversary of the 19th Amendment. It asked its audience to tag "trailblazing women" in their lives below, which boosted audience participation and engagement.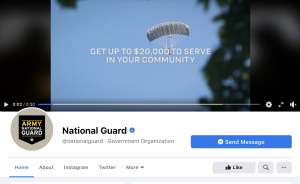 TIP: Again, take advantage of the National Day Calendar. If you're short on content, it's the perfect way to share something possibly out of the norm for your agency and get creative. It will also put different eyes on your page if social media users are browsing through the hashtag on Facebook.
The Army uses Facebook a number of ways: information-sharing, promotion, video-sharing. But one of the most effective things it does is highlight a veteran and share their story. This is incredibly effective for audience engagement. Putting a face and a history behind the people serving our country pulls at audience's heart strings, provides a deeper appreciation and helps them relate.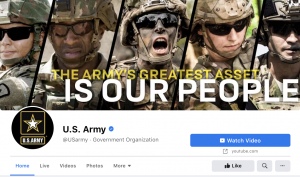 TIP: Instead of solely promoting or sharing information about your agency, try to make some Facebook posts a little personal. This way, audiences can put a face and backstory to the hard work your agency is doing and the hardworking people behind it.
NASA has been featured on all of our social media blog posts (Twitter, Instagram and YouTube) because its social media game is truly off the charts. And Facebook is no exception. Especially  with hurricane season recently in full swing, the agency uses its Facebook page to spread information about hurricane locations and sizes through images.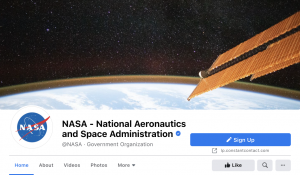 TIP: Almost always, citizens are looking to your agency for answers. When something is happening in the world that only your agency may have the answers to, it's important to make sure your Facebook (and all social media pages) highlights that. Bonus points if you can provide imagery with clear storytelling to share any news or updates.
The Air Force delivers an effective series on its Facebook page called "Your Daily Air Force News." It's a roundup of everything happening at the Air Force internally and out in the field. Audiences look forward to this roundup every morning, and what's most compelling about it is that it's consistent and easy to digest.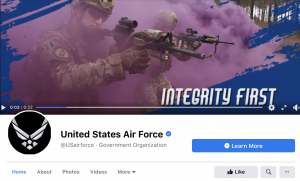 TIP: Posting consistency is important. If you're going to do a daily or weekly posting roundup of some sort, be sure to follow through with this. Audiences (and perhaps people in general) love consistency. Chances are, your community will begin to look forward to these posts and return to your page to stay caught up.
We're going to stay on the consistency train a bit because the Navy takes this approach as well, but a little differently. Instead of sharing news of the day, it shares photos! This is a fun way to show audiences what's going on in your agency without being too word-heavy. It solely relies on showing and not telling.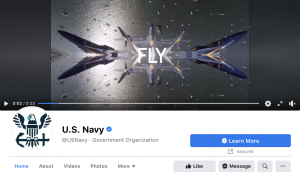 TIP: Post photos consistently as well. Personally, I believe this is so much more effective than word-heavy news. Sharing images with a little bit of background will catch your community's eye quickly and encourages sharing. But stay consistent if you do something like "A Photo a Day" or "Photos of the Week."
The CDC's social presence is another one we can't get enough of, especially during the pandemic. The agency does an excellent job of informing audiences of important COVID-19 news on its social pages, and its Facebook page is no different. Specifically, it uses videos to keep audiences informed and safe.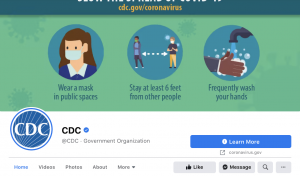 TIP: Just like on Twitter and Instagram, videos are a great way to get your point across on Facebook. Since they automatically play on timelines, people scrolling through can't help but watch. If you're sharing important information (like how to stay safe during a pandemic), we highly recommend using video.
The FBI spreads information by utilizing Facebook Live. (Which we love!) This is an excellent way to keep audiences updated in real time. Since the FBI often has important safety-related news to share, it's smart that it uses Facebook Live to its advantage, and it keeps audiences coming back for information.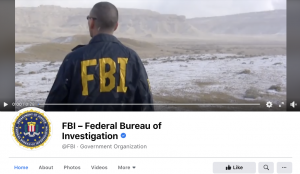 TIP: Use Facebook Live when you can! It's user-friendly and easy to set up. You can also get audiences chatting in the comments so they can engage with each other and ask you questions you can answer in real time.
The VA has about 1.2 million likes, but that doesn't stop it from staying engaged with its audience on Facebook. We love the VA Facebook page because the agency stays engaged with its audiences, commenting, liking and providing easy access for citizens to get in touch with any questions they have.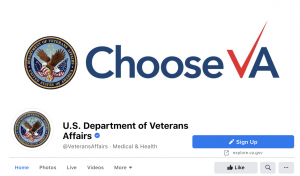 TIP: Social media is meant for easy and improved engagement – so you need to engage! Reply to your audiences in a timely fashion (especially if you have your chat on) and take notice of what people are commenting and sharing from your page. This will keep audiences coming back and it'll show you're a reliable source of information.
And that's a wrap! We hope you enjoyed this post and found some helpful tips for your own agency's Facebook page along the way. Be sure to check out our blog posts on the top 10 federal government Twitter, Instagram and YouTube accounts for some tips on those platforms as well. Comment down below or reach out to us on Twitter if you have any questions.
This post is part of our social series! Check back in two weeks for the next blog post.