When you first think of social media, what platform do you think of? For me, it's Twitter. Twitter is a social platform where more than 48 million users get their news, share information or directly ask for help from an organization. So, if your government agency doesn't have a Twitter account, this blog post will explain its importance and will help you get started.
We put together this list of 10 federal government Twitter accounts that we think are crushing it. We've also provided tips you can use to boost your agency's Twitter game.
This list is in no particular order.
According to its website, CPSC protects the public from unreasonable risks of injury or death associated with consumer product use, and its Twitter reflects that. CPSC takes advantage of all the trending hashtags like #WednesdayWisdom and #ThursdayThoughts, as well as national holidays (#NationalHotDogDay), which we discussed in last week's Instagram blog post. In doing so, they provide safety tips that are quick and easy to digest.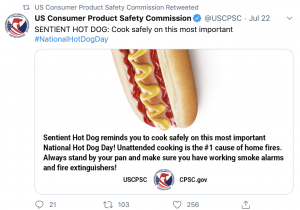 TIP: Take advantage of those hashtags! On the right sidebar of your Twitter homepage, you'll see a trending section. Use one of the hashtags in your next tweet to share something fun or informational about your agency. That way, anyone who clicks or searches for the hashtag will be able to see your content that they might have otherwise missed.
The CDC is a must-follow, especially now when the public is in dire need of information during a worldwide pandemic. Fortunately, the CDC Twitter account makes it easy for audiences to receive that information. On its account, it posts graphics with helpful COVID-19 tips such as how to stop the spread of germs and return safely to school.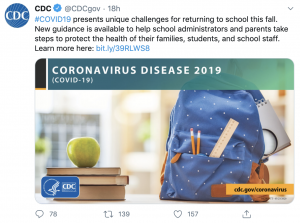 TIP: Graphics are received very well on Twitter. When you break down information into something simple and visual, it's more likely to catch the eyes of audience members.
HHS cares about its community, and it understands the importance of spreading meaningful news. On its Twitter account, it retweets a ton of stories or helpful messages from other organizations and agencies so their audience can read something they might have otherwise missed.
TIP: Retweeting material from users is a great way to build community with other organizations, audiences and community members who care about similar issues. Be sure to retweet anything that's related to your agency or something you think your audience needs to see, and your follower count will surely climb.
Did you know that videos are best when it comes to capturing an audience's attention? Well, DOS certainly does. We put them on this list because of its savvy use of video content to spread news and updates on foreign policy and international relations.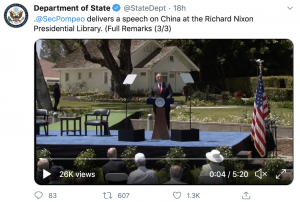 TIP: Earlier we talked about how well images do on Twitter. We can put videos on that list, too. On Twitter, videos automatically play on audiences' timelines, so you're more likely to get them to stop and look at your content. You can share videos of employees or just simple animations about a certain topic.
DOJ is on this list because of the way it uses Twitter to release statements. When an important update takes place, DOJ shares a snippet with its audience including a link, instead of expecting people to find it on its website.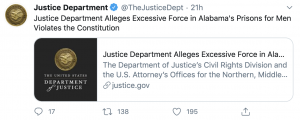 TIP: Many people are annoyed by the fact that Twitter only allows 240 characters, but in reality, that's what makes the platform so great. When a big press release or news story comes out at your agency, use the 240 characters to your advantage and sum up a part of the statement or article you think will capture the audience's attention. That way, they are more likely to click on it from your Twitter page.
What we love about FDA is its use of our favorite thing: hashtags. We talked about how using hashtags is a great way to consolidate content and keep audiences engaged in our last blog post about Instagram accounts, and the same goes for Twitter. FDA uses hashtags like #FDAInsights and #FDAapproved to share nutrition tips and other news.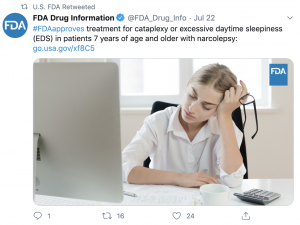 TIP: Use fun hashtags on Twitter! It's perfect for keeping what audiences are looking for in one place and makes your content easily searchable. It also increases exposure of your agency's account when people who don't normally follow you are searching for tips your agency can provide.
 The FBI does important work, so much so that sometimes the agency needs more than 240 characters to get its message across. So, what does it do? The FBI Twitter account loves its Twitter threads. It uses threads to put all information on a certain subject into one conversational track so it can spread more news and keep it concise.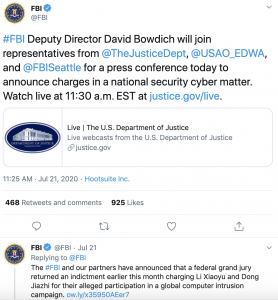 TIP: When you need to tweet something that's more than 240 characters, make it into a thread! You do this by typing your first tweet, hitting the reply button and then adding your second tweet. When audiences click on the first tweet, they will see your second tweet immediately below it.
NIH will periodically go live on platforms like Facebook and its own website. It uses Twitter to promote these live streams and repost them later. But did you know that you can also go live on Twitter?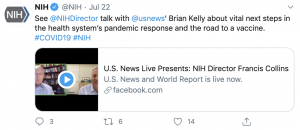 TIP: If you have more followers on Twitter than on Facebook, it's probably a good idea to go live on Twitter to bring on speakers, or simply humanize your agency to your audience. It's actually quite simple to do, but it has to be done on a mobile device. Start like you're composing a tweet and press the camera button on the left. Then, you'll be prompted to start going live! Wherever you go live, you should be live tweeting along with your audience with a dedicated hashtag so that followers can contribute to the conversation.
Did you know that TSA's main Twitter account isn't the only one it has? In this blog post, we're highlighting its AskTSA Twitter account. This account is dedicated solely to answering audiences' questions.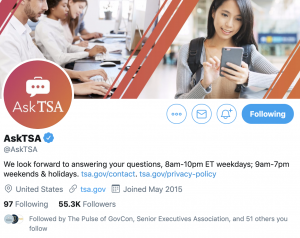 TIP: Make a separate account like AskTSA so audiences have a clear place they can go to ask questions. Rather than sifting through the news-sharing on your main feed, they know that you will get back to them and are more likely to find answers to their questions when there is a dedicated account. This is especially essential if you have a large audience.
Let's talk bios! NSF is a great example of how your Twitter bio should look. No field should go empty when it comes to your agency's Twitter biography. That includes having a solid banner, profile image, a link to your site, your agency's mission and a dedicated hashtag. Having a nice bio area shows you're active and care about what you're posting.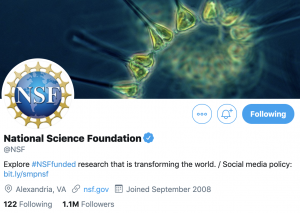 TIP: Using a hashtag in your Twitter bio will make your account come up when people search for it. Make sure your agency name is fully spelled out (even use your acronym) so that you're easily searchable.
Thanks for reading! Be sure to follow all of these agencies on Twitter so you can keep up with their excellent work. If you have any questions, feel free to reach out to us on Instagram, Twitter or leave a comment down below. Keep an eye out for a new post in two weeks about the top 10 federal government YouTube accounts!
This post is a part of our summer social series. Every two weeks we will highlight government social media accounts we love. Stay tuned for more!