As the world adjusts and evolves to new ways of working, organizational leaders are being tasked with enabling hybrid remote and office working for their teams, putting the right systems and infrastructures in place to ensure a consistent employee experience.
It is clearer than ever before that technology will play an increasingly essential role in the distributed workplace. To create the workplace of the future, regardless of whether your workforce is office bound or remote, organizations must discover new ways technology can be used to connect, engage and inspire their employees, in a way that adds meaning to their lives.
Below are five key considerations for enhancing employee engagement through better use of technology:
Embracing technology to attract top talent
Technology is the primary way organizations engage with their workforce. This technology needs to enable more effective and creative ways of working and communicating, whether it means being able to access data anytime or ensuring employees can still print, scan and send information to where it's needed.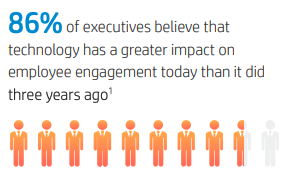 Upskill and reskill
As employees learn new ways of working in the current environment, there is an opportunity to leverage technology to replace manual processes to free up bandwidth for employee development and reskilling
IT leaders must act as service providers
IT leaders must work more closely with other functions and anticipate what users need to work productively. They also must work with their IT vendors to ensure that their solutions keep the workforce productive and engaged.
The human potential of tech
Technology-related remote working presents an opportunity for the inclusivity of populations previously shut out of the workforce, including pregnant women and those with disabilities, creating new opportunities to attract and retain talent.
People-first digital transformation
Effective implementation of digital tools drives employee confidence in leadership, but technology alone cannot create an engaged workforce. This should begin with an understanding of the human side of work and the motivators in inspiring employees to go above and beyond, for your organization and your customers.
This blog post is an excerpt from a partner spotlight infographic, " Technology and Transformation: Employee Engagement in a New Era." Download the full infographic to explore key considerations for enhancing employee engagement here.