The upcoming holiday season is going to be unlike any we've experienced before. We're all going to need more emotional support and reminders to be kind to ourselves. It's important to make your favorite colleagues feel appreciated at the end of a year that was not always filled with joy.
Giving gifts to government colleagues isn't straightforward. At the federal level, strict rules govern gifts between government employees*, putting a $10 limit on your generosity. If you work for a state, regional or local government, chances are your agency has similar ethics rules and spending limits for holiday gifts. And, while you can give a more expensive gift to an office to share, it's time-consuming to wade through gift baskets to find the perfect one that everybody will appreciate.
This gift guide should make your holiday shopping easier. It's filled with lots of fun and meaningful treats for your hard-working government colleagues that don't violate the ethics rules.* As a bonus, many of these gifts benefit nonprofits or museums that could use a financial boost right now. Remember, most shopping will happen online this year, so shop earlier to allow for extra shipping and handling time. Prices are as of Nov. 10, 2020, might change, and may not include shipping and taxes.
* I'm not a lawyer or ethics counsel. When in doubt, check with your agency ethics official.
Gifts Under $10
There are so many people who deserve appreciation this year. Show your gratitude to the first responders, essential workers, volunteers, and others who have kept us safe and healthy this year with a PINdemic HERO Pin. The enamel pins are in the shape of a face mask decorated with the American flag and the word "HERO." If you're buying for a group, contact the pin creator about bulk orders. The pin creator donates the net proceeds to Direct Relief and World Central Kitchen nonprofit coronavirus relief programs.
With all the time we're spending sheltering in place, it's nice to bring a little green inside. Show someone you're grateful for all they've done with an Appreciation Plant Cube. There are a lot of punny ones to choose from, such as "Thank you for your thyme," "Fir-ever grateful for you," or "Always be-leaf in yourself." They come with seeds, peat, and a wooden planter.
Outdoorsy types will appreciate this Sierra Club Paracord Survival Bracelet. It's a practical accessory to wear while camping, hiking, backpacking, mountaineering and having other adventures where you might need a tool or two. It includes a whistle, compass, flint and scraper. Purchases support the Sierra Club's environmental programs.
Memorialize the historic 2020 pandemic toilet paper shortage with this hilarious enamel pin. Based on the "Toilet Paper" installation by mosaic pothole artist (yes, you read that right) Jim Bachor.
Remember when we could easily and safely pass a holiday card around the office for everyone to sign? These days you need a pandemic-proof solution for your remote teams. GroupGreeting cards are digital so everyone can sign online. People can add emoji stickers, animated GIFs, and personal photos to make the card more meaningful. In addition to winter holiday designs, you can get GroupGreeting cards for birthdays, work anniversaries, retirement, employee appreciation and other special occasions. For every card purchased, a donation is made to One Tree Planted, a nonprofit that plants trees around the world.
We can't safely travel the world right now, but we can wax nostalgic about our jet-setting ways. This retro Delta Air Lines lunch box will charm any coworkers who spent more time on the road than in the office. It's sold by the Delta Flight Museum in Atlanta, Georgia, which hasn't been able to open its doors during the pandemic.
During the pandemic, many people have realized the value of doing repairs instead of tossing away what they have. This Old Joliet Prison Sewing Kit reminds us "It's Never Too Late to Mend!," a message that inmates and guards at Joliet Prison would see on their way in and out of the cell house. The prison, which many know from "The Blues Brothers" movie, was first opened in 1858 and is now managed by the nonprofit Joliet Area Historical Museum in Illinois.
This is one fierce gift. It's made of metal: fierce. It's got pointy mandibles: also fierce. And it's a stag beetle, the largest terrestrial insect in Europe: fierce again. Despite the ferocity, the metal stag beetle would make a charming addition to any desk. It comes ready to assemble from a sheet of etched steel. Get it from the Metal Museum in Memphis, Tennessee, which preserves, promotes, and advances the art and craft of fine metalwork.
Sandy beaches, ocean breezes, swaying palm trees. We all could use a vacation right now. Until the pandemic allows safe travel, give your coworkers a taste of a beachside break with these Tampa Life Notecards showing a nostalgic scene of beachside bliss with the Tampa Bay Hotel in the background. During the Victorian era, the hotel was a railroad resort. Today it's a National Historic Landmark and home to the Henry B. Plant Museum.
We all know somebody who has funneled their pandemic anxiety into a new cooking hobby. They're the ones who have nurtured a sourdough starter, planted an edible garden, or fermented a batch of kombucha. They'll treasure one of these festively stylish reusable Swedish dishcloths with either cardinals, owls or sea turtles. They're lovely to look at and are more sustainable than using paper towels. These are sold by the North Carolina Museum of Natural Sciences in Raleigh, which has a wonderful online shop filled with gifts for fans of bugs, dinosaurs, sloths and more.
If 2020 was a person, it might look a lot like the character on this Dan Dailey "Freaked Out and Pissed Off" magnet. This 2.5-inch-square magnet will inspire cathartic laughter whenever people look at it. The magnet is a limited edition exclusively to the Chrysler Museum of Art in Norfolk, Virginia.
This Guerrilla Girls Eraser is a clever, affordable, and useful item that you can gift to others to share the message that discrimination must be erased. If you've never heard of the Guerrilla Girls, the National Museum of Women in the Arts in Washington, D.C., explains that they're "a group of anonymous artists who…use facts, humor and outrageous visuals to expose discrimination and corruption in art, film, politics and pop culture."
Washing our hands has taken on a whole new significance this year. Since we're doing it so often, we might as well use some special soap. Sequoia Soaps are handmade with organic shea butter and all-natural vegetable oils in intriguing scents such as sweetgrass, cedar, sage, tobacco, Three Sisters (pumpkin pie), and Jingle Dress (berries and flowers). Sequoia Soaps is an Indigenous-owned and operated company, and the soaps are available from the Citizen Potawatomi Nation's gift shop.
Gifts for an Office to Share
Women's Bean Project offers tempting hand-packaged gift boxes that include lots of tasty stuff, such as indulgent baking mixes, flavor-packed spice rubs, and bean soup kits, all in environmentally-friendly packing. If there's a dog owner on your gift list, they even have a gift box of treats for the canine set. Women's Bean Project is a nonprofit that gives women battling addiction, homelessness, and incarceration a second chance learning gourmet food production and earning a paycheck.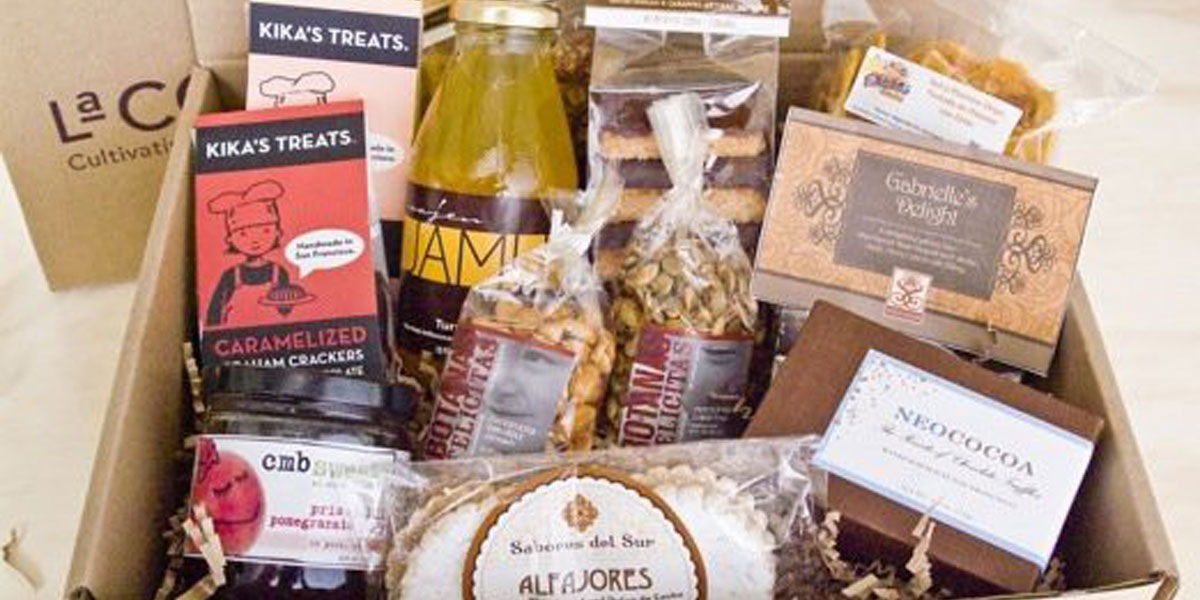 La Cocina gift boxes come with both sweet and savory products, all locally made in San Francisco in small batches by women entrepreneurs. Sales support the work of La Cocina, a nonprofit that cultivates low-income food entrepreneurs to grow their businesses, primarily focusing on women from communities of color and immigrant communities.
Share some festive Southern flair around the office with River Street Sweets: Savannah's Candy Kitchen's gourmet Southern holiday candy gifts. You'll want to make sure you pick a gift box that includes their world-famous pralines. Each sweet treat is handmade in small batches with a 40-year-old family recipe. Check out their bakery selection for indulgent pecan pies, red velvet cakes, and chocolate bear claw kringles.
Lauren Girardin is a marketing and communications consultant, storyteller, and freelance writer based in San Francisco. She helps organizations engage their communities and tell their stories. Her website is laurengirardin.com and you can connect with her on Twitter at @girardinl.