Meet Shannon.
She's 38 and resides in the District. Shannon commutes into work using public transit. She relies on various assistive technologies to help get her through her day. Shannon is thankful for the audible announcements letting her know which stations are coming up, ensuring she's always on time and doesn't miss her stop.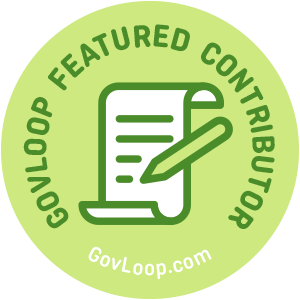 At work, Shannon uses a screen-reading program combined with an impressive mastery of keyboard commands and shortcuts to compose email and complete her routine tasks. She doesn't even need to use a mouse – she's just that good!
But, there's one thing that does frustrate her. Browsing the web is always a challenge for Shannon. Most of the websites she visits are inaccessible and she can't find the information she needs. If only someone had been forward thinking and included accessible design, Shannon, and other users like her, could have the same user experience that many of us sighted folks often take for granted.
In the world of web, we often use personas to help us get at the heart of the user experience, figure out what's not working well and use them to help derive solutions.
Design with accessibility in mind.
In short: UI and UX design without the accessible stakeholder in mind yields a negative CX. DigitalGov characterizes the user experience (UX) as that of people interacting with your product and the experience they receive from that interaction. Customer experience (CX), in contrast, encompasses all the interactions a person has with your brand.
One University of Wisconsin professor is stepping up, advocating for an improved online experience for blind and deaf-blind users. Check out his story in the clip below and listen to the screen reader as he executes several keyboard commands.
The 411 on Accessibility:
In 1998, Congress amended the Rehabilitation Act of 1973 to require federal agencies to make their electronic and information technology (EIT) accessible to people with disabilities. The law (29 U.S.C. § 794 (d)) applies to all federal agencies when they develop, procure, maintain or use electronic and information technology.
EIT includes websites (both internet and intranet), all electronic documents (hint, hint: PDFs), and captions for videos.
Under Section 508, agencies must give disabled employees and members of the public access to information that is comparable to the access available to others.
The United States Access Board is responsible for developing ICT accessibility standards to incorporate into regulations that govern federal procurement practices. On January 18, 2017, the Access Board issued a final rule that updated accessibility requirements covered by Section 508, and refreshed guidelines for telecommunications equipment subject to Section 255 of the Communications Act. The final rule went into effect on January 18, 2018.
Section 508 affects all of us.
Do you…
draft, publish and share SOP documents?
keep weekly minutes and add them to a SharePoint portal or document management system?
publish updates to your agency's Internet and/or Intranet site(s)?
include electronic documents as attachments to email messages?
create policy and guidance documents?
develop presentations for internal/external audiences and stakeholders?
If you answered "yes" to any of those scenarios, then Section 508 applies to you. As federal employees, it's our civic duty to foster a culture of inclusiveness and educate those around us on the importance of accessibility. There's a need for more accessibility stewards in this world and I hope you'll consider answering that call.
Why does it matter?
Section 508 compliance is important for many reasons. Here are some of the highlights and why you should take it seriously.
Users of assistive technologies deserve a comparable viewing experience
Section 508 compliance is not just a "best practice" – it's the law
There can be litigious consequences for not following or enforcing Section 508
Remediating (or fixing) non-conformant documents and websites is costly
May result in negative attention/publicity
Subject to internal audits from agency watchdogs at any time
If you're a COR, contracts should include Section 508 requirements for all applicable deliverables
You can get ahead of the curve.
Don't be intimidated or feel overwhelmed. Section 508 responsibilities are manageable. Here are some tips that can help you.
Download FREE browser plugins to assess your webpages for conformance.
Check to see if your agency has licenses for enterprise scanning tools and software.
Consult with your local IT office to determine agency specific Section 508 requirements.
Apply and follow the WCAG2.0 guidelines
Educate your colleagues.
Consider getting certified in web accessibility.
Blake Scates  is part of the GovLoop Featured Contributor program, where we feature articles by government voices from all across the country (and world!). To see more Featured Contributor posts, click here.