Changes in federal government keep coming fast. That's why GovLoop gives you these monthly recaps of federal news that may affect agency management and employment. If you've fallen behind, check out all the previous recaps*.
By the time you read this, there will undoubtedly be new developments. And, this roundup can't include everything. The focus is on federal news most relevant to government employees. Check out the linked sources for more information.
Finally and importantly, this is not an opinion about or endorsement of any policies, regulations, or orders, nor of the behaviors of elected officials, political appointees, government employees, other individuals, organizations, or agencies.
* The recaps have switched from weekly to monthly beginning with this post.
1. (Hopefully) no federal government shutdown
It's looking like we'll avoid a federal government shutdown at the end of this week thanks to a bipartisan spending bill that's (so far) successfully making its way through Congress. Even though the Congressional spending package for the remainder of the 2017 fiscal year through September 30 does not include many of Trump's budget blueprint requests, he is reportedly "happy with it." Notably, the bill does not provide funds for Trump's border wall or for additional Immigration and Custom Enforcement (ICE) agents, and would not raise defense spending as much as Trump proposed.
The spending bill also would decrease the Environmental Protection Agency (EPA)'s budget by only 1%, instead of the drastic 31% cut imagined by Trump. Rather than cut the budget for medical research at the National Institutes of Health (NIH) by $1.2 billion as Trump proposed, Congress would give it $2 billion in extra funds. And while Trump wanted to eliminate the Advanced Research Projects Agency–Energy, the Appalachian Regional Commission, the National Endowment for the Arts (NEA), and the National Endowment for the Humanities (NEH), the Congressional bill would slightly increase those agency budgets.
If the spending bill passes as-is, some local agencies will be able to breathe a sigh of relief. The bill would allocate $68 million to reimburse law enforcement in New York City, Florida, and other areas that protect Trump during his frequent trips to his vacation properties. The Justice Department also would not be able to cut funding for sanctuary cities or restrict medical marijuana in states that have legalized it.
Read the entire 1,665-page Omnibus Appropriations bill or the department summaries. The vote on the spending bill is currently scheduled in the House on Wednesday, May 3 and in the Senate on Friday, May 5.
2. Shadow Cabinet being dismantled
The group of senior White House advisers assigned at federal agencies sometimes referred to as Trump's "shadow Cabinet" are on their way out, according to Politico. These individuals were appointed by Trump as a kind of embedded liaison between agencies and the White House, though they were also reportedly directed to monitor agency employees for loyalty to Trump and his agenda. An administration source told Politico that the senior advisers "have no idea how government works," while another source described the obsequious political appointees "like a roomful of Jonahs from 'Veep.'"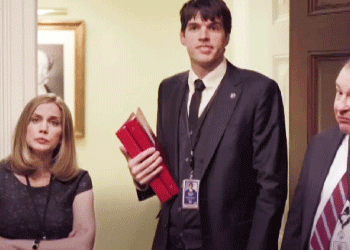 Already, some of these senior advisers have been shut out of key meetings, are making plans to leave, or have been transferred, while two Treasury Department advisers have been literally banished to the basement. Given all the tension and distrust, it would be no surprise if many agency leaders and career staffers will be happy to say goodbye to these senior advisers.
3. Hobbled Justice Department
The Justice Department has been beleaguered since Day 1 of Trump's administration, and the trouble has continued through Day 100 and beyond. The Washington Post reported that Attorney General Jeff Sessions still has not appointed any of the more than 90 U.S. attorneys who are responsible for prosecuting federal crimes from state offices, leaving acting U.S. attorneys in their place. A former Justice Department spokesman told Salon that "An acting U.S. attorney doesn't speak with the same authority to a police chief or to a local prosecutor as a Senate-confirmed U.S. attorney does." Sessions still also needs to appoint the heads of several important divisions, including civil rights, criminal, and national security. The appointment process for all these positions is expected to take months.
The Senate did confirm Trump nominee Rod J. Rosenstein as deputy attorney general on April 25. During confirmation hearings, Rosenstein said he would recuse himself from any investigations into ties between the Trump campaign and Russia, and would appoint a special prosecutor if necessary. The Senate is still considering Trump's nomination of Rachel Brand for associate attorney general.
4. Nervous State Department
At the beginning of April, Politico reported "anxiety" over the restructuring and cuts expected in the coming months at the State Department. "Deep cuts are expected to hit State's environmental and cultural programs, while divisions that deal with arms control and military affairs may see consolidation." On April 27, Bloomberg reported that Secretary of State Rex Tillerson plans to eliminate 2,300 jobs at the department through attrition and buyouts. The same day, the New York Times reported Tillerson seems to be in "no rush" to fill the 200 State Department jobs that require Senate confirmation, leaving the agency "largely leaderless until well into 2018." According to CNN, the White House "places responsibility" for these staffing delays on Tillerson, calling the agency's efforts "slow."
In somewhat good short-term news for the State Department, Federal News Radio reports that while the Congressional spending bill doesn't include funding for "new, non-security positions" at the State Department, it allows the agency to "fill existing positions that become vacant due to attrition." The article explains however that Congress wants the State Department to "inform appropriations committees of their plans to restructure funding and staff, a potential sign of future workforce and budget reductions to come." Trump's budget blueprint proposed cutting the State Department's budget by 31%.
Tillerson will soon start a "listening tour" and an employee survey to inform his restructuring plan. Meanwhile, rumors swirl as State Department employees, politicians, and watchdog groups grow reportedly grow worried and impatient.
5. Inaction is the new cybersecurity threat
Despite Trump's promise to deliver a cybersecurity plan within his first 90 days in office, it's past Day 100 now and no such plan exists. Network World pointed out Trump hasn't issued his cybersecurity executive order either, even though a draft was mysteriously pulled after it was scheduled to be signed on January 31.
Because Trump has missed his own deadline, much-needed reviews of agency cybersecurity risks have apparently not started, and the administration seems to have made no progress on reducing the chance that hackers could gain access to sensitive federal information and data. Politico reported that it's unclear who is responsible for creating Trump's cybersecurity plan. If the Trump administration hasn't done much work yet on the cybersecurity plan, one expert estimates it "could be at least another 90 days away from finishing one."
What other federal news caught your attention in the past month? What stories are you and your colleagues talking about at the office? Share your thoughts in the comments.
Lauren Girardin is a marketing and communications consultant, writer, and speaker based in San Francisco. She helps organizations engage their communities and tell their stories. Her website is laurengirardin.com and you can connect with her on Twitter at @girardinl.