Since its inception, TED Talks have provided a platform for experts to share their thoughts, ideas and discoveries from their respective fields. That distinguished "ding-ding" water-drop sound is a synonym for "get ready to learn something new."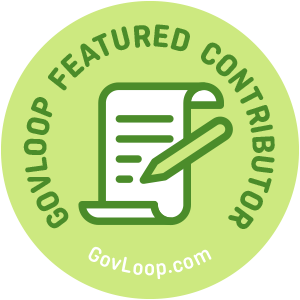 The mission of TED, which represents technology, entertainment and design, is to "spread ideas." The best thing about TED Talks for me is that they're accessible from anywhere — in the car, at home, in your office. They always challenge me to think about things from a different perspective. And as public servants, we are always learning new things, connecting to new ideas, and using innovative thinking to solve new problems.
Out of the many inspiring TED Talks I've drawn inspiration from, listed below are seven talks that all public servants should hear:
Why we need to imagine different futures by Anab Jain
"By putting ourselves into different possible futures, by becoming open and willing to embrace the uncertainty and discomfort that such an act can bring, we have the opportunity to imagine new possibilities," Anab Jain said in her talk. Public servants who want to innovate can gain plenty from this approach.
"Anab Jain brings the future to life, creating experiences where people can touch, see and feel the potential of the world we're creating. Do we want a world where intelligent machines patrol our streets, for instance, or where our genetic heritage determines our health care? Jain's projects show why it's important to fight for the world we want. Catch a glimpse of possible futures in this eye-opening talk." — TED's summary of Jain's talk
How police and the public can create safer neighborhoods together by Tracie Keesee
We all want to be safe, and our safety is intertwined with one another's, says Tracie Keesee, Cofounder of the Center for Policing Equity. Sharing lessons she's learned from 25 years as a police officer, Keesee reflects on the public safety challenges faced by both the police and local neighborhoods, especially in the African American community, as well as the opportunities we all have to preserve dignity and guarantee justice. "We must move forward together. There's no more us versus them," Keesee says.
Want a more just world? Be an unlikely ally by Nita Mosby Tyler
A more equal world starts with you. Citing a formative moment from her own life, equity advocate Nita Mosby Tyler highlights why showing up and fighting for others who face injustices beyond your own lived experience leads to a fairer, more just future for all.
In uncertain times, think like a mother by Yifat Susskind
There's a simple and powerful way to confront the world's most pressing crises, says women's rights activist Yifat Susskind: Think like a mother. As she puts it: "When you think like a mother, you prioritize the needs of the many, not the whims of the few." Follow along as she shares moving stories of people around the world who embody this mindset— and shows how it can also help you see beyond suffering and act to build a better world.
How to find work you love by Scott Dinsmore
Scott Dinsmore quit a job that made him miserable, and spent the next four years wondering how to find work that was joyful and meaningful. He shares what he learned in this deceptively simple talk about finding out what matters to you — and then getting started doing it.
Who controls the world? By James Glattfelder
James Glattfelder studies complexity: how an interconnected system— say, a swarm of birds — is more than the sum of its parts. And complexity theory, it turns out, can reveal a lot about how the world economy works. Glattfelder shares a groundbreaking study of how control flows through the global economy, and how the concentration of power in the hands of a shockingly small number leaves us all vulnerable.
Can beauty open our hearts to difficult conversations? By Titus Kaphar
"I believe there is beauty in hearing the voices of people who haven't been heard," says artist Titus Kaphar.
An artwork's color or composition can pull you in — and put you on the path to having important and difficult conversations, Kaphar says. In this stunning talk, he reflects on his artistic evolution and takes us on a tour of his career from "The Jerome Project," which draws on religious icons to examine the U.S. criminal justice system, to "From a Tropical Space," a haunting body of work that centers around Black mothers whose children have disappeared. Kaphar also shares the idea behind NXTHVN, an arts incubator and community for young people in his hometown.
Dulana Reese is a Mississippi native living and thriving in Chicago. She serves as the Chief of Staff for State Representative Kam Buckner. In this capacity, she supports the representative by building relationships with community stakeholders, inspiring their team to go above and beyond, ensuring the community's voices are heard, and playing various roles on campaigns. She graduated from the University of Southern Mississippi with a bachelor's degree in Communications Studies and earned a master's in Public Service Management from DePaul University. In her spare time, she loves a good Netflix binge, reading, listening to music and practicing the harmonica.