As the 15th round of the GovLoop Featured Contributor Program wraps up, I would like my final blog to be a great summary toolkit for you to carry with you throughout your years in public service. After much thinking, I was suddenly tagged on Facebook b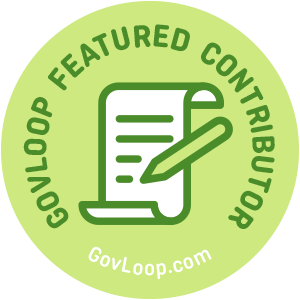 y former GovLoop Featured Contributor, Larry Till. This is when I got my "aha"moment!
Larry shared with me an article about "How to be a Good Public Servant." The article outlines seven qualities you will need to succeed in the world of public service:
Kindness
Shrewd Judgement
Future Proof-Skills
Fairness
Tenacity
A Sense of Duty
A Hint of Rebellion
The article tries to shine a different light on government workers — one that emphasizes their optimism, ingenuity and collaborative spirit. It reminded me of my first article on GovLoop, "Public Servants Can Be Innovative Too!"
As I continued to ponder on my career as a public servant and the legacy I would like to leave behind, I made a list of things not to forget. In other words, to be successful, I should always obey the top five rules. I would like to share with you my top five rules to you as a farewell to being part of the 15th GovLoop Featured Contributor Program.
Public Service ToolKit
Build Key Leadership Competencies

Developing a key leadership competencies profile will align yourself with the vision for a public service that is collaborative, innovative, streamlined, high-performing, adaptable and diverse.
Having a title of Senior Executive does not automatically make you a leader. Leaders are each and everyone of us; it all depends on the situation. For instance, in my role as a Program Analyst I took on an unexpected leadership role with a group of students to execute a quick and adaptable helpline for a social assistance program. I was not a Team Lead, Manager, etc. but I had the knowledge and experience with the program to assist the students in effective and better service delivery.

Admit Instances of Guilt

Admitting when you are wrong during or after a project will illustrate genuine characteristics. We all know our ideas are great but they may not always work in every situation. Being honest when you are wrong is key to continue generating ideas.

Prioritize Relationship Management

Developing relationships within your organization is key but creating and maintaining new relationships outside of your organization is even more crucial. Ever heard the saying, "the currency is in favors?" Meaning, we have to share our ideas and help one another to gain friends with skills and knowledge that will be assets to you in future projects.
Remember, Rome was not built in a day and it was not built on its own.

Don't Forget It's all About the Public Good

It may be corny to say but you become a public servant not because it is glamorous or you have many perks; it is because you want to make a difference; you want to leave some sort of legacy behind.
Public Servants are the voice of the people. We build through co-creating with citizens, front-line employees and other stakeholders to deliver better outcomes for the community.

Never Stop Learning

Never forget that there will always be better ways of doing business or delivering better services. We cannot forget that we can learn from the new employees; the new "blood" of public service.
Attending conferences and speaker series will shed light on different ways of solving problems and continue to ignite innovation.
My toolkit contains five points to succeed in public service. It is difficult to change an organization with a culture that is entrenched in lack of innovation and collaboration. Each public servant is an intrapreneur. Intrapreneurs are individuals breathing, living and advocating for the client; that is the public. Intrapreneurs understand the dilemmas and political acuity public administration practices. If we choose not to forget our innate intrapreneurship characteristics then public service will continue to thrive.
Want to learn something fun? Find out who your pop culture public service alter ego is by taking a free interactive quiz.
For a full reading list of my blog posts, check out posts by Ashley Cabral.
Interested in joining the 16thround of the GovLoop Featured Contributor Program? Click here to apply.
Ashley Cabral  is part of the GovLoop Featured Contributor program, where we feature articles by government voices from all across the country (and world!). To see more Featured Contributor posts, click here.