In the Next Generation of Government Training Summit session, "Analyzing Data to Make Better Decisions," Kirsten Dalboe, MGMT Cube Program Manager at DHS, and Gray Brooks, Senior API Strategist at GSA, shared their successes with using data to improve performance and efficiency.
Kirsten was the "data scientist" behind the DHS Management Cube, which integrates financial, human capital, contracting, asset, and security data on a common platform to produce comprehensive trend analysis, which will lead to better decisions, and ultimately a stronger Department.  Benefits include improved data integrity, the ability to explore trends and relationships across data sets, and improved collaboration.  Kirsten stressed the importance of:
Leveraging existing initiatives and funding sources
Regular meetings and constant communication
Shared data, rather than a "need-to-know" basis
Strong leadership support
Involvement of all lines of business (builds trust and stronger collaboration)
Patience
Gray is a member of Team 18F, a team of designers, developers, and product specialists at GSA, headquartered at 18 and F streets in Washington, DC.  18F partnered with the Digital Analytics Program (DAP) to create analytics.usa.gov, a Google analytics account for federal government agencies which shows how people are interacting with the government online.  For example, what web pages are customers viewing?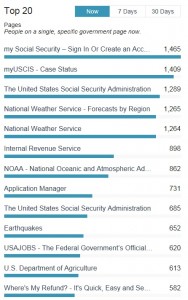 Another 18F and DAP team effort was pulse.cio.gov, which measures how federal government domains are following best practices for federal web sites.  Take a look at Pulse and see if your agency is (i) supporting the HTTPS protocol and (ii) participating in the DAP!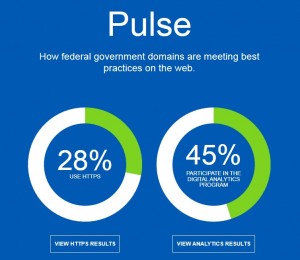 Do you have any data analytic projects that resulted in better decisions at your agency?  If so, please share with us in the comments section below!
From July 20th – 21st we'll be blogging from GovLoop and YGL's Next Generation of Government Training Summit. Follow along @NextGenGov and read more blog posts here.