There are a few inevitable things in life. There's death and taxes. In our digital age, it also seems inevitable that brands will pump out awkward or, worse, offensive social media posts about the death of a celebrity.
Should your government agency or public service organization even speak up about a celebrity death? If you decide to share, how can you do so tastefully?
A tough decision in an emotionally fraught moment
Some will argue that brands should never comment on the death of a celebrity. That brands cannot mourn. And that social sharing by brands is always going to be self-serving.
Self-promotion through grief is unkind to do to people. It also can damage the relationships, trust, and brand reputation you've worked so hard to build at your agency.
Even if self-promotion isn't present, grief shared by brands can be seen as an attempt to co-opt emotions. When brands intrude into grief, it can force people to recognize that brands are often manipulating our emotions toward their own end, such as profits, power, policy, or another agenda. This is an uncomfortable truth that can reveal the emotional artifice at the core of many brands.
But, some brands will have established trust with people in a way that the brand's authentic, tasteful expression of grief will be welcomed. Others can offer information that is truly useful. Brands are also run by real people who may feel compelled to share their collective grief.
Before your agency shares messages about a celebrity's death, think hard about why you want to share. Look at examples of how others have succeeded and failed. Remove anything that might be seen as self-promotion. Scrutinize your content for ways it can be misinterpreted. Then, proceed with caution.
Social media about Prince, done right
Most of the social media shares following Prince's death were by companies. More often than not, corporate brands fell into the tasteless self-promotion trap.
Though government agencies tended to stay silent, most who spoke up did so with a grace derived from clear civic purpose. Here are examples of government agencies who joined the social media conversation about Prince for the right reasons.
City of Chanhassen, Minnesota
Prince built his Paisley Park home and studio in Chanhassen, Minnesota. It's also where he died. Inevitably, Chanhassen has become the center of a lot of activity, with thousands of visitors suddenly inundating a city of 23,000 people.
Sensibly, the city decided to use its social media smarts to help people grieve both online and off. The city's Facebook and Twitter accounts provide visitors and local residents with useful information about road closures, public restrooms, parking, and community memorial services. Chanhassen's social media has also become a hub for curated relevant news from other local agencies, elected officials, media, and businesses.
If you plan to visit Paisley Park this weekend, please park at Lake Ann Park at 1456 West 78th Street in Chanhassen. pic.twitter.com/AvsbjoJBHy

— City of Chanhassen (@CityofChanMN) April 22, 2016
Local residents have also been drawn to Chanhassen's Facebook page where they're sharing their grief with neighbors and friends. People's comments are overwhelmingly positive, sharing their appreciation for how the city has handled the situation.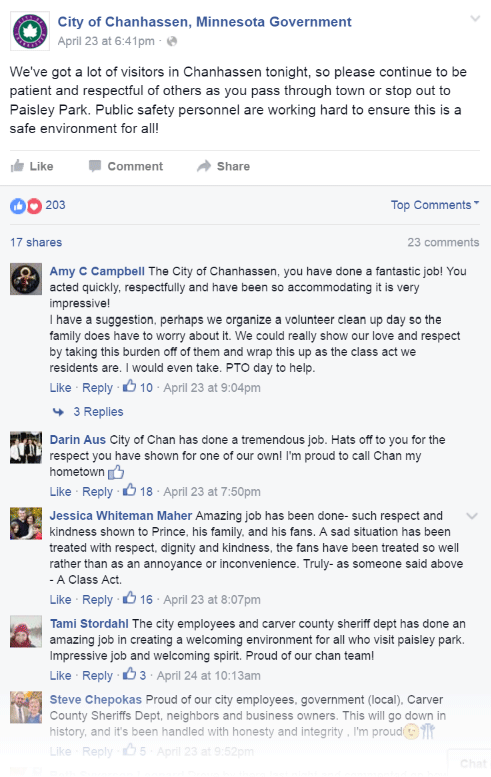 Prince's legacy may forever change Chanhassen. The Purple One's friends and family are talking to city officials about the future of Paisley Park, which could become a museum. Working with a local radio DJ, the city is asking people to share their ideas for a local memorial site using the hashtag, #PrinceMemorial.
Tweet your ideas for a Prince memorial in Chanhassan and use the #PrinceMemorial The mayor and his staff will be looking at your ideas.

— Dave Ryan (@daveryankdwb) April 25, 2016
NASA
NASA paid tribute to the Purple One by sharing a photo of the Crab Nebula, a supernova some consider as iconic to astronomy as Prince was to music. The 2013 photo gets its purple hue by combining a blue-filtered view of visible wavelengths by the Hubble Space Telescope with a far-infrared image by the Herschel Space Observatory.
This tweet works because it is innocuous and because NASA has a strong brand people trust. It resonated strongly with Prince fans around the world, garnering tens of thousands of retweets and likes, and extensive international media coverage. Interestingly, NASA did not put the same message out on its other social accounts.
A purple nebula, in honor of Prince, who passed away today. https://t.co/7buFWWExMw pic.twitter.com/ONQDwSQwVa

— NASA (@NASA) April 21, 2016
San Francisco & Minneapolis
Local governments have long used lights to splash color onto buildings to commemorate special events, holidays, and people. Governments around the world shone purple lights on public structures, and let people gather in public spaces to celebrate Prince's life and music. They used social media to effectively get the word out to communities.
In response to public requests on social media, San Francisco, California was one of many cities that decided to honor Prince, announcing its decision on the official SF City Hall Twitter account.
Tonight at approximately 8pm, City Hall will be dressed in purple for Prince.

— SF City Hall (@SFCity_Hall) April 21, 2016
It's clear from comments on social media that city residents appreciated this decision to give them a central place to gather where they could celebrate the life of a legend.
Proud to be a San Franciscan tonight. San Francisco City Hall bathed in purple to honor #Prince. #PrinceRIP pic.twitter.com/aaWyYsag8c

— berningman2016 (@berningman16) April 22, 2016
In today's sadness, I do love living in a city that understands. https://t.co/2ZAowUOIgg

— Amber Morey-Wu (@ozrunnergrrrl) April 22, 2016
Thank you SF. #RIPPrince https://t.co/weh1kUYbbY

— sukhjit (@sukhjit) April 22, 2016
One of the many reasons why San Francisco is the #bestcityever https://t.co/dgMrqRiJMJ

— USF Performing Arts (@USFCAPASJ) April 22, 2016
Minneapolis, Minnesota used social media to announce it was honoring Prince by playing some of his songs on the Minneapolis City Hall tower bells.
On Sunday, the Minneapolis City Hall tower bells will play Prince songs from 1 to 1:30 p.m.

— City of Minneapolis (@CityMinneapolis) April 21, 2016
Social media lit up as people praised Minneapolis for this unique tribute. The city and people used social media video and livestreaming to broadcast the shared experience.
LIVE on #Periscope: Minneapolis City Hall bells playing four #Prince songs. https://t.co/pFRbDywVrU

— Leif Pettersen (@leifpettersen) April 24, 2016
StopBullying.gov
StopBullying.gov shared a quote by Prince that fit with the agency's mission, without being too self-promotional. Both the visual and the written messages were appropriate for the agency's audience of parents, kids, educators, and communities who are working to prevent bullying. It could have been completely free of self-promotion if they'd left the agency logo off the image.
Thinking of Prince Rogers Nelson, his spirit, individuality, and contribution to modern music. Always Be You. pic.twitter.com/zqAHHbg3TE

— StopBullying.Gov (@StopBullyingGov) April 22, 2016
The Smithsonian
The Smithsonian is a repository for many of the nation's culture and arts artifacts—including several of Prince's iconic objects. Two of the Smithsonian's museums have decided to bring some of Prince's items out of storage and put them on public display. The museums took to social media to share the news.
The Smithsonian National Portrait Gallery added a photo of Prince to its In Memorium wall to give people another place to pay their respects.
The National Museum of American History has decided to display Prince's the Yellow Cloud guitar.
From portraits to guitars, Prince's legacy lives on at the Smithsonian: https://t.co/fU8vPgM9PV @SmithsonianMag pic.twitter.com/LgjkS0yR0G

— amhistorymuseum (@amhistorymuseum) April 21, 2016
The choice feels especially authentic because the museum has been proudly talking about this guitar for years on social media and displayed it as recently as 2014.
Behind the scenes in collections storage, musician Brittany Howard plays Prince's guitar: https://t.co/lG3WlPLLks pic.twitter.com/lvxfYoWGku

— amhistorymuseum (@amhistorymuseum) February 25, 2016
18F
Proving sometimes that a little acknowledgement of grief goes a long way, 18F temporarily turned its logo purple on its website (where it's already reverted to blue) and Twitter account. It was a subtle change and subtly shared.
This may be the greatest commit message I'll ever write. https://t.co/mu92WZBG9f #prince

— Greg Boone (@gboone42) April 21, 2016
Lots of amazing music fans at @18F got me through today. Thanks to @jlthibault for helping make this happen:https://t.co/bmuSbaXkqQ #prince

— Greg Boone (@gboone42) April 21, 2016
My beloved @18F (aka my workplace) made its logo purple in honor of #Prince https://t.co/eL2k1bV0jb

— Jen Tress (@jdtress) April 22, 2016
.@18F tips our hats tonight: https://t.co/4qwKpDGWye

— 18F (@18F) April 21, 2016
Did your government agency or public service organization pay tribute to Prince on social media? Share your social share and why you decided to to speak up in the comments.
Lauren Girardin is a marketing and communications consultant, writer, and speaker based in San Francisco. She helps organizations engage their communities and tell their stories. Her website is laurengirardin.com and you can connect with her on Twitter at @girardinl.