Across a 20,000 square-mile stretch of Southern California's urban centers and rural deserts, the San Bernardino County Department of Public Health works to reach its two million residents — equitably. To help address public health issues, from food deserts to the opioid crisis, county staff built online collaboration and decision-making tools including smart maps and dashboards, with geographic information system (GIS) technology. 
"We needed to figure out how to get healthcare to people in the areas [where they] can't easily get to us," said Josh Dugas, Public Health Director for San Bernardino County. 
The county has historically strived to better allocate resources for public health situations like disease, recreational facility safety, and compliance with sanitation laws. Understanding the unique needs of the region while recognizing how inequity can affect health outcomes, especially during times of emergency, San Bernardino County was among the first in the nation to declare racism as a public health crisis in June 2020. 
Staff made initial moves to integrate environmental health data into their existing GIS applications. Then they created a series of apps and dashboards to target specific challenges.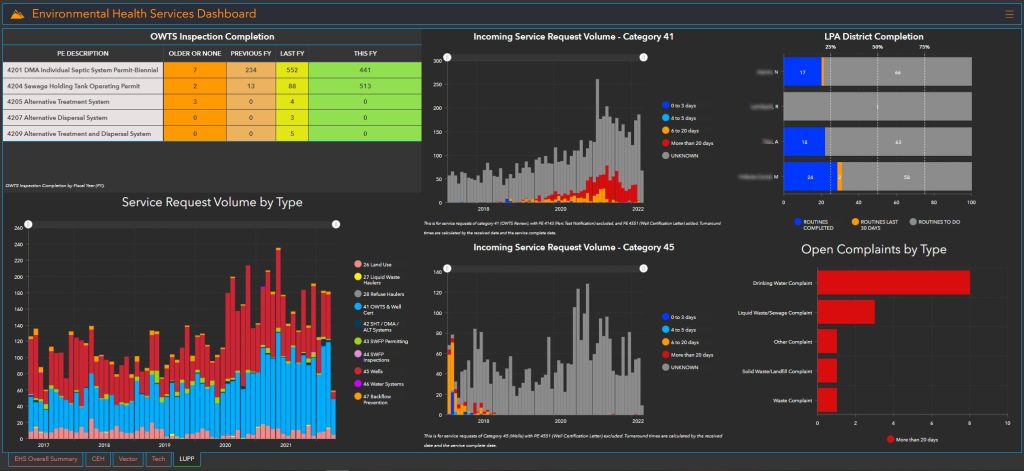 One of the first solutions involved mapping homeless encampments, often spread across desert areas. When residents experiencing homelessness were identified and located, staff used a mobile survey app to coordinate health screening services directly to those in need.
Another solution used visualization tools — including dynamic maps, text, photos, and videos — in a story map to focus on food security and food waste. Showing where residents have difficulty accessing nutritious food, the story map enabled public health staff to facilitate better communication between food establishments and charitable organizations. Restaurants and grocery stores, for instance, can now see food desert locations and learn how to deliver perishables where they are needed most.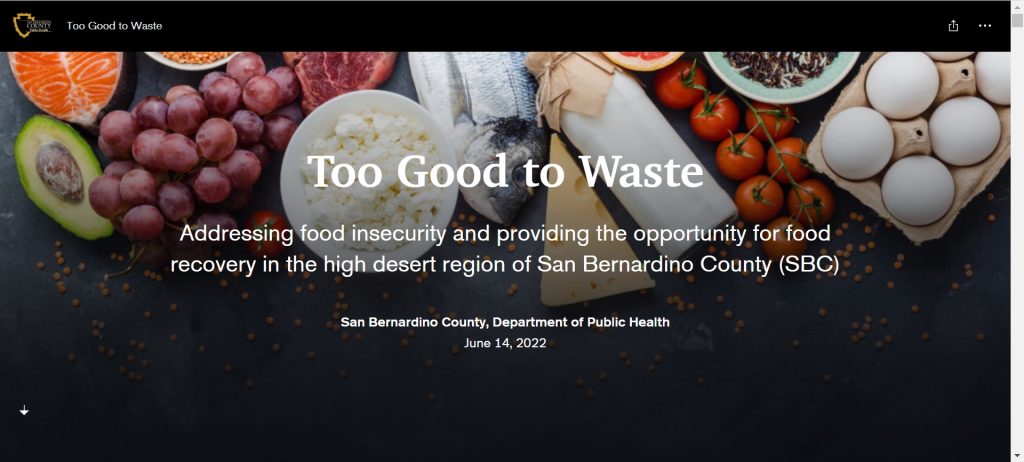 Mapping the County's Covid Response
During the pandemic, San Bernadino County's COVID-19 response and resource Hub — a collection of maps, dashboards, and apps — allowed health department officials to visualize the number of new infections, deaths and hospitalizations. The hub's dashboard data was granular to the community level, which enabled the county to help in location-specific ways. For example, by contact tracing on real-time maps, public health officials were able to set accurate criteria for school reopenings by district. 
Shared dashboards allowed the county to work across multiple agencies with varying priorities and evolving mandates while maintaining situational awareness. Most importantly, the data-driven maps ensured county response took into account equity factors like age, race and ethnicity, and the social conditions such as education, job opportunities, clean air and water detailed by the Healthy Places Index.
San Bernardino County's COVID response hub has become a model for how to deliver equitable public health moving forward. The county has already created new dashboards based on this approach showing things like access to healthcare, and flu and respiratory disease preparedness.
A Geographic Strategy for Future Initiatives
"We have areas that are very impacted [by] poor social determinants of health. Their life expectancy is much shorter and their health outcomes are far worse," said Dugas. "Data transparency is key. Having not only data to support [health equity] but knowing where that data applies is going to help address issues."
Joining a coalition of departments and agencies across the state, the San Bernardino County Public Health Department recently displayed opioid crisis data mapped on a GIS dashboard. The maps have facilitated collaboration and communication on equitable solutions. The coalition also uses the technology to measure and report success to residents as well as government stakeholders.
"We find so much value in GIS. It helps us easily explain complex information, with data that allows people to understand it and inspire action."
---
To learn more about how state and local governments can take a geographic approach to situational awareness with modern GIS tools like real-time dashboards, visit esri.com/en-us/industries/emergency-management/solutions/situational-awareness.