The Federal Employee Viewpoint Survey (FEVS), a tool used by the Office of Personnel Management (OPM) to gauge employee satisfaction, was launched to all federal employees earlier this month. One topic that seems to come up time and time again is work/life balance, with telework or remote work being at the center of that discussion. Depending on whom you ask, you'll get a vastly different answer on whether telework in the federal government has been successful.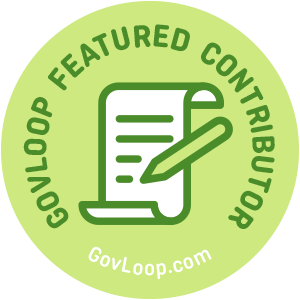 Recently, Federal News Radio reported on an OPM study that found federal employees who telework receive the highest marks on their performance appraisals compared to those who did not participate in telework. Yet, according to a recent Government Executive article, federal managers are weary of the benefits of telework. Furthermore, OPM's "Status of Telework in the Federal Government" report to Congress mentions management resistance, among others, as one of the reasons why some federal agencies are not fully embracing telework for their employees.
So why the disconnect?
Initiatives that break away from the status quo tend to live and die as a result of management support. It's no secret that employers who embrace telework report more successes with their telework program. Telework training and articles focus on the benefits of teleworking, but articles and resources on how managers should manage their new remote workforce seem to be scarce. As a result, there are a few management myths that would need to be dispelled in order for telework to be fully accepted in today's workforce.
Common Management Myths About Telework
Myth # 1: Telework is an all or nothing program.
The truth is telework can consist of a partial day of teleworking (otherwise known as situational telework), 100 percent remote work from home, and everything in between. There is no one-size-fits-all. Telework will look different from office to office, depending on the individuals, the office workload, current technology and specific job positions. According to OPM's report to Congress, situational telework represents the most common type of remote work for 41 percent of eligible employees.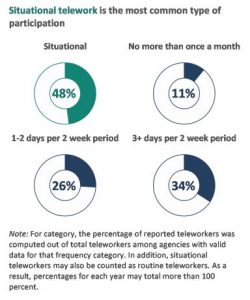 Source: OPM 2017 Report to Congress
Myth # 2: I will lose my office culture if employees work from home.
In reality, managers who are not flexible on telework run the risk of losing personnel to employers who offer telework. It's important to know, understand and nurture your culture, but your office's culture should not come at the cost of employee satisfaction and work/life balance. While 100 percent remote work may have some unintended consequences relating to office culture, employee burnout, recruitment and retention are also concerns that should be considered when offering telework to individuals. As OPM reported to Congress in the 2017 report, engagement, retention and innovation were higher with teleworkers compared to non-teleworkers.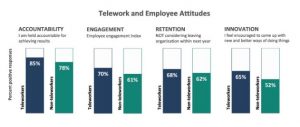 Source: OPM 2017 Report to Congress
Myth # 3: My employees may not work as hard when they're home compared to when they're in the office.
Employees take some time during the day, whether in the office or at home, to mentally unwind from a task. As a manager, it is your responsibility to ensure that the right people are working on the right tasks at the right time. If you feel like there is a workload imbalance, or someone is not pulling their weight, be prepared to step in and find out why. In my experience, you're in for two surprises as a manager; the star worker that has difficulty adjusting to telework, and the underperforming worker that found their second wind.
How Managers Can Better Embrace Telework in Their Office
Know yourself and your team. Offer telework to those that are both willing and able to perform their work remotely. Not everyone enjoys teleworking. Some employees perform better in the office, and some employees require interaction from others to do their job effectively. That doesn't mean telework will not be successful in your office. As individual circumstances change, be prepared to adapt by extending or reducing telework privileges.
Leverage and embrace technology. More companies, including federal agencies, are moving toward collaborative technology like video teleconferencing, cloud email and storage, and collaboration tools like Slack and Microsoft Teams. As technology makes it easier to stay connected, it also makes it easier for employees to perform remote work as if they were in the office. If your office hasn't yet integrated this technology into its office culture, make it a point to test it out with a small group of remote and on-site workers.
Take a look at your performance measures. Have you given some recent thought as to how success is measured in your office? Now might be a good time to set and review your office performance measures. Take a hard look at how individuals and teams are graded, and evaluate whether that system is still an effective way of measuring performance. Consider how individual, team and office performance all sync up, and make adjustments as necessary.
Set your expectations upfront. Are there recurring meetings that require everyone's participation? Do you require that your employees be available between set times? Set clear expectations of how remote employees can succeed while teleworking, whether it's just one day or 100 pecent remote.
Telework! Managers teleworking is a perfect way of leading from the front. Show your team that yes, even you can telework! It shows that you support work/life balance for your own employees, plus you set the example of how teleworking should be done in your office.
Conclusion
Despite the myths, telework is a great way to offer work/life balance while still meeting your performance objectives. While telework is not a panacea for work/life balance, it should be integrated into the employer/employee contract where possible as a recruitment and retention tool. Telework.gov has a wealth of information for employees and managers alike, from manager training to federal resources.
Are you a manager that has a telework success story? Has telework made your career more enjoyable? Share your stories in the comments below!
Fredy Diaz  is part of the GovLoop Featured Contributor program, where we feature articles by government voices from all across the country (and world!). To see more Featured Contributor posts, click here.