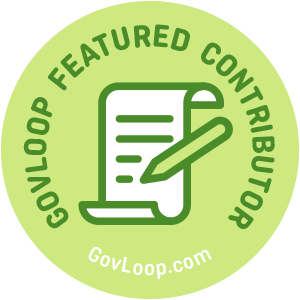 It's a bit of a broken record at this point: 2020 stinks. It has wreaked havoc on our physical and mental health, our economy and our way of life. While the first few months may have been an interesting experiment in willpower, we've entered a phase of exhaustion. Many of us have been struggling with staying focused on our missions. However, we also need to stay sensitive to the realities of what is going on in the world. While I by no means have all of the answers for staying resilient, here are some ways that I've been able to work through trying times as a public servant.
Think Small
I've often been able to focus and block out the noise of the outside world by minimizing the view of the mission. And I don't mean diminishing the mission's value. Sometimes when we think bigger, we can get overwhelmed and begin to identify things that we cannot change.
Instead, think about what the mission is of your own role within the organization, versus the organization as a whole. What impact does your job have on your colleagues and your customers? Taking even just a few minutes and reflecting on how you affect your organization can help gain some perspective. It has certainly helped me from getting buried in the media frenzy and feeling helpless. It has also helped me to justify why I enjoy working for the government when I've felt judged by others. When I explain exactly what it is I do, people tend to appreciate my role that much more.
Become a Project Manager
OK, maybe not go the full-blown route of getting your full-blown PMP certification. But figuring out some projects to work on can help to keep your mind off of the external drama and improve your work group. A few years ago, I went through some serious health issues, but chose to keep working. Something that helped me to stay positive was a project that my team had talked about for a long time. Normally my job had me on the road and in the classroom. Because I couldn't travel due to my illness, I was able to focus on this project that continuously got pushed aside. This project allowed our training offerings to improve and become more comprehensive. This not only helped me through my own personal issues but aided our team's mission.
Now you may not have a project in mind, and that's OK. This might give you and your team the opportunity to connect. You can identify ways that you can improve your processes or rethink your mission. Chat with your colleagues and your supervisor and see if there are some of those "nice to do" projects that you can begin working on. And remember to think small. Start by planning out bite-sized chunks that you can tackle versus getting overwhelmed by the mountain of the project.
Use Your Leave
If you're like me, you have a bad habit of not taking leave. Sometimes it can feel difficult to take leave because of your workload. Maybe you aren't sure what you'd do if you do take leave (especially since traveling right now is not necessarily the best idea). That doesn't mean a mental health day cannot work wonders. Even if you have other things on your plate, having a day where you don't have to worry about work can help you focus on other things. This can also help you distance yourself from some of the drama playing out in the media (if you choose to unplug). When you do come back into the office, you may gain a fresh perspective on your mission.
Last week, I took almost a whole week off. I spent most of my energy on cooking, reading, painting…anything that was not work-related. I felt so refreshed afterward. Many times, we often tell ourselves that we cannot take leave, but more managers are encouraging their staff to take some time off and take care of themselves. They aren't just saying that…they mean it. You cannot give from an empty cup. Make sure you are filling yours.
Myranda Whitesides is a Performance Support Specialist for the Interior Business Center, the Department of Interior's Shared Services Center. She conducts personnel and payroll systems training for over 50 federal agencies, as well as providing training in Diversity and Inclusion for her peers. Myranda also serves as the Education Co-Director for the Mile High Society for Human Resources Management (SHRM), coordinating Educational content for Human Resources professionals in the Denver Metro area. Myranda also enjoys singing, camping, and exploring local breweries and restaurants with her husband, Daniel.