Next week, the National League of Cities (NLC) is convening a symposium of mayors and corporate leaders to discuss and share their perspective on workforce skills gap. The symposium will undoubtedly have an urban focus, but I see where the content will be applicable to most every city, big or small, urban or rural. The symposium will have two main goals: one, develop some actionable ideas for the mayors to take back to their communities to supplement city after-school programs; and, two, provide some ideas about what 21st century employers need and want in their future employees.
While the NLC has had a focus on After School Programs within their Institute for Youth, Education, and Families, it just so happens that the newly elected leader for 2018 – Mayor of the City of Little Rock, Mark Stodola – has launched a presidential initiative which focuses on helping city leaders prepare their cities' workforces to be competitive in the 21st century.  I'm still a little curious why they invited me though. I'm not an education specialist, but Esri is a sponsor of the NLC and we are a technology company that most of the mayors can name, so I think there is a little 'right-place-right-time' chance to my invite. But none the less, I think I am prepared to contribute in a meaningful way. Let me provide a preview of my thoughts.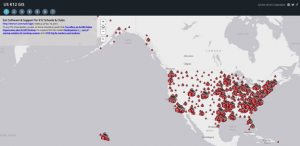 One of my assignments for Esri is to support some of the government associations here in DC—they're nicknamed the "Big 7". The aim of my support is to create a dialogue with the elected officials and to translate, into their settings and language, technology in general, and GIS in particular. It's not particularly easy to translate technologies and the solutions they may offer, into the high-level policy issues upon which they, as elected officials, focus their discussions.  Policy is meant to guide without being prescriptive, be kept broad – at a high-level, and left general enough to be inclusive yet leniently focused on the base elements and issues at the root of the matter.
Education and the 21st century workforce is near the top issue for every one of the Big 7 members. It makes sense that this is a top issue, as it represents both the funds dedicated for education within local government—approximately 20-30% of the taxes collected—and the economic development activities that are needed to keep our local economies vibrant and growing.
Fortunately, the GIS community provides quite a lot of content and examples to offer this group of mayors and business leaders.  If you are part of this community, you are probably aware of some of what I'm going to tell you.  If you are not presently part of the GIS community, I will say that there is not one thing anyone can do to help address the skills gap and prepare for the 21st Century workforce: you must do many, many things all at once.
The GIS community knows that one can engage students with maps. Children learn in a variety of ways, but visual learning is especially effective. Using maps in the classroom illustrates geographic context of the lesson being taught by helping students connect lessons with real places. We know that spatial thinking supports both STEM and STEAM lesson plans and curriculum. Curriculum is particularly difficult as it requires tools and solutions that address particular education goals and elements. Software needs to be affordable, or free. Teachers need instruction too. They already have a day-job; we need to make technology easy to include in their lessons and support them with guidance. The GeoMentor organization, organized by the American Association of Geographers (AAG), is just such a group. It developed in support of the ConnectEd program and now lives on in support of Esri's School Program. It consists of professional and other experts that have committed to assist in the training and support of local teachers.   The Esri School Program has supplied well over $1M of software since its inception.
Teaching students to think spatially is but one of the elements, an important one from my point of view, that our policy leaders at the local, state, and national levels must work on, but this one element has a great beginning. The symposium is still a few days away, I'd like to hear from you. What programs are you involved with that can be grown to help every city in the US, and the world, train their children for the coming years?
Richard Leadbeater is part of the GovLoop Featured Blogger program, where we feature blog posts by government voices from all across the country (and world!). To see more Featured Blogger posts, click here.