"After more than 17 years as a 9-1-1 dispatcher, I know firsthand the challenges our public safety dispatchers face, the stress they are put under, and the critical importance of their work. Without dispatchers, law enforcement, firefighters and EMTs wouldn't be able to do their jobs." —Congresswoman Norma J. Torres
Most local government employees enjoyed a few days off during the holiday; however, this is not true for our public safety first responders. So, let me take this moment to thank all emergency public safety personnel for your support this season.
Unfortunately, during this typically joyous time, I came across an eye-opening article in the Denver Post. Sadly, seven government employees have died by suicide in the past 24 months, including a 911 employee. In light of this topic, my November blog, "Mental Health Awareness in Local Government", highlights the growing level and impacts of stress on 911 personnel.
"No recent national numbers regarding 911 operators' suicides are available. It's not unusual for dispatchers to be left out of the conversation regarding trauma and suicide among first responders. For example, when Colorado lawmakers passed a bill in 2017 allowing first responders to access workers' compensation for PTSD, they did not include dispatchers in the language." – Athena Butler, Executive Director of Denver 911.
Denver's 911 Director Butler has extensive experience in the 911 industry across the nation and after seeing her comments on this topic I began to reflect on our time together in Washington, D.C. at the Office of Unified Communications (OUC), the District's 911 Center. As the seat of the federal government, D.C. faces unique public safety challenges and scenarios. To gain more insight into how their FIRST, first responders are faring, I recently contacted the current Office of Unified Communications (OUC)Director, Karima Holmes. She is responsible for both the non-emergency 311 and 911 emergency operations in the nation's capital.
Introduction: Director Karima Holmes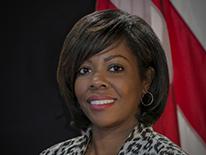 In 2020 Director Holmes celebrates her four year anniversary in this role at the OUC, but don't be mistaken, her 20-year experience in the industry casts a wide net. In other words, at one point in her notable career, she has held almost every position possible in the 911 communications field, including that of a call taker and dispatcher. Additionally, she is not only considered a regional 911 luminary, but her experience and expertise are recognized nationally. For example, she sits on numerous prestigious boards and councils, including the FCC's Communications Security, Reliability and Interoperability Council (CSRIC). And she was recently appointed by the U.S. Secretary of Commerce Wilbur Ross to the FirstNet Authority board. Check out her impressive bio.
Graciously, Director Homes took some time out of busy schedule to speak with me. Although I have never met Director Holmes, I regularly follow her work. The informative conversation covers the current challenges and accomplishments facing the 911 industry.
Let's take a look at our conversation.
How has OUC evolved from the time you arrived in January 2016 to now?
When I arrived there were 25 key 911 operations vacancies and the training department was defunct. With the Mayor's support, I got right to work filling those positions and creating the agency's first-ever Office of Professional Standards and Development (OPSD), which is has been key in formalizing training and instituting a culture where quality assurance is pivotal.
We were also able to create true redundancy by standing up a secondary hot backup center, 24 hours-a-day, and integrating a tertiary site, the Tactical Homeland Operations Response (THOR) mobile 911 Public Safety Answering Point (PSAP).
There have been a couple of other major wins like the complete overhaul of our telephony and dispatch systems and equipment, bringing our operations systems in line with current technological advancements.
How has your customer changed?
In the age of social media, everyone is looking for instant gratification. For 911, that can oftentimes translate into unrealistic expectations. Nevertheless, we regularly adopt new cutting edge technologies to enhance our performance as much as possible. For example, we've implemented Text to 911, integrated functionality to improve location accuracy for our wireless callers, which make up about 80 percent of our call volume, and have changed out our call taking protocols in response to caller frustration with repetitive detail verification questions. We now use Criteria Based Dispatching (CBD), which enables a more common-sense interviewing approach for call takers. We have found that CBD decreased caller frustration and shortened our call to dispatch times.
What is the biggest challenge that the OUC faces?
Balancing perception vs. reality. Hands down! Last year DC911 handled 1.5 million 911 calls and dispatched almost one million police, fire, and EMS events. Of those calls, we received 30 complaints about our performance. Looking at that workload, that's only about .002 percent of our total call volume. Of course, our goal is zero complaints, and with full consideration for those affected by our underperformance in those instances. Let's be clear, that the reality is that the OUC is doing a phenomenal job. What I see is sometimes elements of call taking and dispatching are often misunderstood and then magnified by people from outside of the industry. The public should feel confident in the OUC and the bottom line is that our performance demonstrates that.
Is Post-traumatic stress disorder (PTSD) an issue at your center?
911 centers across the nation are facing this issue. The idea of secondary trauma is real and my friend and colleague Dave Mulholland, Director at Arlington, VA 911 is working hard in this arena, and I fully support and applaud his tireless efforts on behalf of the industry.
What's the best part of your job?
The best part of my job truly is getting to know my employees. They are hard-working professionals who choose to come here every day. Until a person has to call 911, they take our existence for granted, but the fact is that we are the FRIST, first responders and we take tremendous pride in what we do.
As a recognized thought leader in the industry, what's next?
It's time that 911 professionals get the positive attention and praise that they rightfully deserve. That's why together with my colleagues across the nation I support the 911 SAVES Act. This is the first bill of its kind to give 911 personnel the recognition they deserve for the work they do every day to protect and save the lives of the public and first responders. Their current classification as clerical workers is outdated, and I agree that their positions should be aligned with their public safety peers.
"As a former FBI Agent, I know the work done by our 911 operators and dispatchers is critical for the safety of our community. When we are in danger, we call 911 and rely on those on the other end of the line to make sure we get the help we need."  – Congressman Brian Fitzpatrick 
In closing, I think it's fair to say the 911 operation in Washington, D.C. is in good hands! In this blog, I hope I have shed some light on the current state of a premiere center in this industry. All unsung heroes or "Heroes in Headsets" deserve our praise for their service.
Janice Quintana is a GovLoop Featured Contributor. A government nerd, customer service practitioner and 311 pioneer, she has worked in local government as the Director of 311 in three different municipalities. She is fascinated with innovation, technology, data, service delivery and community engagement. When Janice is not following local government rock stars or trends she enjoys her status as a tennis enthusiast and travels the globe to watch a good match. She currently lives in Charlotte, NC with her two chihuahuas. You can read her posts here.