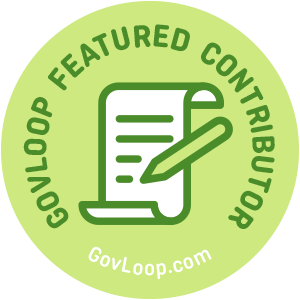 Open data is a popular topic on GovLoop and a rising movement across all levels of government. When I first started working with government agencies on open data initiatives, there was a lot of energy and excitement surrounding the potential for it. As the open data movement has evolved, I have seen the ways in which it is deployed and used evolve with it. Today, governments are doing more than simply checking the "Do Open Data Box" by maximizing the value of open data by making sure it is deployed in a way that makes it "actionable."
The three levels of open data:
Basic Open Data – raw data in downloadable and/or web service form
Usable Open Data – open data powering interactive, intuitive web apps that allow the end user to visualize, interrogate, explore and analyze the data without any training or additional software
Actionable Open Data – multiple open data sets and web apps grouped together to help a community focus on an initiative

Integrated Open Data – this is a sub-category of Actionable Open Data that includes open data sets integrated from multiple organizations powering web apps
Basic open data portals provide basic open data, raw data in standard format that can be downloaded or consumed as a web service. The size of the community that can take advantage of this is relatively small. How many people out there would know what to do with an open data set from their local government such as the Community Health and Equity Index from the City of Los Angeles, CA? Not many, other than your active civic hackers, therefore there is huge unmet potential for open data to serve the community.
The next step is usable open data, open data web services used to power web apps that allow anyone to use the data.
Iowa Department of Transportation Track-A-Plow app – this web app shows the current location of snow plows, road closures, and viewing of traffic and plow cameras.
Utah Department of Transportation Utah Vehicle Collisions – this web app allows the exploration of vehicle collision data. You can visualize the data on a map, and filter the data based on date and time, spatial, contributing, crash severity, and/or weather condition factors. Once you apply the filters, click on the charts button to create a page of data visualizations.
Dashboards are a great way to investigate open data:
Another way to make open data more usable, is to make it more accessible. Cities like Johns Creek, GA and Raleigh, NC have connected their open data to Amazon's Echo smart speaker and intelligent personal assistant Alexa. This allows a user of this smart device to simply say:

"Alexa – ask the City of Johns Creek when the next City Council meeting is scheduled," and the virtual assistant will reply with the meeting date, time and location.
"Alexa – what is my trash pickup day," and it will reply with the day of the week that the City picks up trash from that location.
Actionable open data is where multiple open data sets and web apps are grouped together to help a community focus on an initiative, such as Vision Zero at the City of Los Angeles, CA or the Opioid Epidemic for Oakland Co., MI. These are web sites dedicated to initiatives that allow the public to learn more about them via the use of web apps powered by open data. In the case of the LA Vision Zero site, included is a section on how to be a part of the Vision Zero Solution. This clearly encourages public understanding and involvement. If we are to work towards solving issues like this, we need as much of the community to understand and assist with these complex problems.
Another type of actionable open data is integrated open data. This is when open data sets are integrated from multiple organizations to power web apps, an example of this is the Connected Citizens Program from Waze. This is a free, two-way data exchange between Waze, the world's largest community-based traffic and navigation app, and public agencies. This enables a public agency to consume crowd-sourced data directly from Waze (such as jams, collisions, hazards, construction, potholes, roadkill, stopped vehicles, objects on road, and missing signs) and visualize and analyze it. This allows for analytics-driven infrastructure decisions, traffic congestion reduction, and increased efficiency of incident response. Here are examples from City of Lakeland, FL, Douglas Co., CO, and Georgia Emergency Management and Homeland Security Agency.
I am excited to see more usable, actionable and integrated open data solutions deployed by our public agencies so that we can realize the true potential of open data in addressing the future of our communities. If your organization has not deployed these types of open data solutions, seek out those involved, share these real examples and lobby for their deployment.
Adam Carnow is part of the GovLoop Featured Contributor program, where we feature articles by government voices from all across the country (and world!). To see more Featured Contributor posts, click here. You can follow Adam on Twitter or LinkedIn.