Many agencies today are at a turning point as the government landscape continues to evolve and organizations grow more dynamic and complex. We're headed toward a huge shift in the way agencies plan, execute, and analyze their activities to meet regulatory requirements, respond to programmatic demands, and protect the public trust.
To stay ahead of unexpected fluctuations in funding and regulations, governments must bring planning and execution together, rather than separate them into departmental silos. Agencies must achieve active planning.
Thriving in an unpredictable environment requires agility. But yesterday's forecasting, budgeting, and planning systems aren't fast, powerful, or accurate enough to keep up with changing regulations, funding levels, and program demand.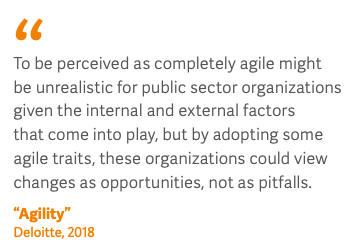 On the other hand, cloud-based enterprise planning enables agencies to generate data-driven budgets and forecasts, deliver higher-level reporting, and access real-time data that supports collaborative and strategic decision-making on the fly — and for the long-term.
In an active planning environment, agencies can streamline reporting and access real-time data to quickly address unexpected changes and plan for what's next.
Surviving in a fast, ever-changing, complex environment is one thing. Doing so with agility, transparency, and accountability requires several critical qualities:
Visibility into detailed budgets and forecasts to understand the demands that are placed on the organization
Insight to form budgets and plans that optimize resources
Governance and transparency to execute meaningful, coordinated action
Tools to compile, measure, and publish objective results
When these qualities are all working in harmony, agencies can become agile — collaborating across the organization, building and publishing budget documents, and tracking performance against plan — all while ensuring compliance and transparency.
This article is an excerpt from a partner spotlight guide, "Planning and Execution in a Changing World," to learn what tools can enable these active planning qualities, download the full guide to learn more about Workday Adaptive Planning and how it can help agencies plan for and thrive in unpredictable environments.